The Shiba Inu price has created a promising uptrend on the 1-day chart since June 10, which could catapult the price 24% higher. However, SHIB investors should be careful, as NewsBTC reported a few days ago.
A downside break of the mentioned uptrend could push the SHIB price back into the long-term downtrend that has been in place since early February. A decision is likely to be made by the end of the month!
Shiba Inu Price Prediction
Technically, Shiba Inu has created a new uptrend over the past month, which has pushed the price up 29% from the local low to $0.00000597. As seen on the 1-day chart, SHIB has so far defended this trend with flying colors. The anticipation of Shibarium's launch at the ETHToronto conference in mid-August may certainly play a role in this.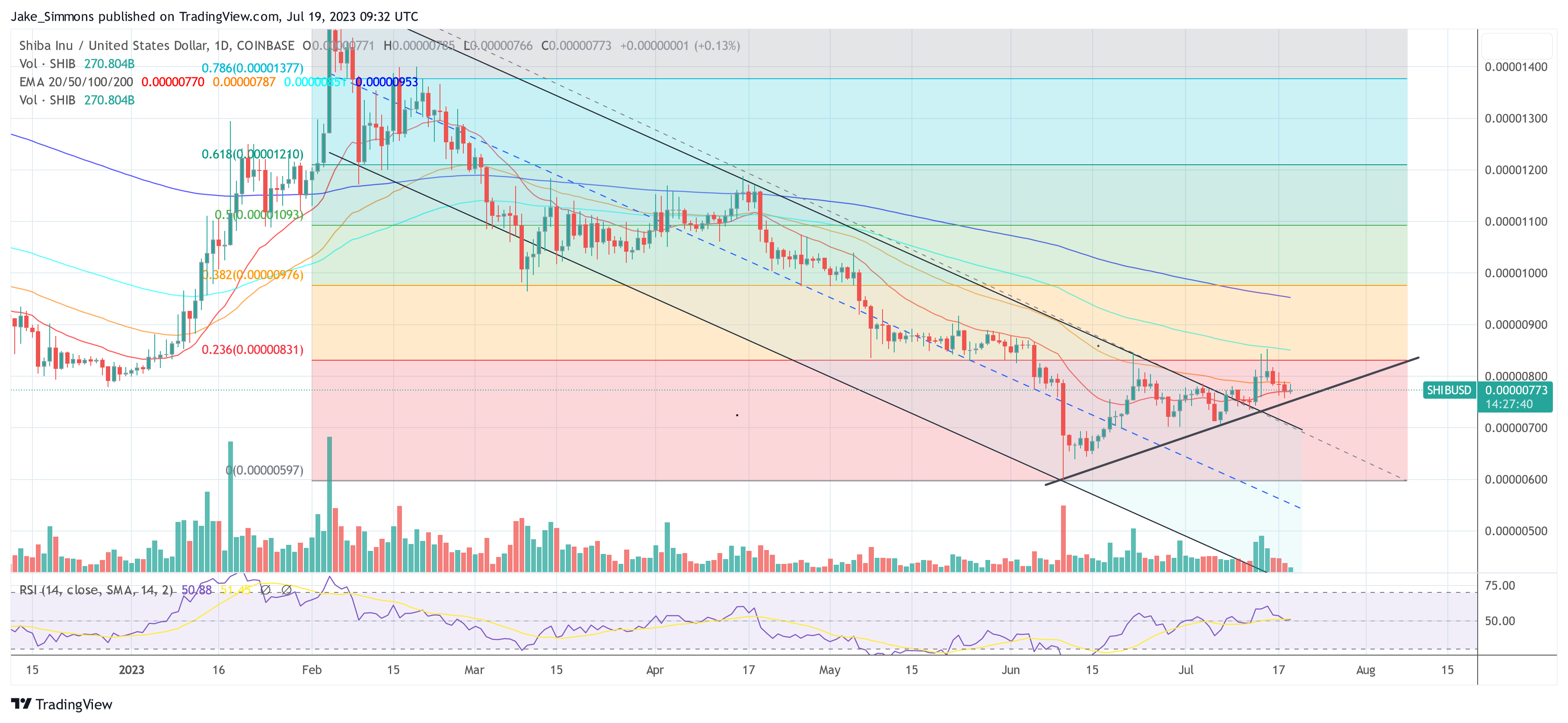 Meanwhile, however, SHIB is currently struggling with support at the 20-day EMA line. During the last two days, SHIB has always managed to close above the support level at the end of the trading session. In case the altcoin closes above the technical indicator today as well, the uptrend (black line) would be defended once again.
A new bounce towards the 23.6% Fibonacci retracement level may be possible. So far, SHIB has failed to close above the $0.00000832 resistance on a daily basis in three attempts. But, as explained at the beginning, a decision could be made by the end of the month.
At that time, the resistance line of the 23.6% Fibonacci level and the uptrend line meet. Both lines form an ascending triangle formation, which signals a weakening of resistance and an immediate breakout to the upside. Higher lows indicate that the bulls are gaining the upper hand in the market.
If confirmed, SHIB could rally towards the 200-day exponential moving average (EMA), which currently stands at $0.00000953, near the psychologically important resistance level of $0.00001. At that point, more selling pressure should be expected. Based on the current price level, SHIB could have an increase of 24%.
If the breakout above the $0.00000832 resistance fails in another attempt, the bulls will have until late July/early August to confirm the ascending triangle formation. Otherwise, a decline towards support at $0.00007, where the upper line of the long-term downtrend channel is located, may be inevitable.
Defending this price level would be crucial. Alternatively, the yearly low at $0.00000597 could be on the table again. However, with the imminent launch of Shibarium in less than a month, this seems to be the least likely scenario.
Disclaimer: The information provided in this article is for informational purposes only and should not be considered financial or investment advice. Investing in cryptocurrency carries inherent risks and readers are advised to do their own research.
Featured image by Coin Cloud, chart by TradingView.com