The looming prospect of a U.S. Department of Justice (DOJ) action against Binance, the largest crypto exchange, may hold a silver lining for Bitcoin and the broader markets. Even if this sounds crazy at first, there are good arguments for it.
Rumors have been swirling for weeks about a potential DOJ action against Binance, a threat that has cast a long shadow over the markets, leading to increased volatility and uncertainty among investors. Yesterday's report by Semafor has rekindled the rumor, but also gave it a new perspective, hinting that these developments may be a blessing in disguise for Bitcoin and crypto markets.
According to the Semafor report, the DOJ is contemplating fraud charges against Binance but is also weighing the potential repercussions to consumers and the crypto market at large. Citing sources familiar with the matter, the report suggests that federal prosecutors are concerned that an indictment could trigger a "bank run" similar to the calamitous fate that befell the now-bankrupt FTX platform.
This fear arises from the concern that a potential indictment could lead to a rapid withdrawal of funds, causing consumers to lose their money and potentially trigger a wider panic in the Bitcoin and crypto markets. To circumvent such a catastrophe, the prosecutors are exploring other options like levying fines or establishing deferred or non-prosecution agreements.
What Does This Mean For Bitcoin And Crypto Markets?
Interestingly, some crypto market analysts and commentators view this ongoing saga as a potential boon. Macro analyst Alex Kruger, in a recent Twitter post, speculated, "Too Big to Jail? Call me crazy but this seems bullish if true." This statement captures the sentiment that if Binance is considered too important to be hit with crippling charges, the DOJ could explore less harmful alternatives.
A similar view is held by renowned analyst Pentoshi, who said, "It doesn't mean they won't drop the hammer either. I think calling it "bullish" is a bit extreme since they are considering dropping the hammer. And if not billions in fines and CZ likely gone. But I def don't think it'd as bearish as headlines first said at all. Bullish would be no DoJ involvement."
The prospect of the DOJ acting against Binance could also provide a much-needed clarity to the market. If Binance were indeed vulnerable to a bank run, it would quickly become apparent whether the exchange holds sufficient reserves.
However, so far, Binance has impressively weathered previous "stress tests", as highlighted by CEO "CZ" in a Twitter post in mid-December last year after the Mazars audit rumors, stating, "We saw some withdrawals today (net $1.14b ish). We have seen this before. Some days we have net withdrawals; some days we have net deposits. Business as usual for us."
This sentiment is echoed by CryptoQuant CEO Ki Young-Ju who shared data supporting the strength of Binance's user balances despite constant rumors of insolvency. He stated:
I've heard about the 'bank run/insolvency risk on Binance' a hundred times for years, but their user balances always tell a different story.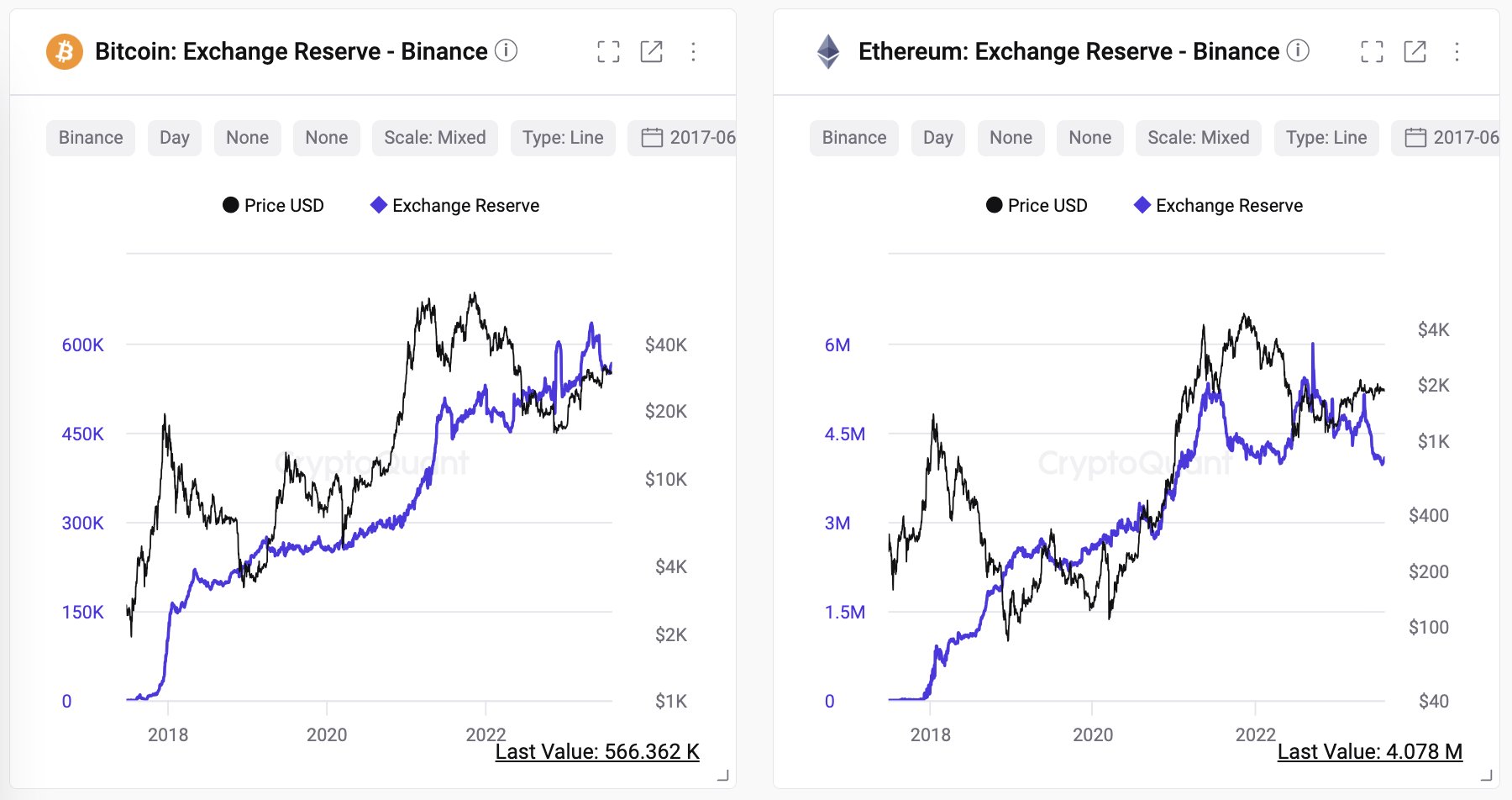 At press time, the BNB price stood at $239.5.
Featured image from CCN, chart from TradingView.com