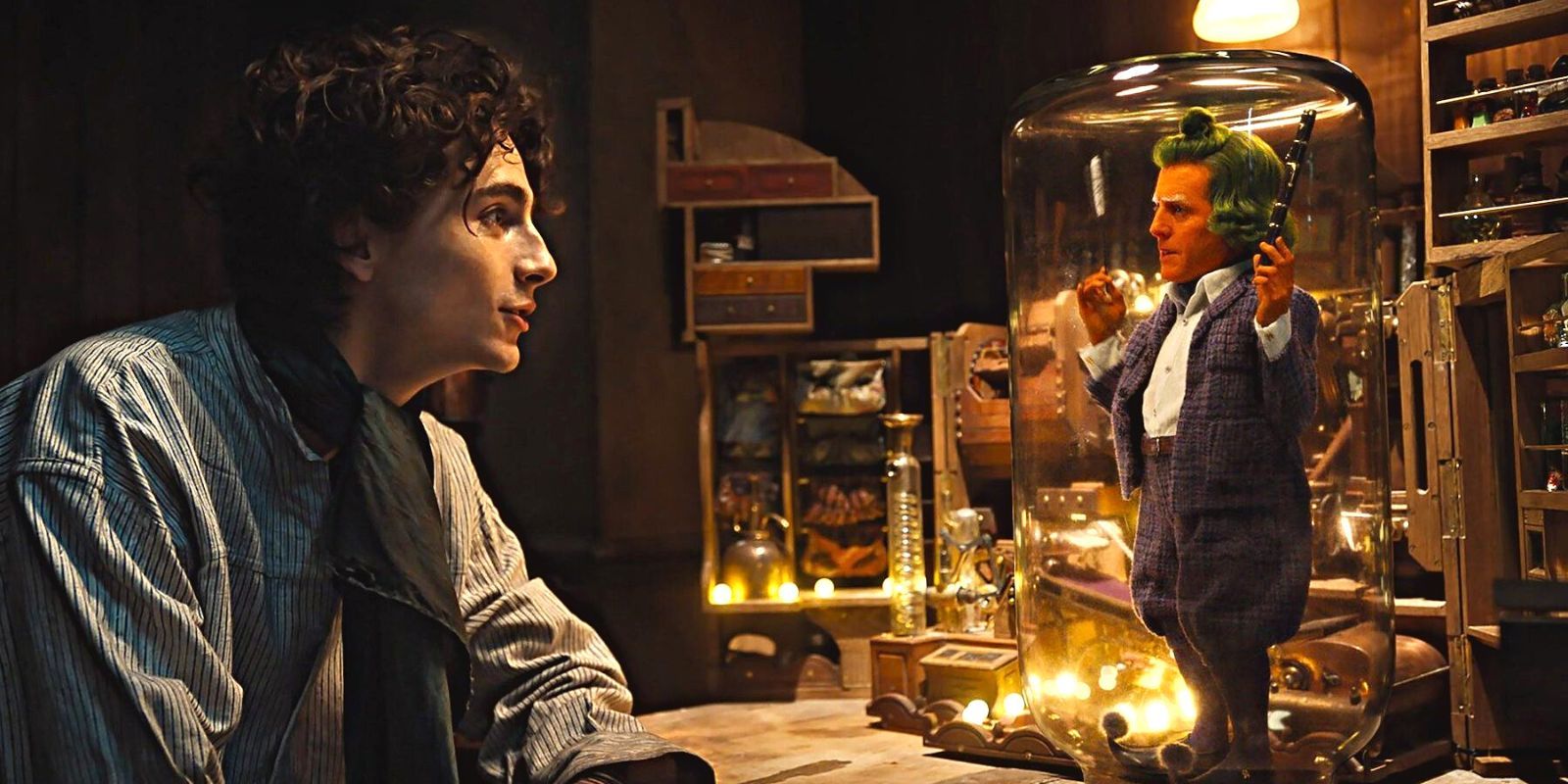 George Coppen, an actor with dwarfism, called out Wonka for casting a non-dwarf as the Oompa-Loompas.
Per the BBC, Coppen singled out Hugh Grant's casting as Willy Wonka's employees as a step back for people with dwarfism. "A lot of actors [with dwarfism] feel like we are being pushed out of the industry we love," he said. "A lot of people, myself included, argue that dwarfs should be offered everyday roles in dramas and soaps, but we aren't getting offered those roles. One door is being closed but they have forgotten to open the next one." Coppen also noted that previous adaptations of Roald Dahl's story cast actors with dwarfism for Oompa-Loompas with Deep Roy playing the role in Tim Burton's 2005 movie and George Claydon, Malcolm Dixon, Rusty Goffe, Ismed Hassan, Noman McGlen, Angelo Muscat, Pepe Poupee, Marcus Powell and Albert Wilkinson featuring in 1971's Willy Wonka & the Chocolate Factory.
Related: Christopher Lloyd Played the Scariest Willy Wonka – But It Worked
"They've enlarged his head so his head looks bigger. [I thought] what the hell have you done to him?" Coppen continued. The actor is best known for his role as Sweet Cupid in Netflix's The School for Good and Evil. His father, Willie Coppen, was also an actor with dwarfism and appeared in films such as The NeverEnding Story, Willow and Star Wars Episode VI: Return of the Jedi.
Grant's Smallest Part Yet
Wonka director Paul King recently shared his thoughts on Grant's casting as an Oompa-Loompa, stating that while audiences may initially doubt the CGI used to bring him to life, he thinks they'll ultimately be impressed by the effort. "[Grant] looks terrific," he said. "But because it's CG, it looks terrible until it looks good. And then you go, 'Ah, perfect!' It's a miracle." The filmmaker also continued to explain that he opted to keep the iconic look that was introduced by the 1971 film because he's such a fan and didn't want to fiddle too much with the visuals of the franchise.
Related: Wonka Director Wanted Hugh Grant as an Oompa Loompa Because He's a 'Sarcastic Sh**'
As for the movie's star, Timothée Chalamet didn't even need to audition for the role of Willy Wonka because of King's love for the actor. "It was a straight offer because he's great and he was the only person in my mind who could do it," he said. "He'd done tap dancing in high school and he was like, 'I'd quite like to show people I can do that.'"
Wonka hits theaters on Dec. 15.
Source: BBC