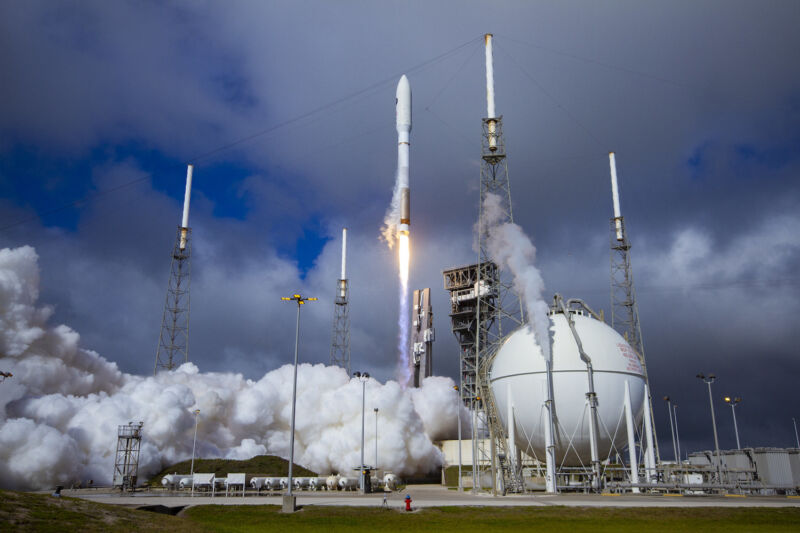 Amazon has confirmed it now plans to launch the first two test satellites for the company's Kuiper broadband network on a United Launch Alliance Atlas V rocket as soon as next month, shifting the payloads off of the inaugural flight of ULA's new Vulcan rocket.
The shift has been rumored for several weeks after ULA delayed the first flight of its Vulcan rocket from the summer until the fourth quarter of the year. The delay will allow time for ULA to beef up the structure of the Vulcan upper stage's liquid hydrogen tank, which sprang a leak that resulted in a destructive fireball on a test stand in March.
The first Vulcan rocket was slated to launch the first two prototype satellites for Amazon's Kuiper constellation, a network of more than 3,200 broadband satellites that the retail and tech giant plans to deploy over the next few years. The Kuiper network is similar to SpaceX's Starlink "mega-constellation," which already has more than 4,000 satellites in orbit.
Amazon delivered the two Kuiper test satellites to Cape Canaveral, Florida, for the Vulcan launch earlier this year, and the spacecraft have been sitting in storage since March, waiting for Vulcan to fly.
The first test flight of ULA's Vulcan rocket, which will replace the company's Atlas and Delta rocket fleets, will also launch a commercial lunar lander for Astrobotic, which has a contract with NASA to deliver science payloads to the surface of the Moon. Astrobotic's lander is also complete, but Astrobotic is waiting to ship it from the company's Pittsburgh headquarters to Florida once ULA signals Vulcan is ready.
Amazon's decision to move its first two Kuiper test satellites off of the Vulcan rocket was first disclosed in a ULA filing with the Federal Communications Commission last week for a commercial Atlas V flight that was not previously on the company's launch schedule.
An Amazon spokesperson has confirmed to Ars the company's plan to launch the first two Kuiper satellites on an Atlas V in September, but it declined to confirm whether Amazon still anticipates launching any Kuiper satellites on the debut launch of Vulcan.
Getting to space sooner
The launch of ULA's Atlas V rocket with the Kuiper satellites is scheduled for no earlier than September 26 and fits in ULA's launch queue after an Atlas V mission targeted for the end of this month with a payload for the National Reconnaissance Office and the US Space Force.
The launch slot in September apparently became open after other missions on ULA's launch schedule faced delays due to payload readiness. The first flight of astronauts on Boeing's Starliner crew capsule has been delayed until next year. The Starliner will launch on an Atlas V rocket. And an Atlas V launch with a powerful Internet satellite for Viasat is likely going to be delayed from this fall after a similar Viasat spacecraft encountered problems deploying its antenna in orbit.
ULA can accommodate about one Atlas V launch per month at Cape Canaveral, but the company plans to double its launch capacity over the next few years, thanks in large part to an investment from Amazon.
Last year, Amazon signed the largest commercial launch contract in history, snatching up rides on ULA's new Vulcan rocket, Blue Origin's New Glenn, and Arianespace's Ariane 6 launcher. All told, Amazon has purchased 77 launches: 38 Vulcan launches, plus nine flights on ULA's soon-to-retire Atlas V, 18 Ariane 6 rockets, and 12 New Glenn missions, with a contract option for 15 more.