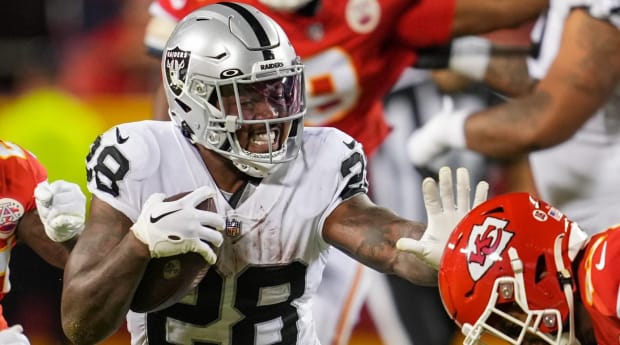 Raiders running back Josh Jacobs is the last franchise-tagged player to not either sign the tag or agree to a new deal, and there doesn't appear to be any resolution coming soon. Now that the deadline has passed for Jacobs to sign a long term deal with Las Vegas, neither he nor the team have many options.
If Jacobs doesn't sign his tender, or the two sides don't negotiate a one-year deal like the Giants and Saquon Barkley did, Las Vegas could just move forward without Jacobs by trading him on the one-year franchise tag deal.
The Raiders could also choose to just rescind the tag, which would make Jacobs a free agent, However, if they do that, they could be inviting their rivals to get better, as ProFootballTalk reports the Chiefs and Broncos are two of the teams who would be interested in Jacobs on the free agent market.
What happens if the Raiders rescind the franchise tag from Josh Jacobs? He might go straight to Kansas City. https://t.co/m61THFBbEF

— ProFootballTalk (@ProFootballTalk) August 5, 2023
Kansas City is obviously in a win-now mode, and so adding last year's rushing yards leader would be appealing to the defending champions. Denver, meanwhile, is looking to compete for a playoff spot with new head coach Sean Payton after a disappointing 2022 season.
It is unlikely that Las Vegas will go this route, though, as they would get nothing in return for one of their best players. Still, it remains a possibility depending on how Jacobs's holdout unfolds.