Somehow, it's back-to-school season again! If you're a student looking for an everyday planner to keep in your bag, we've got opinions. With dedicated sections for each week, the Class Tracker College Planner promises to keep you on top of everything your busy schedule includes, from quizzes to exercise classes.
Whether you're a seasoned planner enthusiast or a newcomer, we'll share what this planner does right and where it comes up short. Read on to see if the Class Tracker Planner is the study buddy you'll need for the upcoming semester!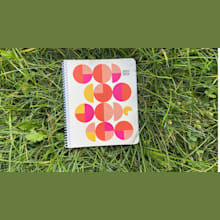 Class Tracker organizer
Class Tracker makes one of the best college planners out there—here's why
$28.99 at Class Tracker
What is a Class Tracker Planner?
A Class Tracker planner is a specialized paper planner that is intended to assist students in managing their academic courses and responsibilities. With dedicated sections for each course and type of assignment, students can stay on top of deadlines, homework assignments, exams, and some general life to-dos. Class Tracker planners come in formats for middle school, high school, college levels (dated or undated), as well as an undated Adult Planner.
What's in the planner?
I tested the College Dated Planner, which has weekly pages from July 2023–June 2024, monthly pages for that same date range, three course schedule pages (one per semester or trimester), a goals page, and three lined pages for notes.
Each weekly spread contains weekdays listed vertically and Saturday and Sunday stacked in the far right column. The weekdays include four pre-categorized sections: "Remember to" (which has three checkboxes), "Quizzes/Exams/Papers/Projects," "Assignments," and 'Daily Plan." The weekly spreads also have a corner for habit tracker for self-care activities like "Connect with friend(s)," "Move my body," "Mindfulness," "Gratitude of the Week", and a blank area for a countdown.
What we liked about the Class Tracker Planner
Dedicated sections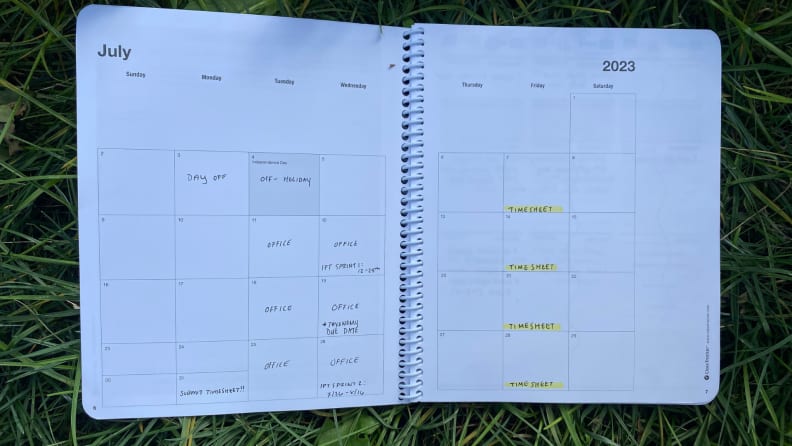 The planner's outlined sections help students who like to stay organized. It can be helpful to keep assignments together, even if the homework or studying is for different courses. The Class Tracker's sections are easy to understand and can provide structure to students who want it—just fill in what needs to get done.
Thick pages
Thick pages are an underrated element of many planners and journals. No one wants pens or highlighters to bleed through and make planner spreads appear messy. I used a range of pens and markers from Pigma Micron pens to Tombow Dual Brush pens to BIC Highlighters and nothing showed through the page.
Lays flat
Planners that lay flat have an edge on everything else; they're easier to write in, they tend to avoid smudging better, and they're more comfortable. Thanks to the spiral-bound style (more on that below), these planners lay flat no matter which page you flip to.
What we didn't like about the Class Tracker Planner
All space is used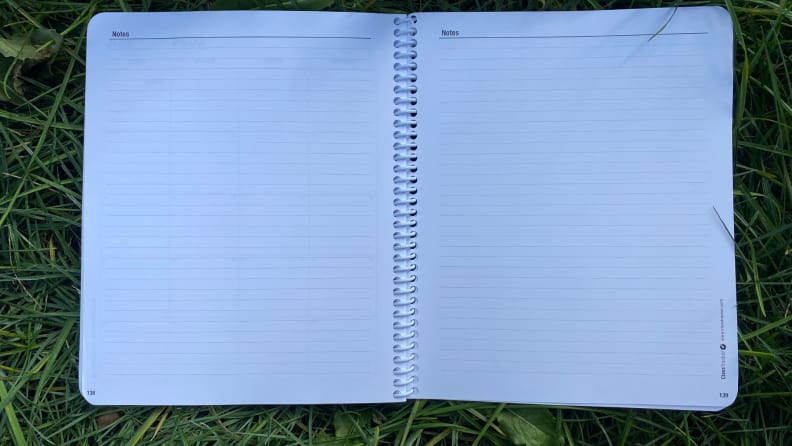 The planner proved less than ideal in testing because it divides up all the available space, leaving no room outside the labeled sections. It lacks space for personal touches like stickers, doodles, larger handwriting, or clipping in mementos (like the Happy Planner). The section titles can be limiting, and even the habit tracker would benefit from a blank line for customization. It's also worth noting that the weekends' writing space is small, which fails to account for events or activities outside of weekday tasks.
No room for notes
With only three lined pages at the back of the planner, there isn't much space to take notes. You can't use this planner for class notes, and there's barely enough room to collect names and numbers of classmates for exchanging notes or working on group projects. While three pages is better than none, having space to write relevant details (holidays, game days, reminders, future plans, etc) is necessary.
It's spiral bound
All of Class Tracker's planners are spiral bound, which is great to help them lay flat as mentioned above. However, the spiral can be frustrating to write around, especially for left-handed folks. The spiral binding is flimsy compared to other bindings, and the planners don't have binder holes that would allow them to be clipped into binders for convenient carrying. The spiral binding alone shouldn't deter anyone from using these planners, but definitely consider how you'll treat the planner and if it will hold up.
Should you use Class Tracker?
Yes!
Class trackers are awesome for part-time or full-time students, helping you stay organized no matter what time of the semester it is. Class Tracker planners rock at assignment tracking and planning out each day. However, people outside academia might not find them useful because of the rigid structure and section breakdowns. The Undated Adult Planner might be a better fit for some, but for people with variable schedules, another planner brand would likely be a better fit.
Shop Class Tracker