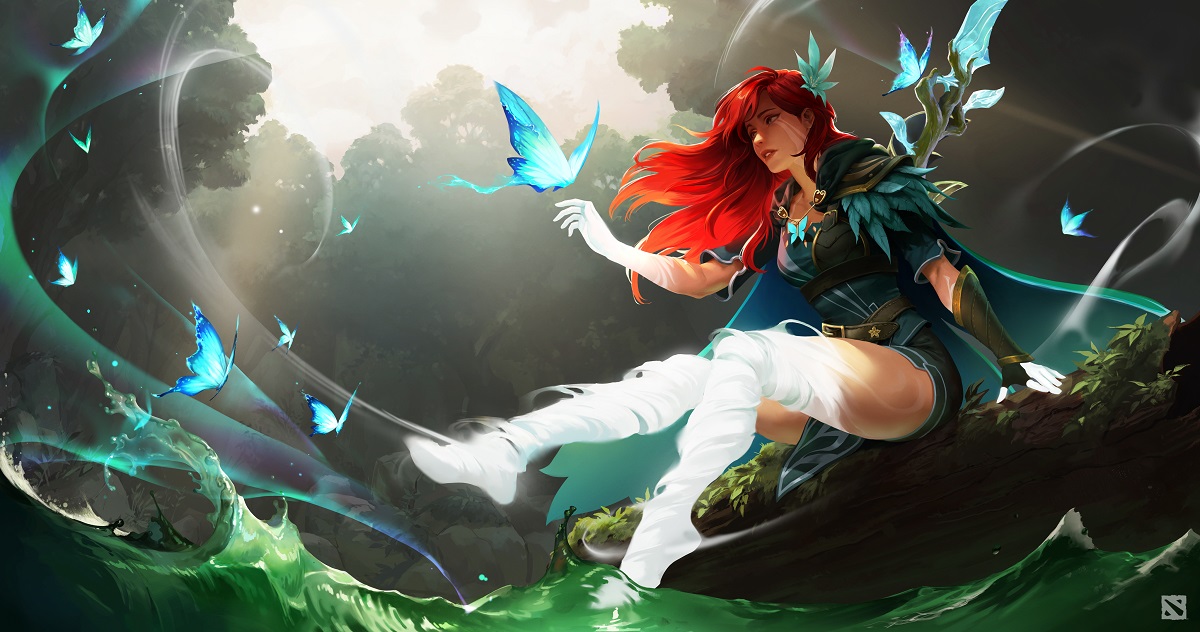 Offlane continues to be the most experimental role in the game. It often flips on its head and that's exactly what happened with the release of the latest patch. Where you could get away with being a static aura carrier before, it's currently much better to play high-impact tempo cores. It's a lot more fun, but it takes some tweaking. We can't really improve our readers' mechanics or their playstyle, but we can certainly point out the heroes that are overperforming in the current patch and discuss the reasons why.
A very small change to the way hero abilities work and suddenly LC became a lot easier to play. Not that the hero was too weird before, but now playing with him feels soft. It just makes sense.
Having an on-demand AS boost that you can use while dueling makes the hero objectively more powerful, outside of quality of life upgrades. Before, even if you played perfectly, you would miss half a second from your important fans. For now you can wait a little longer for some additional targets to come into range.
A +140 AS buff, a pseudo-crit with lifesteal, and a very powerful disable make LC the most stable and tempo core in the offlane. She scales very well, comes online very quickly, and usually dominates her lane. If you're not sure what to choose, LC is almost always a good choice.
She also has the benefit of being a conventional stripper, so most of your teammates will know what to do with her on your team.
Dark Seer is also very conventional but not very popular. The hero doesn't really have a direct handicap, but he's probably the only aura bearer that's still overpowered in the current patch. He can get his team's items early and reliably, and unlike other offline atmosphere heroes, he doesn't need to buy extra mobility: gROWTH it's usually pretty good in the earlier stages of the game.
Additionally, the hero has one of the coolest features in the game: it turns the enemy's Net Worth and Levels against them. This makes him a very strong comeback hero: with Dark Seer on your team there is always hope for a comeback.
In the games you're winning, he's aggressive enough to punish farming enemy characters and can be very oppressive through his ability to repeatedly push in multiple lanes. Above all, a very well-formed hero who will rarely feel out of place, outside of some
Oracle lane matches.
We're moving further and further away from the conventional three position heroes, but with her powerful team fight, Winter Wyvern still makes a lot of sense as an out lane hero. Recently, she got a pretty significant bump to her tier 1 damage and along with being a Universal hero, she no longer lacks in the right click DPS department, which is very important for contesting creep.
All in all, beyond being sharper and slower than most outfield players, we feel like Winter Wyvern still plays pretty much the same. She wants to engage a bit with regular heroic abilities for support choices and generally wants to get
Blink Dagger later to start fights with a strong structure.
Witch Blade is still awesome on the hero despite her now being a Universal, but don't sleep on it
Rod of Atos. It is extremely efficient for Universal heroes, simply because it gives good survivability stats, a very strong asset, and a lot of damage.
In fact, we feel like
Rod of Atos is one of the main reasons Offlane Windranger is a thing. This item allows the hero to be more reliable with her strong disable Shackleshot, also remaining a DPS threat. It also gives her enough bulk to absorb a few nukes if needed. Among the statistics from Atos and WindrunWR is a very difficult target to deal with.
Later progress may include items such as
Diffusal Blade for even smoother crowd control and a DPS bump. Don't underestimate how quickly you can deplete the mana pools of some heroes in the early game. Many mid and offline metas are spellcasters first and foremost.
We will point out that Offlane Windranger is far from conventional, especially at the sub-Immortal level. You will most likely get some questions from your teammates and may cause unnecessary tension. Hero does wonders in this role, but we don't think she's overpowered enough to make up for potential teammate bias, so play with caution. It is best left for games at a party.
You're glad we're seeing a return to aggressive, in-your-face initiators; or did you prefer the aura meta bearer of the previous installment? Share your thoughts on the current offline meta in the comments section below.