As Declan Rice reclines his seat in a welcomed spot sheltered from the searing Los Angeles heat, spelling out how normal and natural it already feels to be an Arsenal player, it is the culmination of a long process.
Before Mikel Arteta's side were being seriously framed as title contenders last season, the manager had marked out the midfielder as a priority target. Rice fitted the profile: age, technical attributes, personality, experience, responsibility, capacity to improve. Arsenal knew that recipe made him highly coveted and highly expensive, with taxing negotiations to endure.
So sporting director Edu and chief executive officer Vinai Venkatesham got to work, sketching their football plan for Rice, how the numbers would stack up, and what Arsenal's sales pitch would be to trump rivals for his signature. They travelled to LA to present their information to Stan and Josh Kroenke, who fully supported and endorsed the club's pursuit.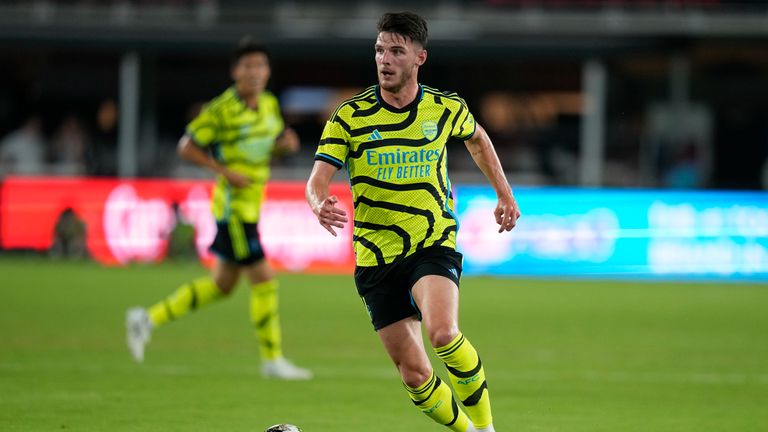 With all the key stakeholders in alignment on Rice for close to a year, Arsenal confidently and calmly obliterated their transfer record to land the England international, ousting Manchester City in the process.
Their due diligence, desire, and effort in securing the 24-year-old proved decisive as he explained in an exclusive chat to Sky Sports News.
Declan, what was it like watching Arsenal, their football, and their process from the outside last season?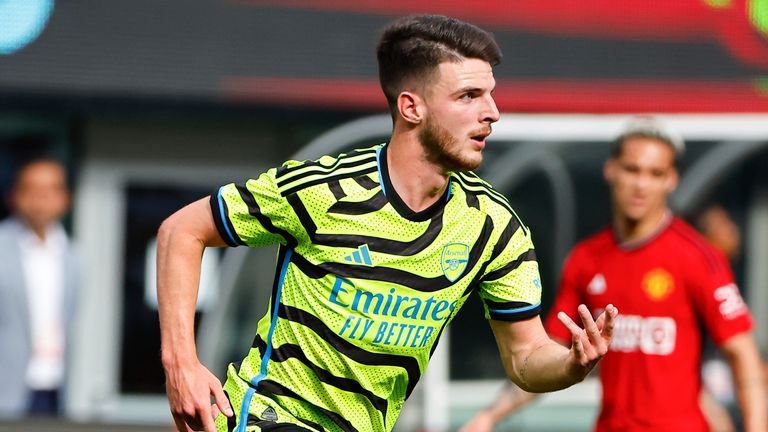 Declan Rice: "Wow. I think from the outside watching Arsenal, it was a young, energetic, hungry team that had the mentality always to win.
"I think from the opening game that was on Sky Sports, they played on the Friday night against Crystal Palace and they completely dominated the game. And I think from that moment, not only me, but a lot of players at West Ham, a lot of players around the country took notice of us and thought, wow, they're going to take some stopping this year.
"I think just playing against them as well, the style that Mikel has, made it really difficult. Now obviously to be a part of this team, to be a part of this process, it's really exciting. I'm looking forward to the next six years of this journey."
Having seen the excitement from the outside, like you say, you're on the inside now, is it better than you expected? The culture, the ease of the dressing room, the energy around the place?
Arsenal manager Mikel Arteta was full of praise for Rice following his performance in the 5-0 win over MLS All-Stars

DR: "The energy's so good. Honestly, from the first moment that I walked through the training ground doors, it was not only the manager, all of the staff, their mindset and mentality is just about winning.
"From the physios to the chefs, to the analysts, everyone behind the scenes, it's all on that focus of being the best you can be pushing yourself every day to become better, a better person and a better player. And I think Mikel, I think that's exactly how he is. As well as a football coach, psychologically, he's amazing and he really makes you wanna play for him, which is a massive reason why I've come to Arsenal."
Having watched training and just looking at the interactions, it already seems like you've been part of this dressing room for a while. Quite an easy one to settle into?
Eddie Nketiah reflects on his earlier days in the Chelsea academy where he played with Rice

DR: "Without a doubt. I think the players are amazing. They're all so young, which is obviously really good. I already know a lot of them from England."
Are you feeling old now?
DR: "Do you know what, I look old at the minute! All the stuff that's been going on.
"I feel all right to be fair. But all the lads that I obviously know at England and also when you play against the players, after games you always shake their hands, you say hello, you start to build a relationship anyway.
"It's like a family team. Everyone's been really amazing. The staff have been really good. I've felt at home already, to be honest with you. I've not felt like a new player, a new person. It's felt really normal, which is obviously really good."
You spoke about the manager having a big influence on your decision to join Arsenal. It was no secret that you were the hottest property on the market. All the big teams were in for you this summer. What about his pitch to you and about Arsenal made you choose them?
Rice is finally revealed as an Arsenal player as he and Jurrien Timber join their new team-mates in a pre-season meeting

DR: "I think just the way Arsenal have played over the last two, three years, I think there's always a narrative around Arsenal that they're not going to win the Premier League or they haven't been good enough. But I didn't see it that way at all.
"I see it in a way that he's improved the squad every year. The players have improved individually, everyone's gone up another level and when I spoke to him, just the way he said about how he wanted me to play, where he sees me playing and the vision he has for Arsenal… it's really exciting now to be a part of this project that Arsenal can get back to the big time and win some trophies.
"I don't think we are far off at all. Obviously this year there's going to be pressure on us to win and I think we want that pressure, that's why we play football. You want to win trophies, you want to compete at the highest level and all the lads are really motivated and driven and that comes from the manager. It's really exciting."
What was the plan Mikel sold to you, and how do you feel your skillset can improve this Arsenal team?
Rice says the opportunity to work with Arteta was a big factor in his decision to join Arsenal, but admits it was hard to leave West Ham

DR: "I don't need to change anything that I've done in the past. What I've been good at is what's got me here.
"Because I'm in a completely different new game model, I don't need to change how I play at all. I just need to add some stuff to my, to my arsenal, shall I say.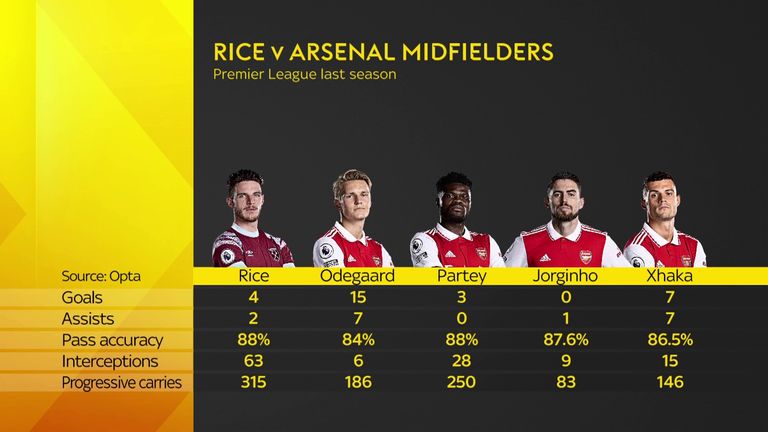 "So, hopefully with the manager's guidance, learning the way of playing, adapting because it's completely different already. It's a completely different set-up to anything I've ever had.
"It's going take some time, but I'm sure once I've learned it all and I've improved myself, then I feel like I'm going to go up the levels, which I know I can get to."
You mentioned adjustment there. How have the training sessions been and the tactical demands in those sessions?
Sky Sports' Nick Wright and Ron Walker take a deeper look into why Rice has become Arsenal's record signing

DR: "Yes, it's crazy. It's honestly crazy. I'm already seeing football in a completely different way. You think you know football growing up and when you play, but when you meet managers like Mikel, you realise you don't really know anything about football. There are different styles and different ways of playing that I've never experienced before.
"Of course, the way I played at West Ham is completely different to the way Mikel plays, so it's going to take some time to adapt. But I'm really eager to learn to improve, to ask questions, to do one-to-one training to improve and try and get it as quickly as possible.
"Hopefully once all that starts to click, Arsenal will be amazing. And of course I want to go up a few levels as well, which I know I can. So yeah, it's really important that I adapt."
It's still very early days in your Arsenal career, but any special on-pitch chemistry that you've felt yet with a particular player?
DR: "You know what? I think from the first day when I was there, Leandro Trossard. You wouldn't put us two together, I would say, but he's a really, really top guy. I sat next to him on the plane. I've been with him here quite a lot. He's just an all-round top person.
"I've really got on with him and playing against him in the past as well, he was always a pain so it's nice to have him on my side now. He's such a top player, but I feel like with everyone here, like all of the Brazilian guys, the Portuguese guys, the French guys, like everyone is so top, and from the outside you see Arsenal was like a big family together. And that's exactly what it is inside the dressing room, which is really good."
There'll obviously be a lot of talk about how expensive you were, which is not on you. You don't dictate your price…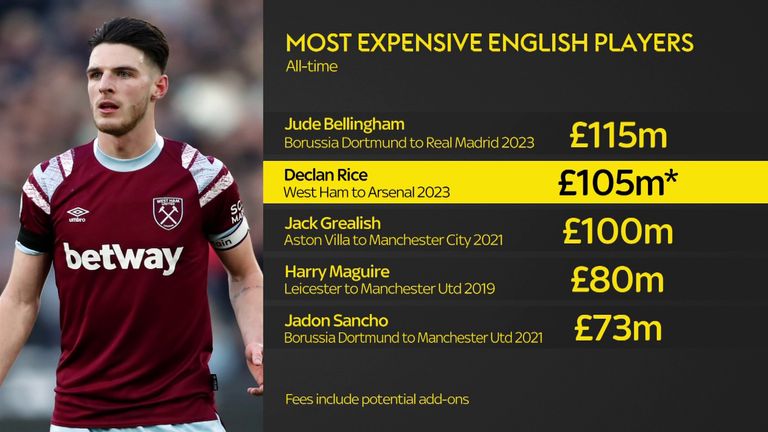 DR: "Yeah, of course not."
Do you feel that will be a little bit unfair that people will be talking about you and everything you do in the frame of that price tag?
DR: "Of course. I just try to take everything in my stride.
"I can't control what I've been bought for. That's obviously determined on how well I've played consistently over the last couple of years and what West Ham obviously set the price at.
"I've not really thought about the price tag once. I've been brought to Arsenal for a reason: that's to perform, to play football, to try and add to the squad, to try and win trophies. I'm not going to get involved in price tags.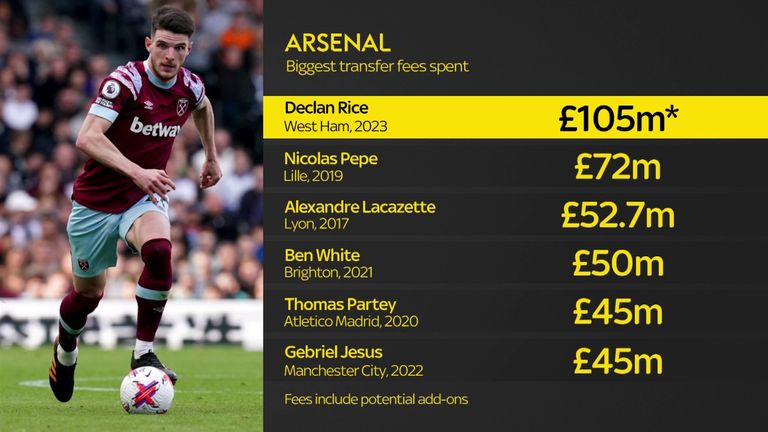 "Of course people have always got opinions. You can't please everybody. Someone's always got something to say, but what's important is that the manager, you've got his support, you've got your family's support, people that are close to you… that's all that matters.
"I won't try to think about that too much and to be honest with you, I haven't already. It's football. A lot of players have been bought for 80, 90, 100 million pounds. It's our profession, it's just down to us to perform. So yeah, over the six years, hopefully I can repay that price tag."
Do you actually see it more of a faith in your abilities and how much Arsenal wanted you, the fact that they came in for you so early, paid a big fee, got everything over the line to bring you on tour…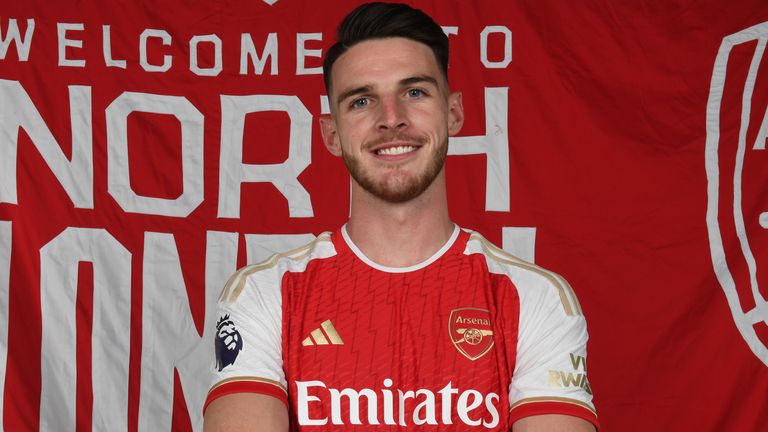 DR: "Definitely. I think that's really special. For it to have got done so quickly, like you said, for me to get in and adapt straight away. I can see now why they probably wanted to bring me here really quickly because it is a lot to learn.
"Also, to have that assurance from the manager that makes you feel really special as a player and of course that makes you want to go and perform. So, for it to happen, it's been really special."
What do you envision for the season for yourself? What do you expect of yourself? What do you expect of Arsenal? Give us the best-case scenario for Declan Rice's debut season as an Arsenal player.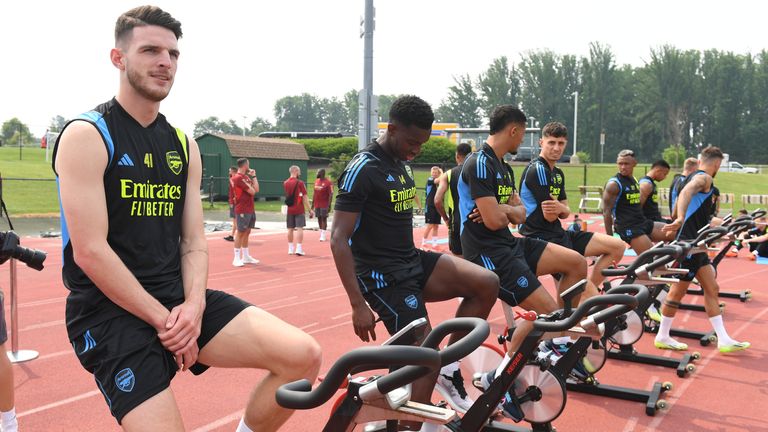 DR: "It's time now. Arsenal under Mikel have won Community Shields, FA Cups, but I think now at this club, it's a massive club, it's constant pressure of delivering titles and it's been such a long time now since Arsenal won a Premier League.
"Last year was so close, I feel like we're better off now this year learning from that experience. So, I think that's definitely a target. And of course, you're in the Champions League and you go in the Champions League to win it. You don't go in just to take part.
"I think once all of that clicks, once we get those first couple of games under our belt and things start to flow, I really believe in this squad. I believe in the manager and of course with me as well. I just want to improve, want to learn, want to get better, want to understand how the manager wants to play. I want to understand the others and how they play. I'm sure once all that comes together, I'll feel exactly how I want to feel in terms of why I came to Arsenal to improve. So just hoping it's a successful season, but time will tell."
What's next?
Arsenal will look to get back to winning ways when they face Barcelona at Sofi Stadium on Thursday morning (July 27) as they conclude their US tour; kick-off 3.30am.
Arsenal's pre-season fixtures and results
Arsenal start season against Nottingham Forest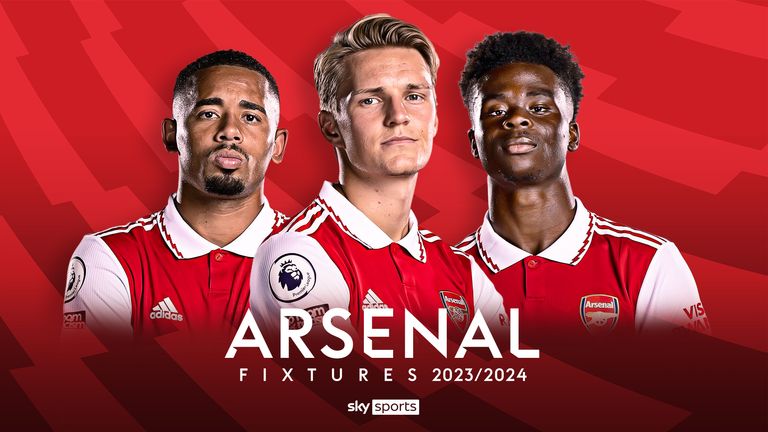 Arsenal will start their 2023/24 Premier League season at home to Nottingham Forest on Saturday August 12.
The Gunners then face two London derbies against Crystal Palace and Fulham before hosting Manchester United in their first 'Big Six' match of the season in on September 3, live on Sky Sports.
The first north London derby of the season takes place at the Emirates Stadium on September 24, live on Sky Sports, with the return fixture on April 27 – the fourth last game of the campaign.
ARSENAL FIXTURES