The crypt doors are about to be kicked open with the release of Disney's Haunted Mansion, helping to usher in spooky season at the movies.
io9 recently sat down with director Justin Simien (Bad Hair) to talk about his take on the beloved Disney Parks attraction. The director was once a Disneyland castmember who actually worked the ride, so it was especially fun learning how he aimed to make a movie that would both satisfy fans and draw in new ones, with the help of a script by fellow ride fanatic Katie Dippold (Parks and Recreation, The Heat, Ghostbusters: Answer the Call). Along for the cinematic ride are stars Rosario Dawson, LaKeith Stanfield, Danny DeVito, Owen Wilson, Tiffany Haddish, Jamie Lee Curtis, Jared Leto, and newcomer Chase Dillion. Simien praised his cast and writer, who are currenly on strike, in our conversation about the family-friendly fright film.
---
This interview was conducted during the 2023 WGA and SAG-AFTRA strikes. Without the labor of the writers and actors currently on strike, the film being covered here wouldn't exist.
---
Sabina Graves, io9: Haunted Mansion is known for having this giant mythology which—you know, as a fan, that it's such a big undertaking because of the different thoughts about which of the 999 ghosts should be featured. What inspired you as a gateway into the story you wanted to tell?
Simien: The script. It's so clear cut. It was Katie Dippold who really is the biggest Haunted Mansion fan in the universe. She figured out a way to tell the story about the Haunted Mansion that was also about the people who were experiencing the mansion, and they experience it very similarly to the way you do as a rider—which is that you come into this place, it's very mysterious and you're kind of picking up clues about how this all fits together: "What is that and why do those heads keep disappearing?" "Oh, the bride has an axe!" You're kind of on the mystery when you're on that ride. And she figured out a way to do that, to find a way to pull out some of those mysteries and some of those characters, but not wrap it up so tightly to where it loses the vibe, you know? I mean, part of what's so cool about the mansion that you don't quite have any answers. We're all debating it because it's not given to us. It's part of the mystery and that's part of the fun of it. So she found a way to keep that stuff mysterious and keep the tone very similar, I think, to the writing. I opened that script really not knowing what to expect other than it being from Katie Dippold, whose work I already loved. I didn't really know what to expect and it was like a miracle to me. It just was like, "Oh—make this movie. Got it." That, exactly, was my starting point.
io9: Definitely, the film really centers the characters that this all happening to, and that would not have been possible without the amazing cast. What was it like to find these voices who could balance that humor and horror aspect of what we love so much about the Haunted Mansion?
Simien:  It was crazy. It was a journey. But it started with some simple things for me. I knew that the lead had to be Black because it was in New Orleans and 85% of the population's Black. That was really important. But other than that, that actor had to be able to bring us into, frankly, a grieving man's story and make us care deeply about him. So it had to be a kind of unicorn actor. And LaKeith Stanfield for me is that guy—has been that guy for a long time. He brings audiences into all kinds of characters that seem impenetrable on the page.
The rest of it was about surrounding him with character actors—because it's a big tentpole Disney movie, stars that really knew how to play in an ensemble arena. Directing an ensemble cast is probably the thing I've itched to do the most throughout my life. My first film [Dear White People] is an ensemble comedy, my [Dear White People] series is an ensemble, satirical comedy, so [I needed] people who can really understand how to play their instrument as part of a bigger ensemble but play the heck out of that instrument. Those are the folks we were we were looking for. And it's really, I got to say, because we're talking about the cast it's really bittersweet that they can't speak for themselves in their performances. But we are family and I'm really happy to speak on their behalf because these are these are just some of the most amazing people I've ever worked with. It's a diverse cast, it's a funny cast, and there's some discoveries in there. Chase Dillon is a revelation. It was marvelous working with them and wind up with a just *chef's kiss*, wonderful cast, not only on the screen but behind the screen. It kind of doesn't get better than that, I don't think, as a director.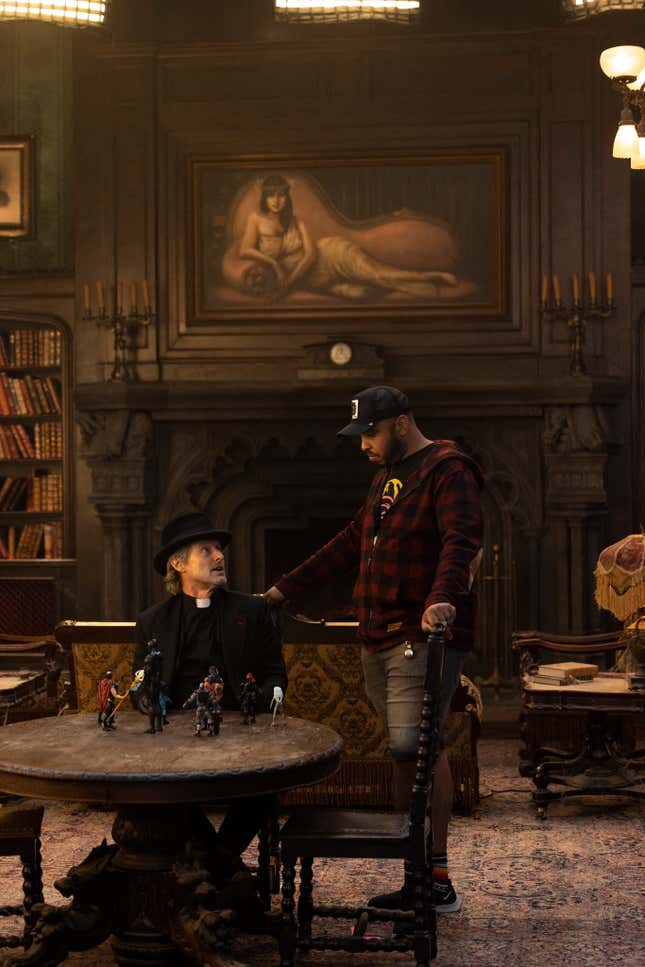 io9: Amazing. There are so many scenes in the film from the ride that just were just magic to see how you visualized them for the moviegoing experience. Did incorporating those visuals come seamlessly from the script, or were there certain things that you, as someone who is a former Disney castmember, were like, "I know how I want to see this on screen!"
Simien: Well, that's what's so great about Katie's script, is that there was the work of the director, the visual stuff, the language of it, the specific references, all that stuff. You know, she left that open to interpretation. And it was so fun to figure that stuff out and to sift through the history of the ride and all the different references—and all the things that they wanted to put in but didn't put in, or they put in and fans noticed. Really picking between that and how to tell a story with those things, because I didn't want anything to feel superfluous like we just threw it in for fan service, because that's irritating. But on the other end, I didn't want to just skip over stuff because it was kind of annoying to dig through all the details. I come from several of fandoms and it is so annoying to see your thing adapted and to know that the people who made it kind of don't really care about the details. And so everything from like, "How do we do the stretching room?" "How do we incorporate the stretching room into a story point?" You know, "How do we make use of these specific ghosts in these specific paintings?" "What might their abilities be if they were haunting somebody?" That stuff was like, "Oh, just put it in my veins, you know?" As a nerdy filmmaker stuff like that was such a blast to do.
io9: As a person of many fandoms, myself, I have to know… the Star Wars series Lando? Is there an update?
Simien: No update. Yeah, I've been given no update, so I'm just as in the dark as you are.
io9: Dang. And I mean we're so excited for it. Okay, just lastly, let's talk about New Orleans. I recently visited it for the first time, and I'm completely in love. What was important for you to bring to the film to honor the history of New Orleans and create this love letter for it?
Simien: Blackness. New Orleans is what it is, because it was one of very few places in America where not just Black people, but people of color were allowed to create their own aristocracies and be free and do things that they weren't allowed to do in the rest of the country. And the reason why that culture is so specific there is because you have these people who are not supposed to mix and mingle and be together and create culture side by side. And that's why jazz comes from New Orleans, and that's why gumbo comes from New Orleans, and all of these things that never before in history did we think these things should go together. And I felt like if we root this movie authentically in that culture, which is absolutely attributed to Black culture, we actually will tell the story of the mansion even better. The Haunted Mansion itself is the story of how joy and grief can sit side by side and how humor and sadness are a part of the same spectrum of feeling and life. And so, yeah, that was a big one for me, is making sure you really felt like this really was in New Orleans. The actual New Orleans, the one that I understood growing up.
The Haunted Mansion opens July 28 in theaters.
---
Want more io9 news? Check out when to expect the latest Marvel, Star Wars, and Star Trek releases, what's next for the DC Universe on film and TV, and everything you need to know about the future of Doctor Who.