As Neverwinter prepares to release the conclusion to its long-running Menzoberranzan, Cryptic Studios and Gearbox Publishing gave CBR the opportunity to interview its developers — along with a sneak peek at its 26th module. Undoubtedly, Neverwinter has become one of the most popular MMOs around, and for good reason. Not only is it expertly crafted, but it's inevitably earned some of its following due to Dungeons & Dragons' ongoing Renaissance.
Lead Content Designer Elliot Minner, Senior System Designer Robert Gutschera and System Designer Miku Vo invited me to join them on an hour-long preview of Demonweb Pits, the latest module. Despite many years of playing Dungeons & Dragons, I hadn't played Neverwinter since it first came out in 2013. It didn't take me long to realize how much I'd been missing out on as I explored the city of Neverwinter — even more so when we got down to business in the Underdark.
RELATED: EXCLUSIVE: Neverwinter EP Thinks AI Could Be Key to An Authentic D&D Video Game Experience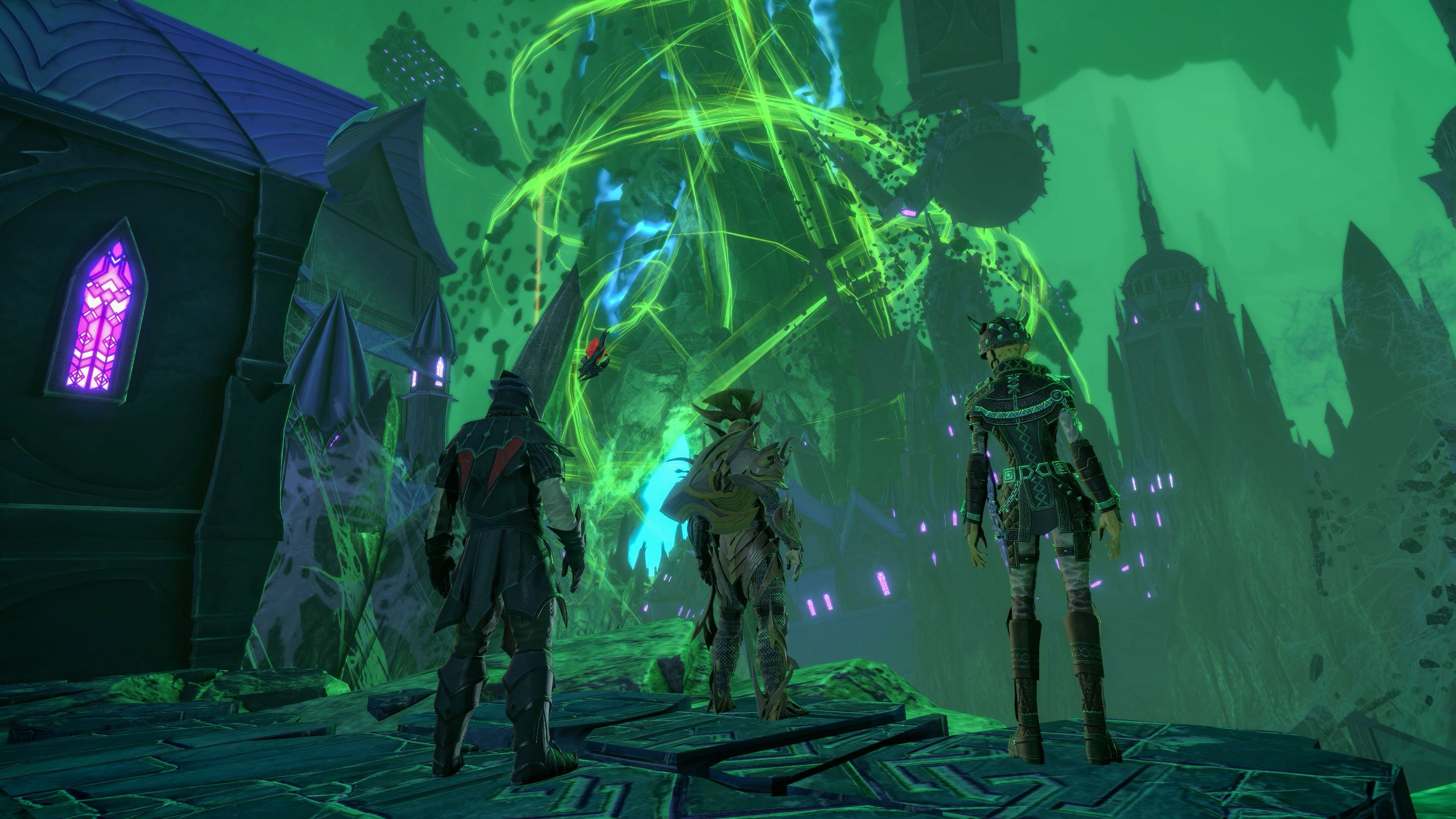 Green, swirling lights throughout the Underdark mark Gromph's latest experiment in his revenge plot against Lolth. This one backfired miserably, opening up Menzoberranzan to her Demonweb Pits. The four of us battled through several encroaching demons and a couple of minor boss battles during the hour-long playthrough, thanks in part to the ability to jump past certain sections so I could experience certain parts of the module. The battles were fun, creative, and, most impressively, full of that classic D&D feel.
While we played, I chatted with Robert, Elliot and Miku about developing Demonweb Pits. The three revealed some of their favorite parts of the 26th module, offered tips for defeating Gromph and Lolth, and teased its Easter eggs and where Neverwinter will go next.
CBR: What drew you to working with Neverwinter?
Robert Gutschera: I've been a D&D player for many, many years, played back, you know, paper D&D, and the old white box states when I was in high school, and I wound up in the gaming industry working at Wizards of the Coast. That got me a chance to work some more contribute to D&D a little bit, although I mostly was doing card games. When I wound up at Cryptic, I was actually hired for another project. Eventually, I think the fates had their way and I wound up on Neverwinter. It has been a real trip for me, because you know, it connects with all those childhood gaming memories.
Did you ever play Neverwinter Nights?
Gutschera: I did not. I played a bunch. I played a bunch of the gold box games, if you remember those. Of course, Baldur's Gate and some of the things. What was the one with the skull? Was it a Planescape one? That was very cool. So yeah, I played a bunch of the various D&D computer games back in the day.
But you know, this being an MMO was just on a much larger scale, of course, then any of those, even though a lot of those games were super fun. I had a good time with them. But you know, this is pretty huge in terms of how much we can cover.
Elliot Minner: And for my end, I met some cool people in school. One of those was a guy John McIntyre. He ended up working at Cryptic and I followed him, and I've been here since.
Can you show me some of the highlights — your personal favorite parts of the Demonweb Pits module?
Minner: Yeah, for sure. We can no we can totally do some highlights. So we're in the adventure zone right now, that's that district, Narbondellyn. This is where up to 25 players can be running around all fighting together. One of the main things that players do in our modern adventure zones is heroic encounters. We can't actually do it, but we're standing right next to one of our major heroic encounters where you want those like 20 players to go in and take it on. This is the estate of the Archmage, that kind of runs the city.
There's actually a nice little microcosm of a lot of the story stuff. In the middle is that little swirling device that's a prototype of the realm engine, which is kind of the main story focal point for the module. You're working with some of the Drow mages to build this because it's going to help all of these problems in this city. All that swirling green magic is coming from the Abyss because that Archmage Gromph is doing a big mythal, which is a super magic spell. It's binding the Planes of Chaos and the DemonwWeb pits, which is the namesake of the module, to the material plane in the Underdark specifically. He's doing that because he's trying to get revenge on Lolth the Queen of the Demonweb Pits.
She messed up his last big ritual, so he's trying to get revenge with another big ritual that has also gone awry. The realm engine is going to try to help keep the plains apart because the abyss is full of demons and the Demonweb Pits is full of spiders, and you don't want that in your city. The good guys are working together with some of the mages to try to put a stop to that. This heroic encounter is a little snapshot of that story. This is a prototype of the realm engine. Players get together, turn it on, defend it, and then banish a minor demon back to the abyss. This is the kind of thing where you run around as these dynamic events that spin up and get players grouping together and running through the zone frightens quite enough baddies.
Can you tell me a little about the city's design?
Minner: In the Menzoberranzan zone, we did basically all exteriors — just like going through the streets of the city. And this time around, we wanted to do some interiors actually going in and out of buildings.
Previously, you had all exteriors here?
Minner: Yeah, we had lots of city blocks and that sort of thing, but all the buildings were basically just like facades, and this time around, you can go into them.
How did you go about designing the look for the whole city? Did you talk to someone like Ed Greenwood for notes?
Minner: One of the things that we did early on, actually back with our Northdark module, we started working with R.A. Salvatore, who wrote a lot of the initial Underdark stuff. We worked with Salvador on that module, and then the module after that. [For] this one, we took the torch and kept going our own way. So we've invented a lot of the story here, but a lot of that initial stuff in Menzoberranzan came from looking at Salvador's books. I'm speaking for our art director here, but there was this — I don't know exactly what it was called. Sleep sound? It was this narrated visual thing that did some depictions of Menzo.
Gutschera: He also did a lot from the books right there. There are many, many books over the years. We'll kind of look at all of them, and the art director will kind of pick an art style or direction, if it varies — which it often does over the years. Then we'll say, "Hey, you know, this is kind of the look we were going for." Sometimes they're like, "Oh, yeah, that's great. We love it." Or sometimes you're like, "No, we've really moved in a different direction and that old book isn't good. Here's the recent look, we want you to use." In general, they're very flexible. They've been good to work with. We sort of have our choice of which visual direction is going to be the one that best tells it.
Minner: I actually found it. For our art director, Chris, one of the main inspirations was Sleep Sound: The Legend of Drizzt – D&D Animated Short. In terms of visual presentation, there weren't a lot of depictions of Menzo.
Gutschera: It's surprising, you'd think there would have been more Menzo stuff. Because of course, the books are obviously a big deal, and a lot of people have read them. But you know, they don't come with pictures. There have been a few Sourcebooks over the years, but nothing super recent. So the end result was that this video that Elliott linked actually wound up being pretty influential.
What can you tell me about the general plot and maybe some of the key characters in it?
Minner: Back in M-24, [the Northdark Reaches module], we started working with the Salvatores and started our overall underdog story. Setting up the Bregan D'aerthe, which is Jarlaxle's mercenary band, as well as the Lolthian loyalists and the Blaspheme, which are basically these like Drow rebels that are rejecting Lolth. You get to the Whispering Post, which is the main hub for both module 25 and this module, and you head off from there. Moving into this module, you head to this district to meet with Noori Baenre who is Jarlaxle's cousin.
So you met with Jarlaxle and his mercenaries in some of the previous stuff, and then he basically sends you as a favor to his cousin, who was working on all this magic stuff, trying to help with the Abyss coming into the city. Noori is kind of your main point of contact. She's a mage from the Sorcere, one of the three magic schools of Menzoberranzan. You work with her fighting against the Fairdale Indar that are working with Gromph. So it's kind of a Noori versus Gromph, these battling mages sort of thing, with the city caught in between. Throughout all of this, Lolth is pulling the strings and manipulating everything that's going on in her favor.
Gutschera: The sort backstory of it is Gromph versus Lolth, but eventually, both of them are causing so much trouble that it's sort of you versus both Grompth and Lolth, if that makes sense. But neither of them is doing anyone any good, so you've kind of got to put a stop to their fighting each other.
Minner: They're having a very public spat.
Gutschera: Exactly. Our first quest is to go to the foot of the Narbondellyn. We may or may not encounter people like Grompth or Lolth or other people who are at this magical center point of the city's power.
Minner: Grompth has actually been using the magic that was powering it for all these years for his mythal, which is that super spell to bind the planes. He's in secret been building up all that power, in what seemed like a benign, just magical maintenance, but it was really a big plot.
Gutschera: Basically, he's been skimming the magical resources for his own purpose. It's basically magical embezzlement. That's not the official description of it. I just made that up. We are just now realizing that that is the story we told.
Very fitting for modern society, unfortunately. So that kind of puts players in that difficult position of possibly putting the city into terrible straits if they stop Grompth because of what he controls.
Gutschera: Yeah, right. But not doing anything would be pretty terrible, too. That's the problem. What can you do about this that won't just blow up everything? But if you don't do anything, the Demonweb Pits are going to invade the Material Planes, and that can't be good for anyone. Well, I guess it can be good for Lolth, but it can't be good for anyone else.
Minner: It's good for chaos. One of the big guiding things with the Salvatore work and with the current book series that's in progress is the Drow's Civil War. Basically, the city is really being plunged into chaos and there's all these different factions vying for power and fighting over lots of different things, and all the regular folk are just caught in the middle of all that. Throughout the different modules, we've been putting the player in that position of helping the common person and trying to dissuade all the warring factions and all of that chaos from imploding.
Gutschera: Yeah, we're kind of inner weaving between the books that Salvatore is right now writing — well, I guess he's finished writing, but that are now being published. So there is a new series that is currently coming out about the Drow Civil War in Menzoberranzann, and our modules take place in between and around those books.
So a little like when Game of Thrones continued after adapting all of George R.R. Martin's published books, with some notes from him about what was to come.
Gutschera: Kind of a mix. The last module, he was pretty heavily involved — the main plot line came from him. We would go back and forth and sort of present what we were doing. This module is more of our work. We wrote this plot line. Obviously, in the end, everything we do we consult with Wizards [of the Coast] so it's not we're not like totally going off the rails or anything. Depending on the specific place you are in our storyline, some parts of it are just written directly by Salvatore and some parts are done by us. But hopefully, it all combines into a cohesive and satisfying whole.
Minner: Yeah, and with this module, in particular, we're grabbing various characters, but then we are just telling our own story. We're diverging from the books. With 24 and 25, we were pretty much in lockstep in these midpoints between the books.
Can I see the Demonweb Pits?
Minner: Yep. We've left Faerûn [and] the Sword Coast, and we are now in the Planes of Chaos. So lots of chaotic floaty bits of things, all trapped in webs. The Demonweb Pits is basically just like dumping ground from across all the planes as things get trapped in those webs. There are ships from another dimension and dead gods and all sorts of stuff that Lolth has been collecting in her lair over time.
Gutschera: This is what's been invading the rest of Menzo. Bits of this have been coming out in dribs and drabs throughout Narbondellyn. But then you arrive here, and you're like, "Oh, here we are. This is the real place."
What was the inspiration behind the design the Demonweb Pits in Neverwinter? Partly from the description but also in appearance, this is reminding me of the void in Loki.
Gutschera: This predates a lot of that, I mean the Demonweb Pits went way back to early D&D.
Minner: 100%, though. Thinking back to some mood boards that our art director set up, some of that stuff from Loki as well as Multiverse of Madness.
Gutschera: Yeah.
Minner: Visual references with like the Doctor Strange stuff.
Gutschera: That was another inspiration, yep.
Minner: Visually. Narratively, obviously, this has been there since the beginning, or since a long, long time ago.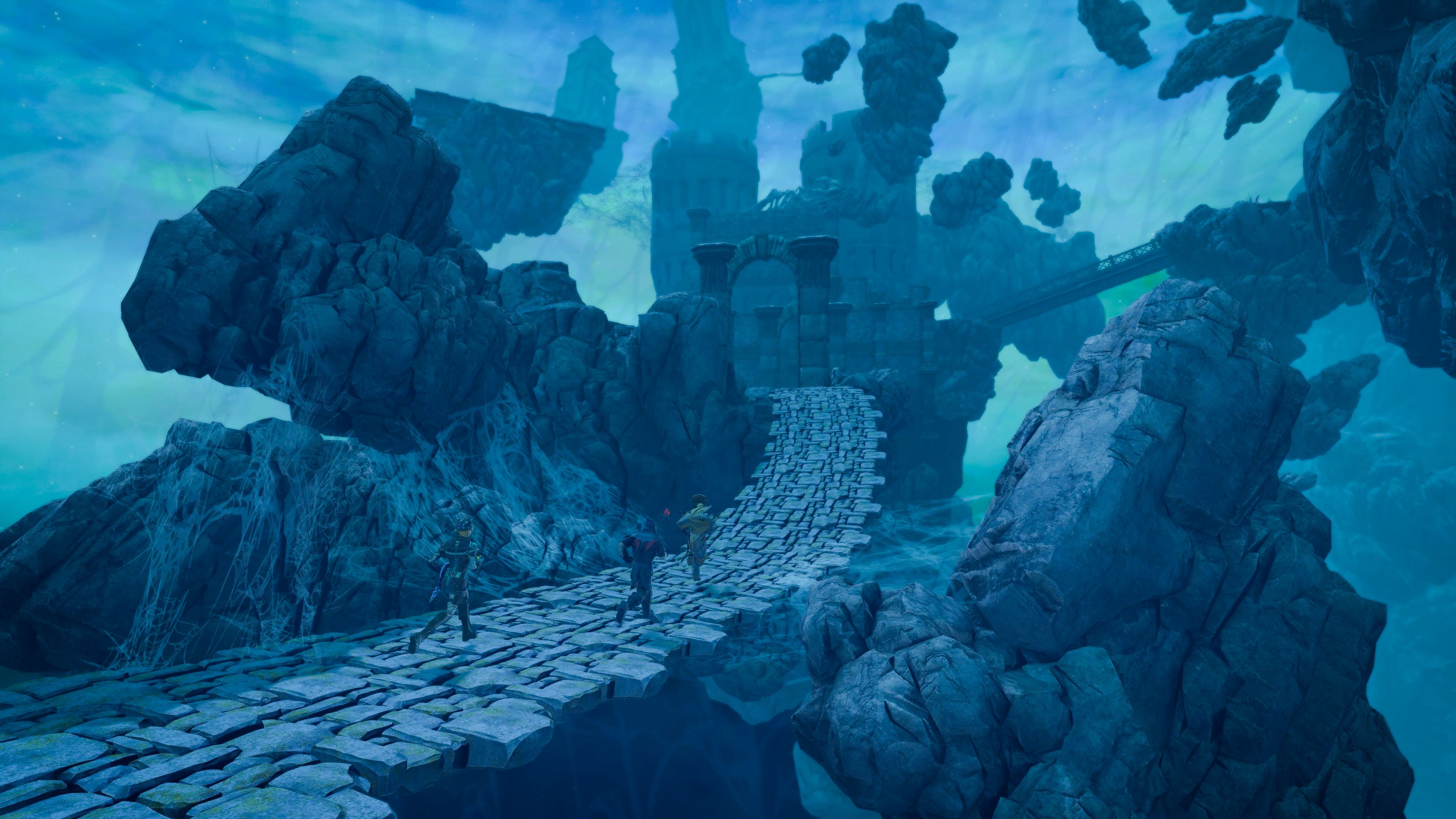 Miku, could you tell me what are some of your favorite parts of the design are? What are certain things you got to work on that you really enjoyed within this module?
Miku Vo: I really enjoyed working on Gromph. Just from the initial concept of like, I was basically given summoning, that was the initial idea. Noah actually came up with some really great lines Gromph would say, and that totally inspired me to capture his really arrogant attitude. When you're fighting him, he's just totally ignoring you for the first half because he's mostly focused on talking to Lolth.
As he gets progressively more attacked, essentially, he starts unleashing more and more powerful magic on you. I really enjoyed seeing that from start to finish. That was my favorite part, just seeing him develop from initially summoning you blobs of color to now he's a super demon boss that's taken down quite a many players.
Were there any Easter eggs any of you can tell me about? Maybe things you guys tried to put into the Demonweb Pits for other parts of the module?
Minner: Ooh, that is a good question.
Vo: I'm not sure if we should talk about that!
Minner: Yeah, there's definitely a couple of little hidden bits. They kind of tie into some of our future plans.
Vo: I guess we can tell you that one of the cool things that you can get as an achievement if you jump into the abyss.
Gutschera: Just if you jump in? I didn't know that!
Vo: You have to be in a certain area, I think. There's an achievement that you get when you jump in there.
Gutschera: Apparently, I was not in the right spot.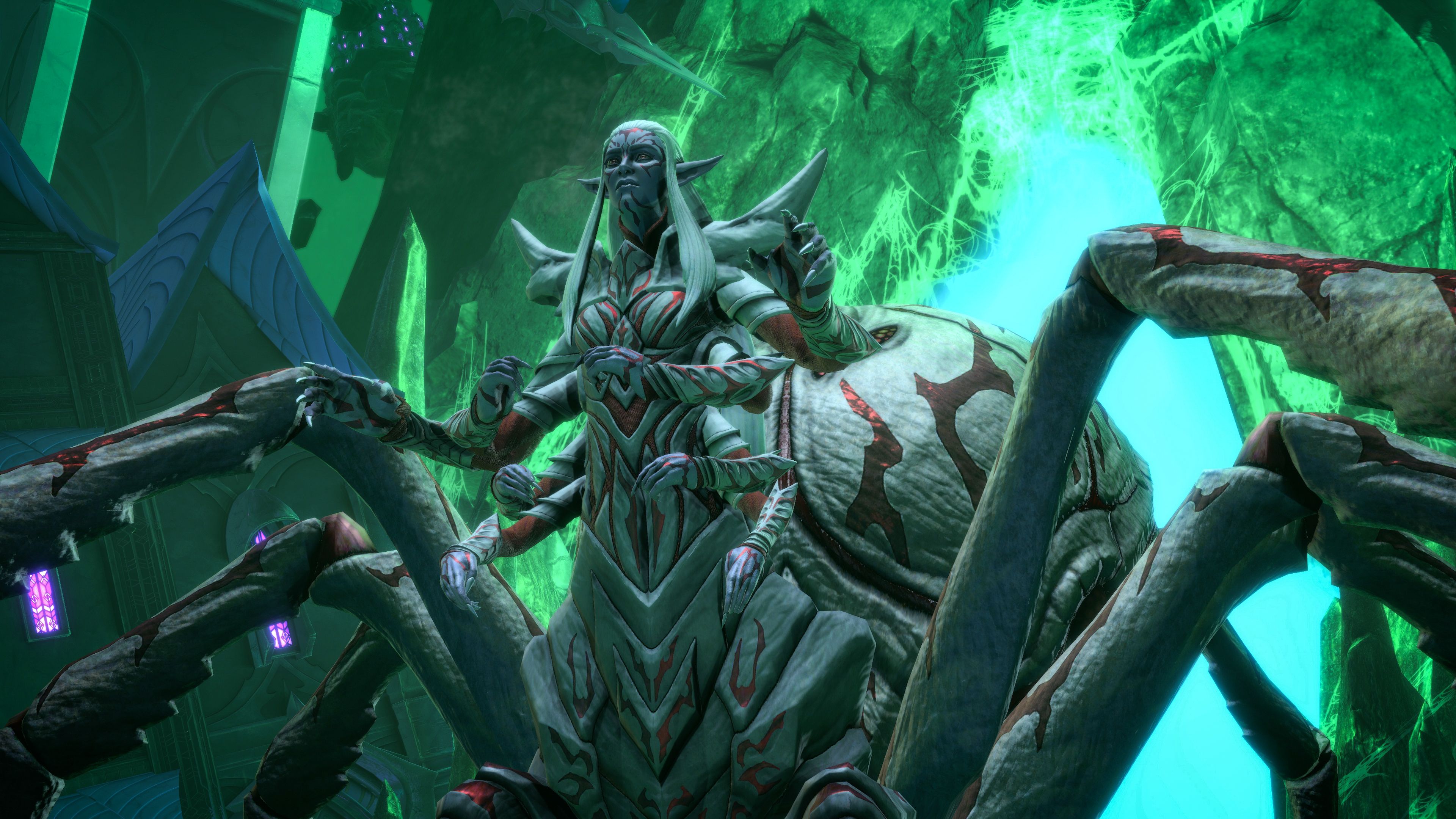 When I talked to Brett Norton, he was saying that there is a very different Neverwinter module coming up that you all are planning for the end of the year. Is that something you teased in certain ways within this module that maybe fans of the game might be able to look for?
Vo: Maybe.
Minner: A little bit, maybe? Plausible deniability. No comment.
Gutschera: It might be hard to figure out but with 20-20 hindsight when the next module comes out, maybe people will be like, "Oh, that's what they were teasing it." But I think it would be hard for anyone to look at this and actually figure it out. Although players always surprise you. So who knows?
Minner: Yeah, definitely confirm that we're doing something drastically different. Very fresh and new and exciting.
Gutschera: Yes. That I think is safe to say. This is actually a thing that I have been wanting to do in Neverwinter for, I don't know, like 10 years or something like that. It was brought up many times. People [were] like, "Oh, come on. We can't do that." Only it turns out we can.
Vo: You didn't get to hear this voice line, but Lolth at one point says that her webs are basically Weave. We've also woven some of that into earlier places, too. Vgilant players will probably remember.
Any recommendations for players battling Gromph or Lolth?
Vo: I guess for Gromph, it would be to take your time. Don't just ignore the things that he's summoning, because they accumulate and get quite unruly.
Gutschera: I think players are like, "Oh, let's just burn him down real quick, and ignore the ads." You've got to balance that out. You've got to decide how many of the ads you need to focus on versus focusing on him and how much you can afford to ignore the additional enemies and how much you can afford to just focus on Gromph is, I think, one of the big challenges to the fight.
Vo: For Lolth, there are tethers that will appear on different players at certain times. Try to keep yourselves close, because it can do quite a lot of damage if you don't. It's kind of a tether between two players.
Gutschera: There's also a tether that you'll see between the spider and a giant axe that you see at a certain point that belongs to a dead god, and the spiders are trying to keep you from destroying it. It's actually really important too. If you just let those tethers sit there, you will have a really hard time destroying the axe.
Vo: There's actually another thing during that phase where one of the spiders, if you kill them in the right position, will help you damage down the axe. There's a cool sequence where she pulls that entity down onto the platform and knocks it down and basically puts it at an angle, and players have to stay on the platform otherwise they'll fall into the abyss and die. It's a really visually cool scene that Steve did an amazing job on.
Gutschera: I bet someone has the clip up already. This set has been on preview for a little while, so some players have played the fight on preview and I bet there's a movie of it somewhere. But yeah, it's pretty spectacular. Artistically, those kinds of things that are a combination of both visuals and game mechanics are pretty tricky to get right. We were lucky we had a very experienced animator working on it and so it has a lot of impact. But there's also a lot of gameplay too. You're not just watching a movie though. The God actually falls on the platform tilts, and you're running around trying not to get killed by things. And then a bunch of spiders are attacking you, and you can't ignore them, but you also need to stay focused on the axe. There's a lot going on.
Before we go,, is there anything more you want to say about this module?
Gutschera: It's totally unrelated to all of our cool Underdark, Menzoberranzan stuff, but we're adding a new player guidance and tutorial thing called The Hero's Path. And it's this broad, longterm goals onramp for once you've hit Level 20, which for us is the max level, aligning with the 5th Edition. Once you've hit level 20, this becomes this big long-term track that guides you on what you should do next in your journey through Neverwinter. It's a big game, and we wanted to help people navigate it. So we made a cool new progression system to do that. I'm very excited about that.
Vo: This is also one of the first things that we're doing and then sort of like an intermediary mode. Normally, we do sort of one that's a mode that's for all players. Then we do a mode that's more catered for super hardcore players. Well, now we have sort of a middle tier that's less challenging, but still challenging enough and requires more recent gear rather than your normal story experience that you've been going through in normal mode.
Gutschera: That was something that was really important to me. I wanted us to have that because as the game went on, the players who started played all the time and were totally maxed out. We're pretty far away from a new player who just started out, and we would make stuff for both of them. We'd make the experience for the fresh new players, and we'd make the experience for the super-invested players.
There got to be nothing in between. There was no way to get to be that super-invested player and there was no way to get all the best things and still have interesting stuff to do. So we wanted to make sure there wasn't a desert in the middle where it's like, "Alright, I'm a fresh player, I got the basic stuff, I can do the basic experiences. Oh, but ultra-hard stuff is so far away." We're hoping over time, as we kind of add more things in the middle, that no matter where you are, there'll always be a challenge for you. There'll always be the next thing that you can't quite do, but if you practice a little more, get a little bit better, or upgrade your gear just a bit, you'll be at that next level. Even if the ultra Top Best of Everything feels out of reach, you don't have to feel that there isn't something good and cool for you to do that will kind of move the ball forward for you.
Neverwinter's 26th module, the Demonweb Pits, is now available on PC, PlayStation and Xbox Consoles.