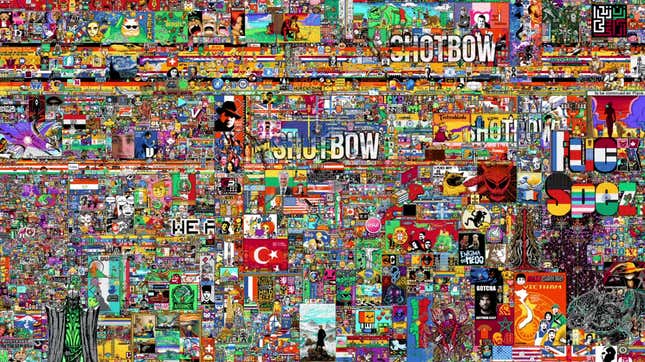 The third incarnation of Reddit's r/Place has come and gone, and now the social media platform has released a timelapse compilation of the project to highlight all of the whimsy—and anger—of its users.
Reddit Knowingly Downvoting Self | Future Tech
r/Place is a community art project on Reddit that has just ended its third year of operation—the first project occurred in 2017 while the second wasn't launched until 2022. In r/Place users are able to leave a single pixel of any color on a blank canvas once every five minutes, resulting in hundreds of groups and subreddits crafting images that represent their communities. Reddit has just unveiled a timelapse of the 2023 edition, which features a bigger canvas than ever and plenty of protest art directed at CEO Steve Huffman, who goes by u/spez on the platform. You can also take a closer look at the canvas on the official r/Place subreddit.
Official r/place 2023 canvas timelapse
While there are plenty of examples of "Fuck Spez" to go around, the most creative moment occurred at the end of the project. As r/Place wound to a close, users were able to place a pixel once every thirty seconds, but the pixel had to be white—an effort to wipe the slate clean. However, in the final moments of the project, users collaborated to leave one massive "FUCK SPEZ" across the canvas.
In April, Reddit announced that it would be charging companies for access to its application programming interface (API). Reddit did not make the cost of its API public after it was announced, and Steve Huffman, founder and CEO of Reddit, told The New York Times that he thought it was time "to tighten things up" at the company. It wasn't until a back-and-forth between Reddit and third-party app Apollo that it was revealed the discussion platform was planning on charging $12,000 per 50 million requests to access its API—an unsustainable figure for most programmers.
The moderators of thousands of subreddits subsequently protested the news by taking their communities private for at least two days. Most have returned, while others have gotten more creative with their tactics. All the while, Reddit CEO Steve Huffman fanned the flames by antagonizing the platform's user base. Reddit claims the decision to charge for its API is intended to prevent AI companies from scraping its website for data. While that may be true, it's way more plausible that the platform saw it as a viable income stream, much the same way Twitter did when CEO Elon Musk realized he wasn't making enough money.