Dragon-Type Pokémon are some of the most popular Types in the mainline series, and while their power has been balanced out with the likes of the Fairy-Type, Scarlet and Violet still have a strong selection of Dragons. That roster of species will likely increase with the two upcoming DLC expansions, The Teal Mask and The Indigo Disk​​​​​​, but what's currently available is fairly diverse.
This powerhouse Type is known for its offensive capabilities, and while the advancement of the mainline Pokémon games has checked their strengths to an extent, their Type combinations have gotten more creative. From classic juggernauts like Dragonite to more recent ones like Dragapult, Scarlet and Violet have a variety of ways to catch and train Dragon-Types.
RELATED: 10 Games That Explain The '90s
17
Applin/Flapple/Appletun
Type: Grass/Dragon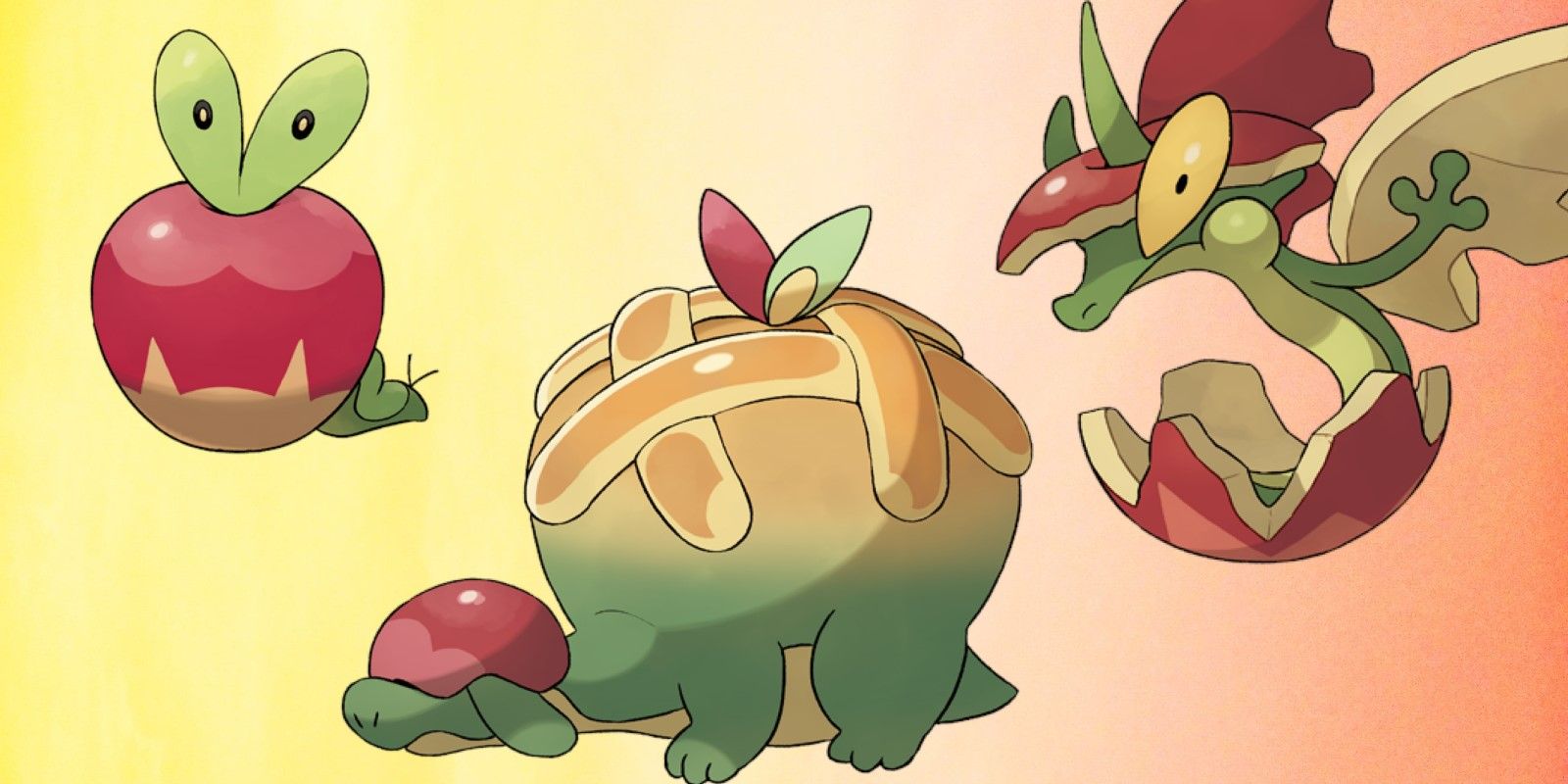 | | |
| --- | --- |
| Leech Seed | Lvl. 12 |
| Apple Acid | Lvl. 28 |
| Dragon Pulse | Lvl. 40 |
| Draco Meteor | TM |
There are many capable dual Grass-Type Pokémon, but the dual Grass/Dragon-Type Appletun is at least worth a shoutout. This creature is impressively bulky with a solid movepool to match that. On top of its endearing design and apple-themed aesthetic, Appletun is more than able to last in a battle of attrition.
Between its Thick Fat ability to halve Super Effective damage against it and its stunning 110 HP and decent 80s in Physical Defense and Special Defense base stats, it's a sturdy wall. Applin can be found in Tera Raid battles as well as in various locales in Areas One, Two, and Three. Its branching evolution, Flapple, is a good alternative that can evolve via Tart Apple while using the Sweet Apple evolves it into Appletun.
16
Gible/Gabite/Garchomp
Type: Dragon/Ground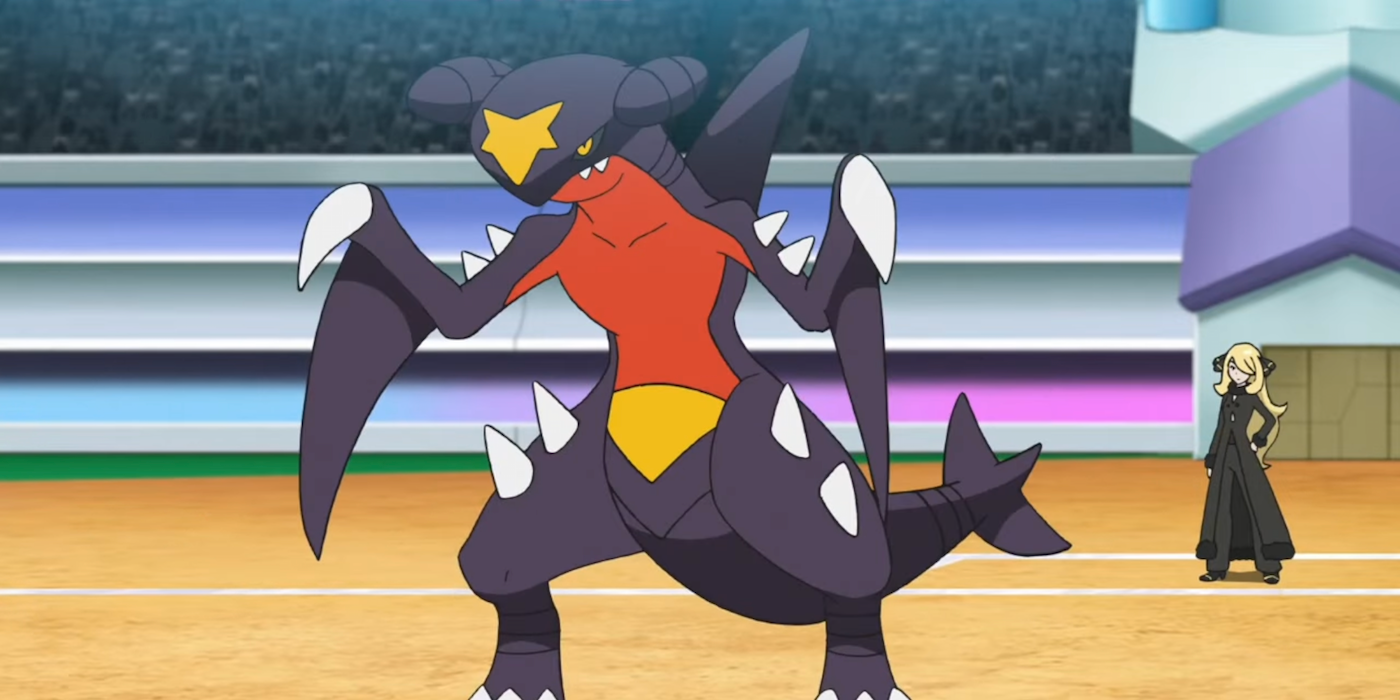 | | |
| --- | --- |
| Dragon Claw | Lvl. 42 |
| Earthquake | TM |
| Fire Blast | TM |
| Stealth Rock | TM |
Garchomp has consistently been one of the strongest Dual-Type Dragon Pokémon since Diamond and Pearl. This dual Dragon/Ground-Type is widely beloved thanks to inspired and striking creature design and offensive prowess. With its monstrous base stat spread (108 HP, 130 Phys. Attack, and 102 Speed being the highlights), Garchomp is incredibly versatile in battle.
The Rough Skin ability to damage its attackers and a moveset boasting the likes of Dragon Claw, Earthquake, and Fire Blast for good measure makes it menacing against almost any team. Gible evolves into Gabite at Lvl. 24 and into Garchomp at Lvl. 48, with the former two found in the wild in Tera Raids; various terrains, including caverns and mountains; and locales in Areas One and Two.
15
Axew/Fraxure/Haxorus
Type: Dragon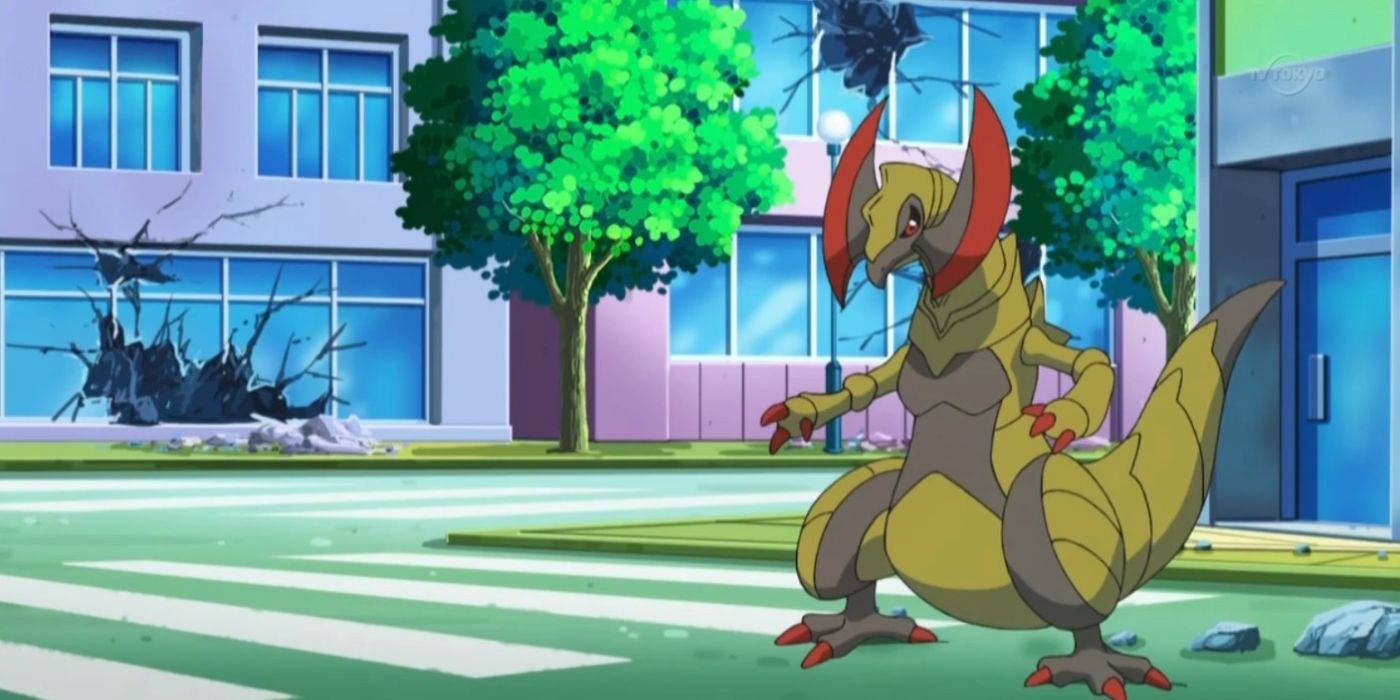 | | |
| --- | --- |
| Dragon Dance | Lvl. 27 |
| Outrage | Lvl. 46 |
| Earthquake | TM |
| Iron Head | TM |
Pokémon Black and White have been gaining more affection over the years, and they introduced a few exciting Dragon-Type species. While not Unova's Pseudo-Legendary, Haxorus is an impressive physical attacker that can sweep up the competition thanks to its immense 147 Phys. Attack and solid 97 Speed base stats.
Moves like Dragon Dance can set it up to be even more of a physical sweeper, while attacks like Outrage and Earthquake can tear through the opposition's team. Meanwhile, Mold Breaker lets it ignore the abilities of its opponents. Axew evolves into Fraxure at Lvl. 38 and into Haxorus at 48, with Axew and Fraxure found in the wild in Tera Raids; Dalizapa Passage; and Areas One, Three, and Five.
RELATED: 10 Games '00s Kids Will Be Nostalgic For
14
Goomy/Sliggoo/Goodra
Type: Dragon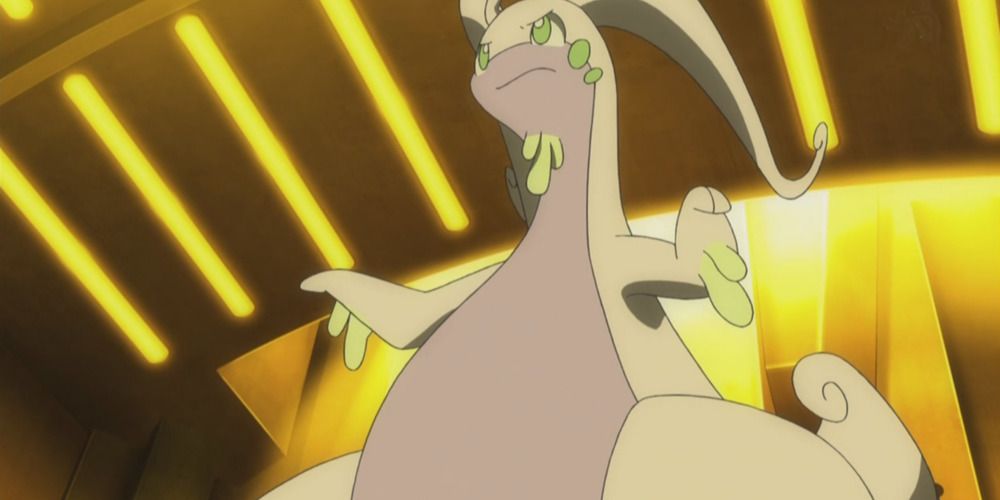 | | |
| --- | --- |
| Dragon Pulse | Lvl. 35 |
| Acid Spray | TM |
| Draco Meteor | TM |
| Thunderbolt | TM |
A pure Dragon-Type Pokémon, this Kalos native has astonishing natural bulk thanks to its 150 Sp. Defense and solid 90 HP base stats. It's no slouch offensively, either, with base stats of 100 for Phys. Attack and 110 for Sp. Attack, making it a strong candidate to break through bulkier opponents.
Along with the Sap Sipper ability to give it an extra offensive edge if hit by a Grass move, Acid Spray can further weaken opposition defenses while Draco Meteor and Thunderbolt finish them off and provide coverage. Goomy evolves into Sliggoo at Lvl. 40 and into Goodra at 50, with the Hisuian variant as another strong option (Steel/Dragon). Goomy and Sliggoo can both be found in the wild in Tera Raids as well as Areas Three, Four, and Five, in addition to lakes and mountainous regions.
13
Swablu/Altaria
Type: Dragon/Flying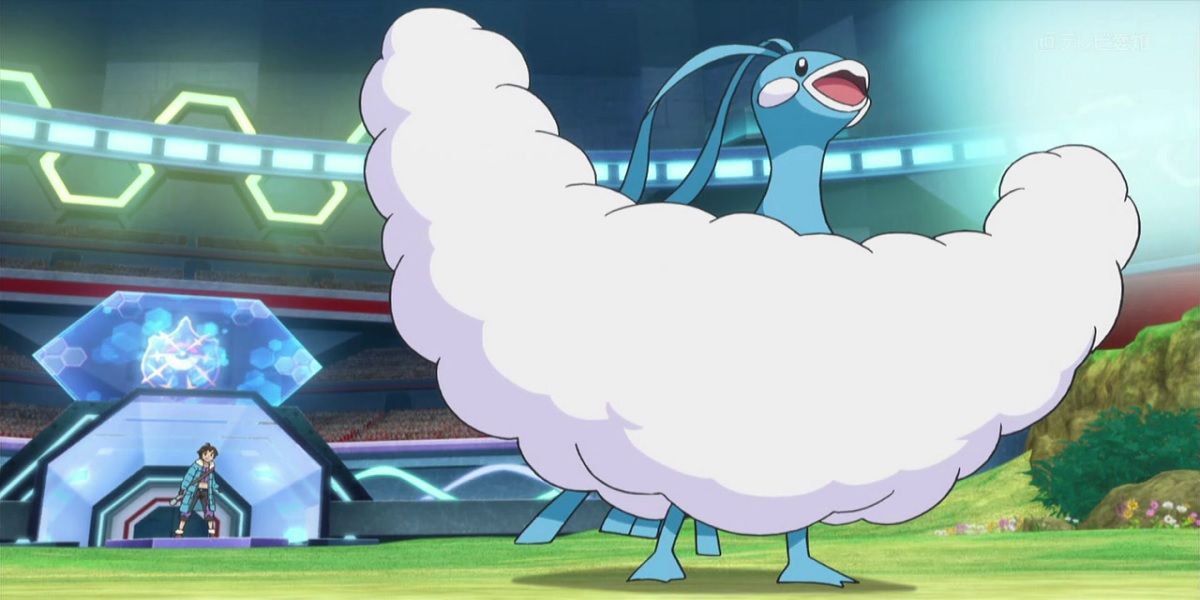 | | |
| --- | --- |
| Defog | Lvl. 1 (Breeding) |
| Roost | Lvl. 1 (Breeding) |
| Perish Song | Lvl. 50 |
| Earthquake | TM |
Hailing from some of the best Game Boy Advance games in general (Pokémon Ruby and Sapphire), Altaria was a rare example of a relatively early-game Dragon-Type. It doesn't measure up to its Pseudo-Legendary Dragon counterpart, but Altaria offers respectable advantages. As a Dragon/Flying-Type, Altaria has respectable defenses in its base stats with 105 Sp. Defense and 90 Phys. Defense.
Natural Cure is an excellent ability to shed any non-volatile status ailments, while moves like Roost and Defog are great for self-preservation and clearing hazards, alongside powerful attacks like Earthquake and Outrage. Swablu evolves at Lvl. 35, but both Swablu and Alataria can be found in the wild in Tera Raids and a slew of environments including Areas One, Three, Four, Five, and Six, as well as Casseroya Lake.
12
Bagon/Shelgon/Salamence
Type: Dragon/Flying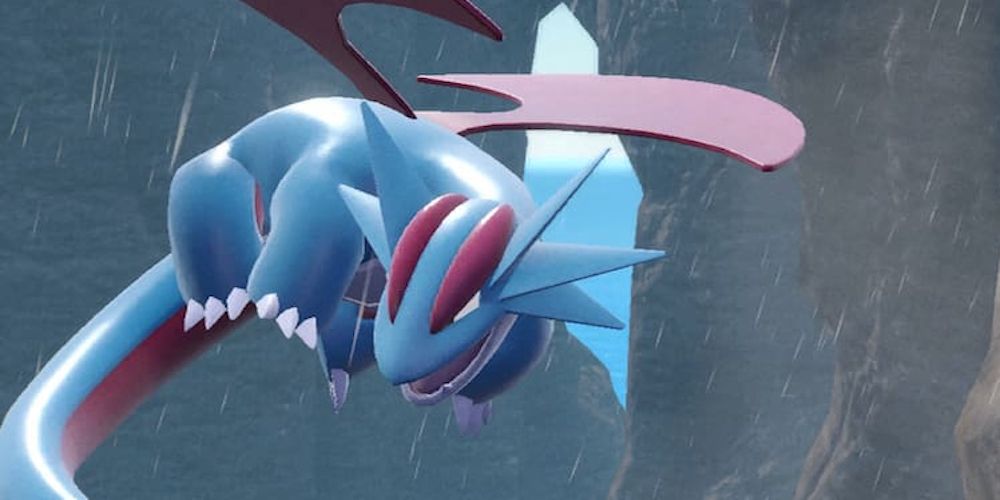 | | |
| --- | --- |
| Dragon Claw | Lvl. 33 |
| Flamethrower | Lvl. 55 |
| Dragon Dance | TM |
| Earthquake | TM |
Salamence is still one of the most fearsome Psuedo-Legendary Pokémon in battle. The sleekly-designed creature also shares that title with the Metagross family. Thanks to Salamence's fantastic overall base stat spread (135 Phys. Attack, 110 Sp. Attack, 100 Speed, 90 HP, 80 Phys. Defense, 80. Sp. Defense), this Dragon is flexible in both offense and defense.
Boosted by the ever-reliable Intimidate ability to cut opponents' Phys. Attack, Dragon Dance brilliantly sets it up for further offensive sweeping with attacks like Dragon Claw for STAB (Same Type Attack Bonus) and Earthquake for coverage. Bagon evolves into Shelgon at Lvl. 30 and into Salamence at 50, with all three found in Tera Raids; Bagon and Shelgon in Areas One, Two, and Three; and in environments like passages and caverns.
11
Cyclizar
Type: Dragon/Normal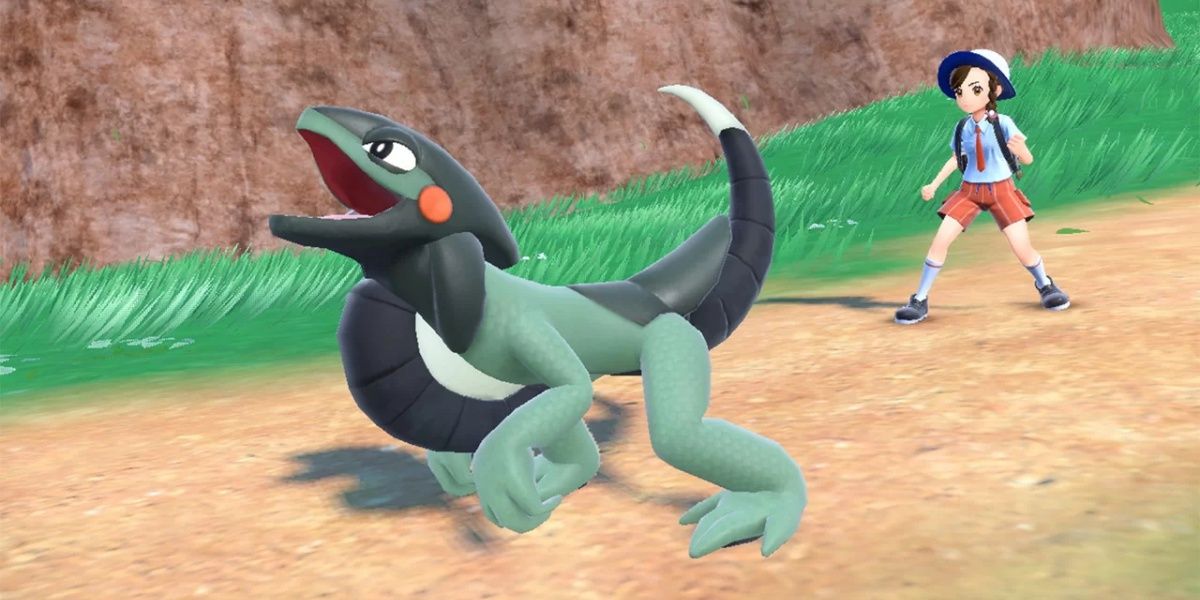 | | |
| --- | --- |
| U-Turn | Lvl. 27 |
| Shed Tail | Lvl. 31 |
| Draco Meteor | TM |
| Overheat | TM |
A Pokémon with a connection to the flagship Legendaries Koraidon and Miraidon, Cyclizar is a Paldean native Dragon-Normal-Type. This friendly-looking Dragon doesn't have the most impressive stats, but Cyclizar's respectable 95 Phys. Attack and excellent 121 Speed base stats complement its heavy-hitting movepool.
The Regenerator ability helps it regain 1/3 of its max HP upon switching out, making the attack U-Turn an ideal pairing for its ability. Meanwhile, Shed Tail is a good Substitute alternative, while Draco Meteor and Overheat provide heavy STAB damage and Type coverage. Cyclizar can be found in Tera Raids; Areas One, Two, and Three; and the Asado Desert.
RELATED: 10 Pokémon Inspired By Mythological Creatures
10
Noibat/Noivern
Type: Flying/Dragon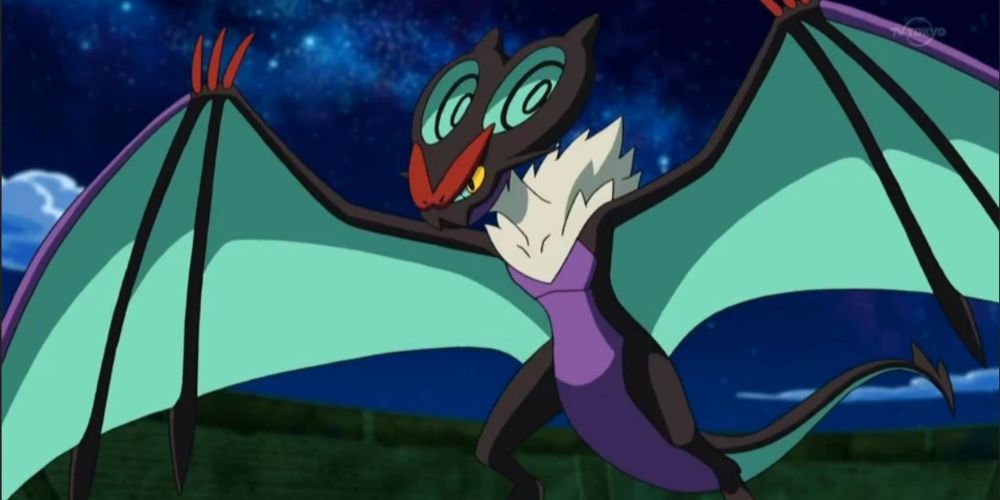 | | |
| --- | --- |
| Roost | Lvl. 44 |
| Boom Burst | Lvl. 62 |
| Flamethrower | TM |
| Draco Meteor | TM |
Noivern doesn't quite earn the title of being the Kalos region's Pseudo-Legendary (Goodra), but it has its fair share of uses in battle. It has a stylish bat/dragon-inspired design that could convince players to have one, but it's a shame it takes as long as it does for Noibat to evolve.
Nonetheless, Noivern's Infiltrator ability is especially useful for ignoring opponents' substitutes and screens/mists/veils for defenses, while Roost can help prolong its time in battle further. It has a strong 97 base Sp. Attack, but its biggest selling point is its blistering 123 base Speed, helping it take advantage of powerful moves like Draco Meteor and Boom Burst. Noibat evolves at Lvl. 48, but both Noibat and Noivern can be found in the wild via Tera Raids, as well as Areas One and Two.
9
Dreepy/Drakloak/Dragapult
Type: Dragon/Ghost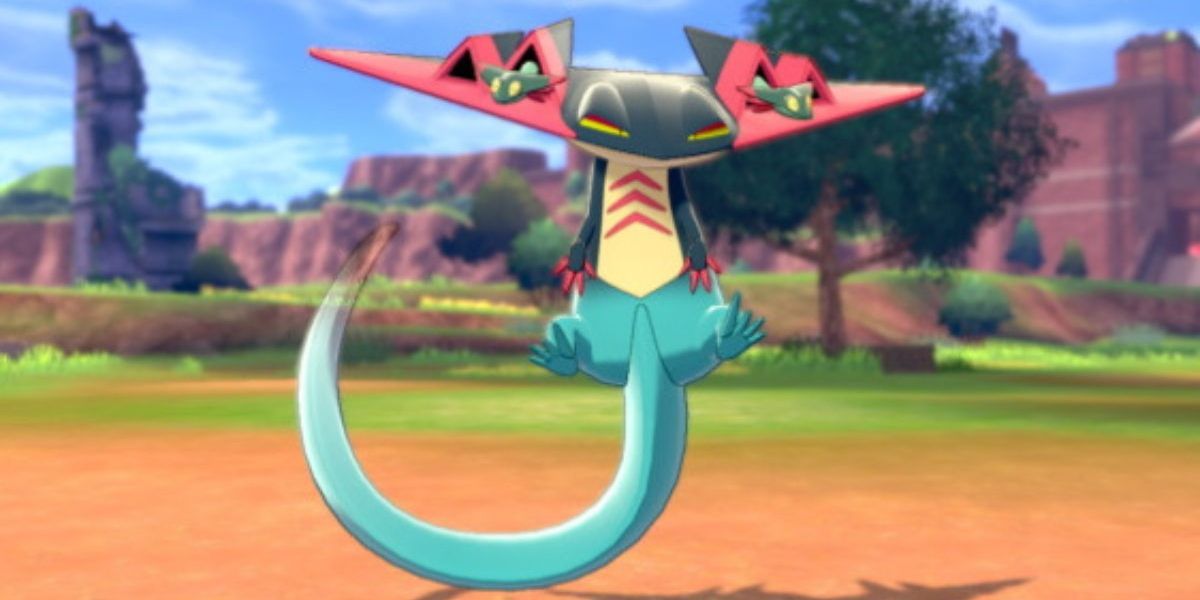 | | |
| --- | --- |
| Curse | Lvl. 1 (Breeding) |
| Hex | Lvl. 18 (Relearn) |
| U-Turn | Lvl. 36 (Relearn) |
| Dragon Darts | Lvl. 60 (Evolution) |
On top of being one of the speediest Pokémon in the mainline games, Dragapult—and its evolutionary line—also boasts the rare dual Dragon/Ghost-Type. Only the Legendary creature Giratina shares the unique dual typing. It has superb base stats, namely in Phys. Attack (120), Sp. Attack (100), and its daunting Speed (142), making Dragapult offensively versatile and frighteningly fast.
Likewise, Dragapult's Cursed Body ability is potentially devastating for opponents by having a 30 percent chance to disable its attack upon Dragapult being hit. Meanwhile, Hex and Dragon Darts can overwhelm opponents or U-Turn for hit-and-run tactics. Dreepy evolves at Lvl. 50 into Drakloak and into Dragapult at 60, making it quite an investment, but all three can be found in Tera Raids. The first two can be found in Violet via Areas One through Five, Casseroya Lake, and Glaseado Mountains.
8
Skrelp/Dragalge
Type: Poison/Dragon
| | |
| --- | --- |
| Dragon Tail | Lvl. 1 (Breeding) |
| Dragon Pulse | Lvl. 40 |
| Sludge Bomb | Lvl. 52 |
| Toxic Spikes | TM |
A unique Pokémon in both design and typing, Dragalge debuted in Pokémon X and Y. It's a dual Poison/Dragon-Type while taking aesthetic inspiration from algae and the leafy seadragon. Dragalge isn't popularly used, but its respectable-to-excellent defenses (90 base Phys. Defense, 123 base Sp. Defense) and capable 97 base Sp. Attack makes it competent.
Using the incredibly useful Adaptability ability to boost its STAB bonus from 1.5x to 2x, it can make attacks like Dragon Pulse and Sludge Bomb particularly costly for the opposition. Meanwhile, Toxic Spikes is a great way to set up hazards. Skrelp evolves at Lvl. 48, and both Skrelp and Dragalge can be found exclusively in Scarlet in the wild via Tera Raids and the North (Dragalge), South, East, and Western Paldean seas.
RELATED: 10 Best Scarlet & Violet Pokémon For Tera Raid Battles
7
Dratini/Dragonair/Dragonite
Type: Dragon/Flying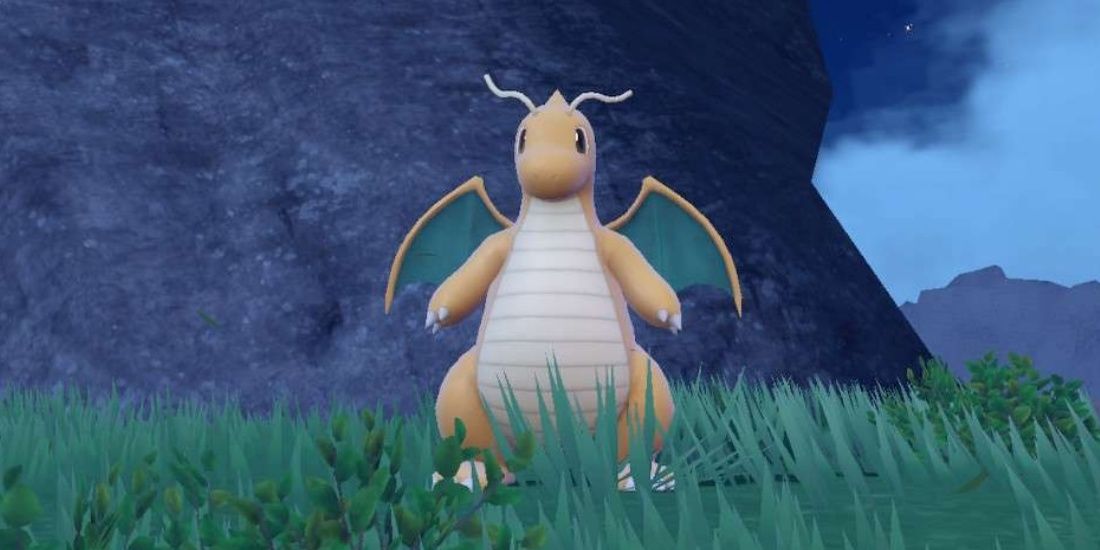 | | |
| --- | --- |
| Extreme Speed | Lvl. 1 (Relearn) |
| Outrage | Lvl. 41 (Relearn), TM |
| Dragon Dance | Lvl. 62 |
| Earthquake | TM |
Debuting in the original Pokémon Red, Blue, and Green, Dragonite has a charmingly simple and friendly design. It was also, unsurprisingly, one of the original games' most overpowered species. Dragonite doesn't quite hold that same title but's still a formidable partner or opponent.
Between Dragonite's staunch bulk (91 base HP, 95 base Phys. Defense, 100 base Sp. Defense) and staggering offenses (134 base Phys. Attack, 100 base Sp. Attack), it can fill various roles in a team. Multiscale gives it an invaluable one-time defense at full HP by halving the first attack it takes, while Outrage, Earthquake, Extreme Speed, and more give it a deep arsenal. Dratini evolves at Lvl. 30 into Dragonair and into Dragonite at 55, with all three also in the wild via Tera Raids, and spread across Casseroya Lake and Areas Two and Six.
6
Deino/Zweilous/Hydreigon
Type: Dark/Dragon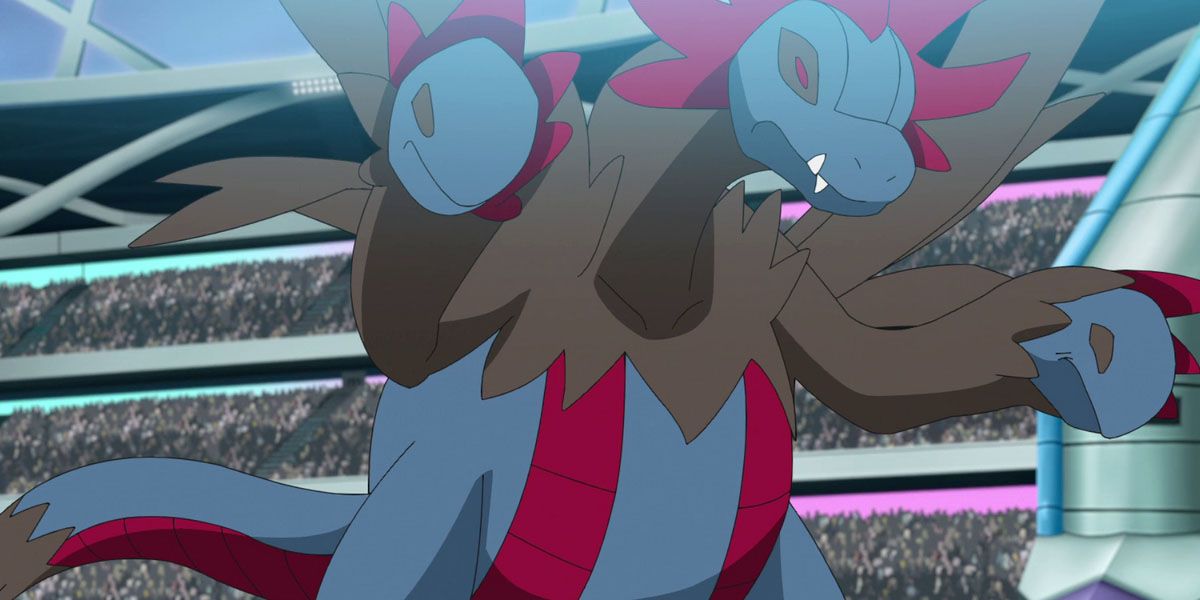 | | |
| --- | --- |
| Dragon Pulse | Lvl. 40 |
| Nasty Plot | Lvl. 60 |
| Dark Pulse | TM |
| Earth Power | TM |
The dual Dark/Dragon-Type Hydreigon admittedly saw its power ranking go down following the introduction of the Fairy-Type in Gen VI, but it still has more than enough potential. Hydreigon has solid-to-great overall base stats, but its highlights are its Phys. Attack (105), Sp. Attack (125), and Speed (98).
The Levitate ability keeps Hydreigon safe from ground-based attacks, while Nasty Plot can make its offensive movepool even more of a terror for the opposition. Deino evolves into Zweilous at Lvl. 50 and into Hydreigon at 64, and all can be found in the wild. Exclusive to Scarlet, they're in Tera Raids and spread across Area Two, Alfornada Cavern, Dalizapa Passage, and Glaseado Mountain.
5
Tatsugiri
Type: Dragon/Water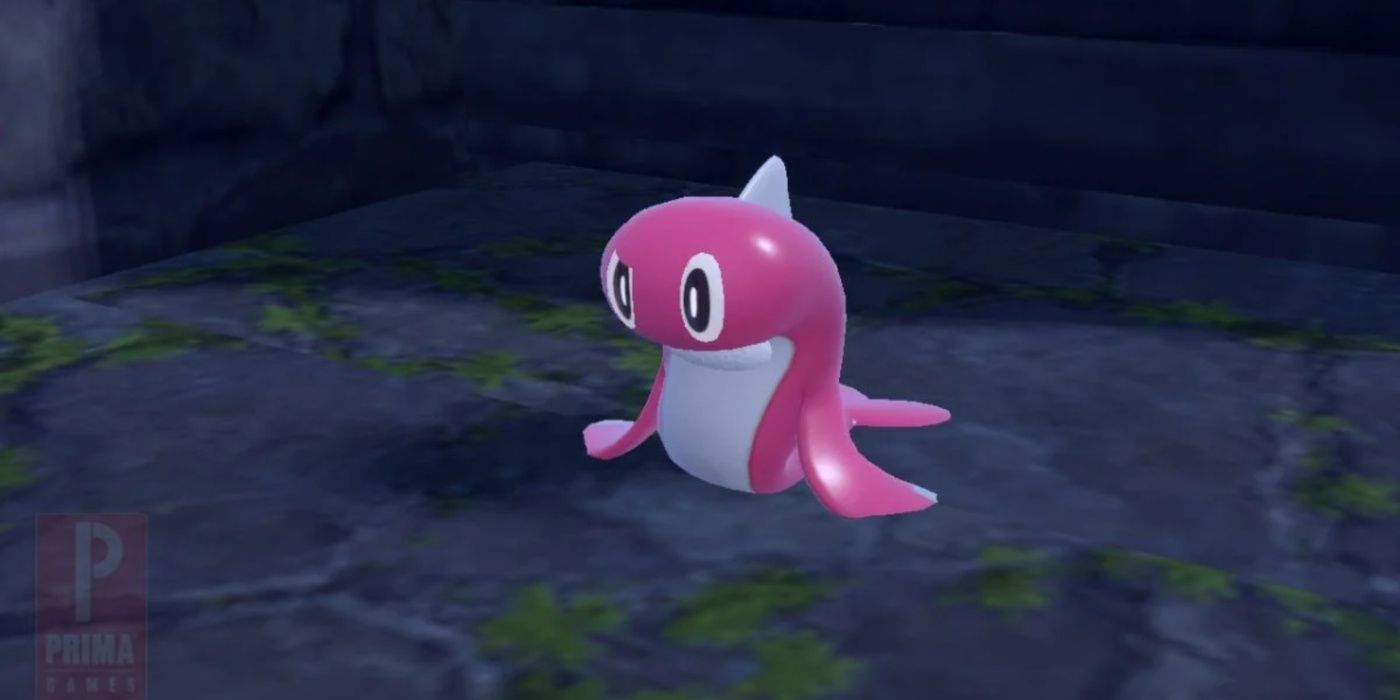 | | |
| --- | --- |
| Muddy Water | Lvl. 39 |
| Nasty Plot | Lvl. 43 |
| Draco Meteor | TM |
| Surf | TM |
Cleverly based on sushi, Tatsugiri is an unusual Dragon-Type Pokémon. The dual Dragon/Water-Type has lackluster bulk, but its powerful 120 base Sp. Attack can work Tatsugiri into niche situations. It also has three different forms that boost either Attack, Defense, or Speed.
Tatsugiri has an oddly specific benefit in double battles, as its Commander ability prevents it from attacking or being hit while boosting all stats of Tatsugiri's partner by 2 points. It only applies if its partner is Dondozo, but the latter can still make good use of its Sp.-focused attacks with Nast Plot. Tatsugiri can be found in Tera Raids and Casseroya Lake.
4
Frigibax/Arctibax/Baxcalibur
Type: Dragon/Ice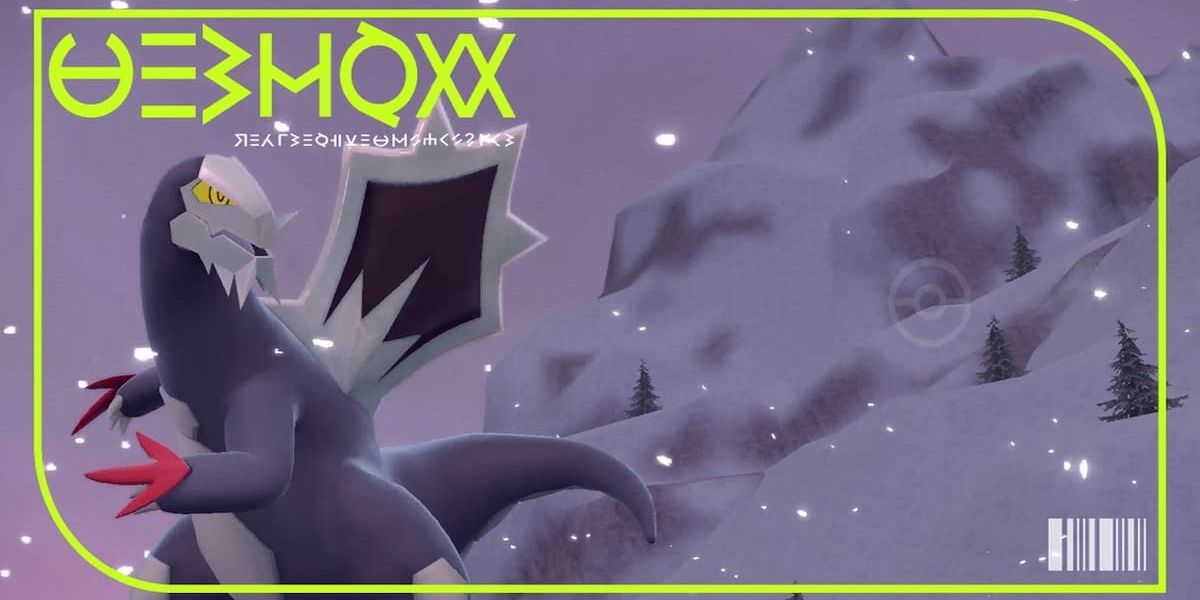 | | |
| --- | --- |
| Glaive Rush | Lvl. 54 (Evolution) |
| Icicle Crash | Lvl. 62 |
| Dragon Dance | TM |
| Earthquake | TM |
Scarlet and Violet's Baxcalibur adopts the rare Dragon/Ice dual Type, quickly becoming one of the Gen IX games' most powerful physical Pokémon. Ice-Types are normally infamous for being frail, but thanks to the Dragon-Type, its usual weaknesses are partially fortified. More importantly, its base HP bulk (115) and fearsome base Phys. Attack (145) allows it to cut through the opposing team.
Thermal Exchange boosts Baxcalibur's offense if the opponent makes the mistake of attacking it with Fire, while its signature move Glaive Rush deals incredible damage—if players are willing to risk being vulnerable for two turns. Frigibax evolves at Lvl. 35 into Arctibax and into Baxcalibur at 54. All three can be found via Tera Raids (exclusively for Baxcalibur) as well as Dalizapa Passage and Glaseado Mountian.
RELATED: 10 Pokémon We Want Added To Gen IX's Hidden Treasure Of Area Zero DLC
3
Roaring Moon
Type: Dragon/Dark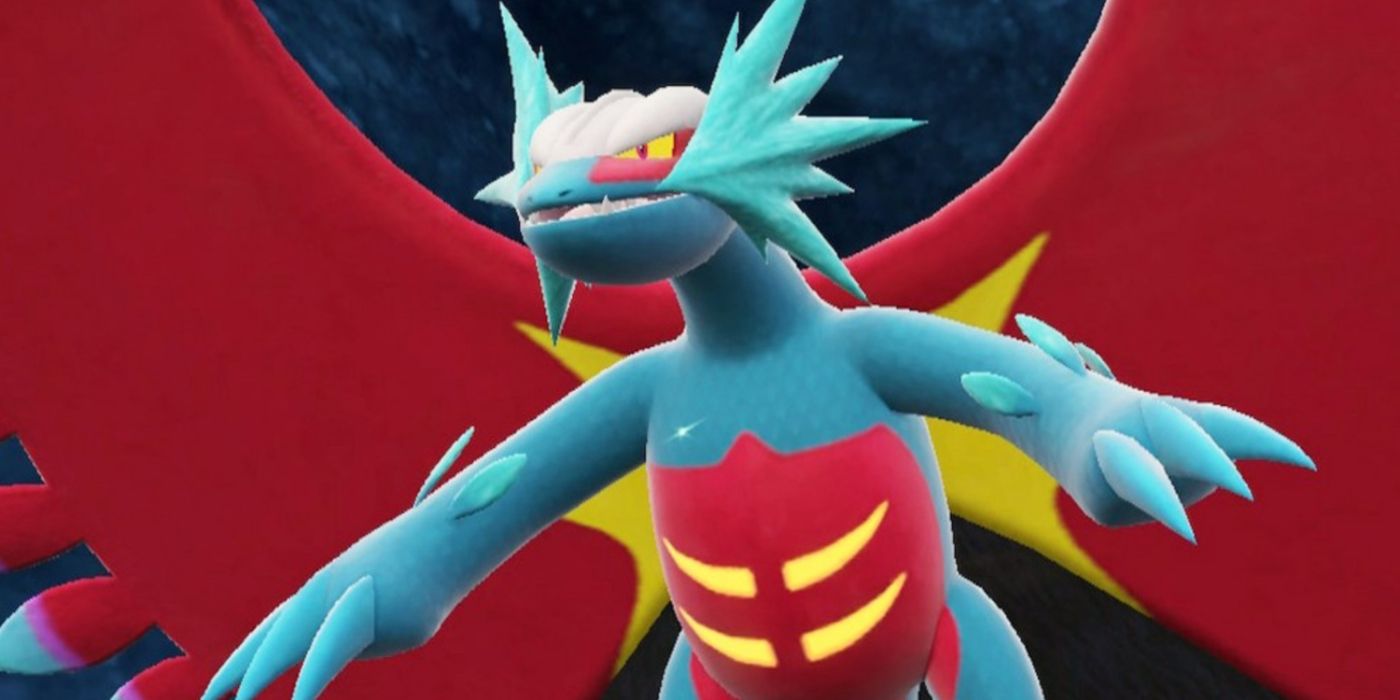 | | |
| --- | --- |
| Dragon Claw | Lvl. 28 |
| Dragon Dance | Lvl. 56 |
| Crunch | TM |
| Acrobatics | TM |
One of the better features of Scarlet and Violet is the inclusion of Paradox Forms, with Roaring Moon being a distant relative of Salamence. A dual Dragon/Dark-Type, Roaring Moon ranks among the game's strongest Pokémon, rivaling some Pseudo-Legendary species.
All but Roaring Moon's Phys. Defense and Sp. Attack are fantastic, with the best being its 139 base Phys. Attack and 119 base Speed. Dragon Claw and Crunch are both reliable, risk-free STAB attacks for Roaring Moon, while Acrobatics offers powerful coverage. And like all ancient Paradox species except Koraidon, its Protosynthesis ability boosts its highest stat by 30 percent (or 50 if Speed) under the sunlight or holding the Booster Energy. It's exclusive to Pokémon Scarlet and can be found in Area Zero.
2
Koraidon
Type: Fighting/Dragon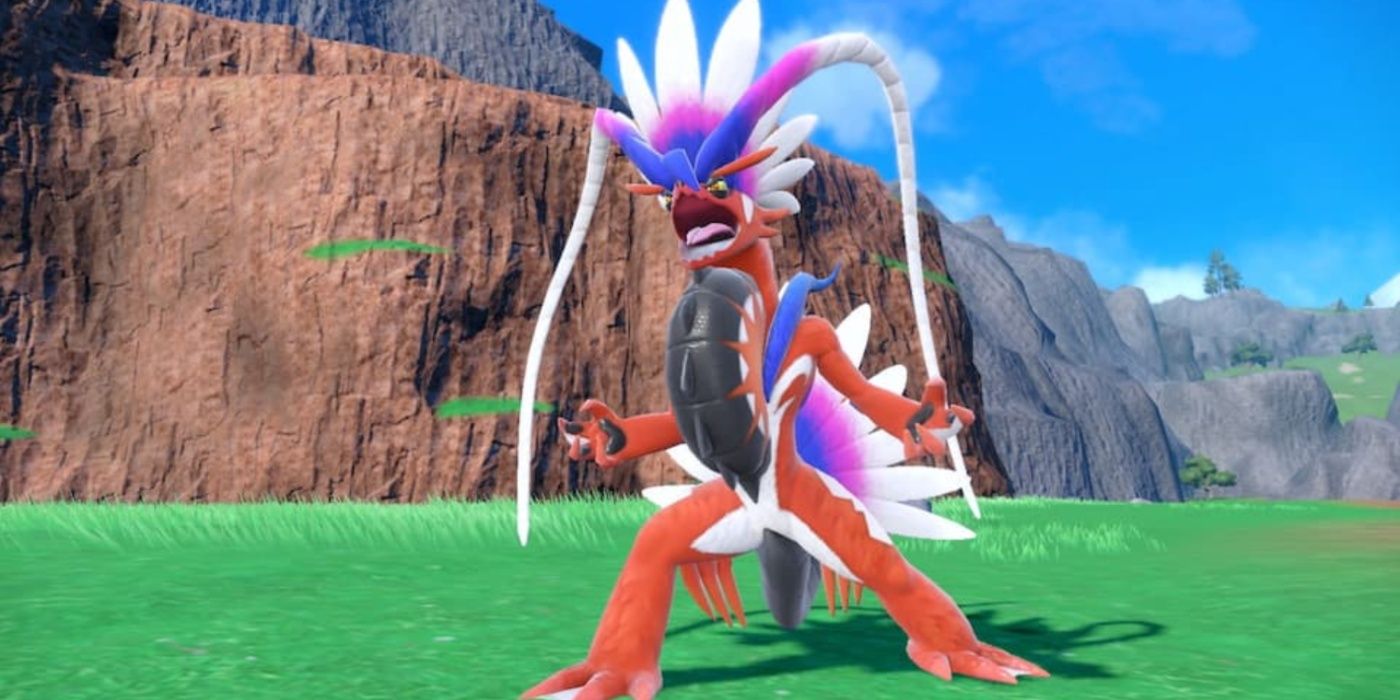 | | |
| --- | --- |
| Dragon Claw | Lvl. 42 |
| Collision Course | Lvl. 56 |
| Flare Blitz | Lvl. 91 |
| Heavy Slam | TM |
The flagship Legendary of Pokémon Scarlet, Koraidon is a powerful dual Fighting/Dragon-Type. Only Hakamo-o and Kommo-o share the typing, with Koraidon being an expected physical powerhouse. As a Legendary, all of its stats are impressive, but its specialties lie in its triple-digit stats, barring Sp. Attack.
Koraidon has an excellent pool of attacks at its disposal, from its signature Collision Course and the reliable Dragon Claw for STAB. Its ability is also good for setting up the rest of its team, as Orichalcum Pulse draws out the sunlight when switching into battle. Exclusive to Scarlet, Koraidon can be found in Area Zero.
1
Miraidon
Type: Electric/Dragon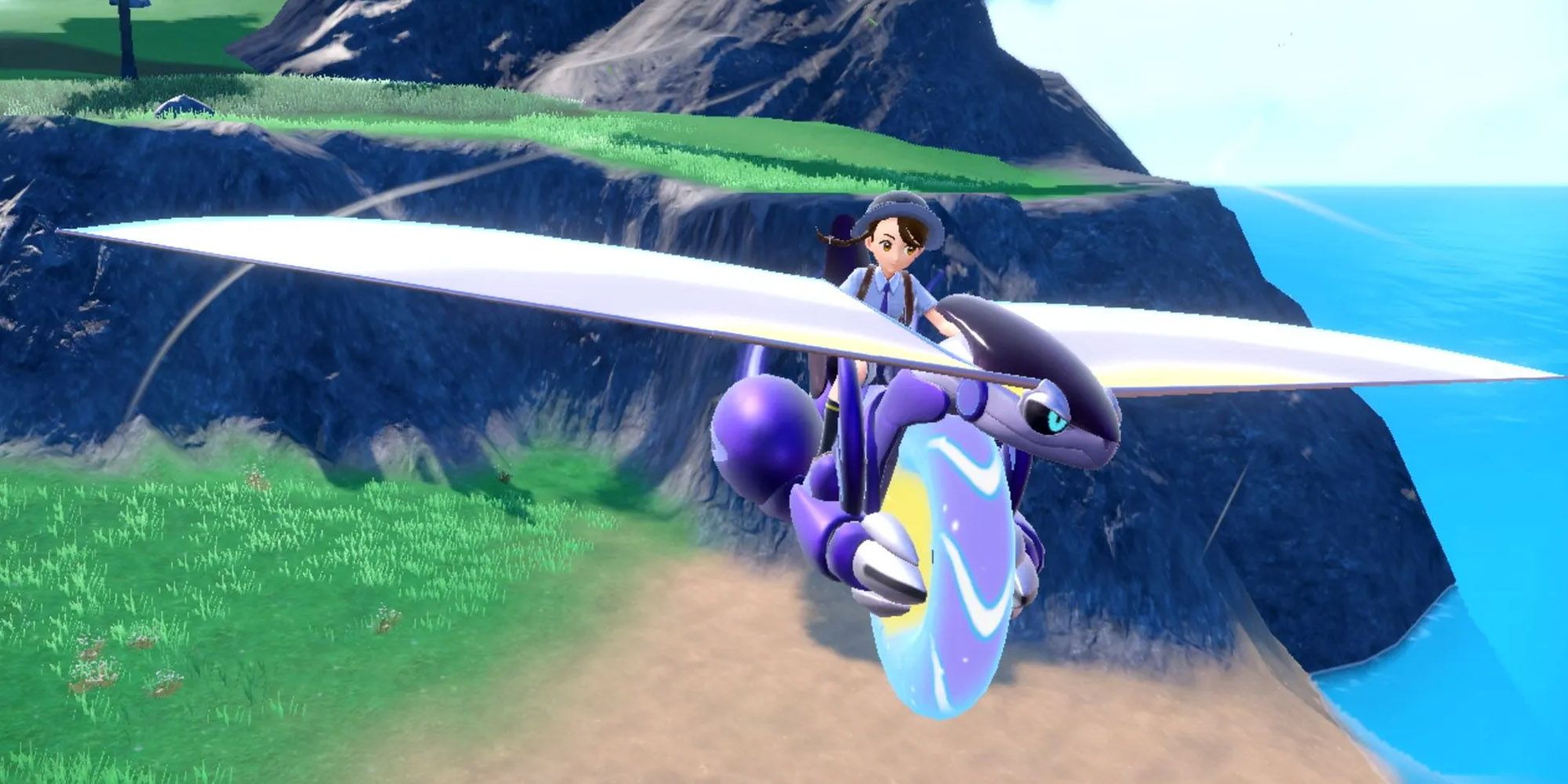 | | |
| --- | --- |
| Dragon Pulse | Lvl. 42 |
| Electro Drift | Lvl. 56 |
| Outrage | Lvl. 77 |
| Overheat | Lvl. 91 |
The counterpart to Koraidon and flagship Legendary of Pokémon Violet, Miraidon takes on the dual Electric/Dragon-Type. The only other species to have this combination is Unova's Legendary Zekrom. The same strengths apply to Miraidon as to Koraidon but are essentially reversed.
Sp. Attack is the Miraidon's specialty, and it has a similarly deep pool of powerful attacks. Its signature attack, Electro Drift, deals heavy damage while adding a 1.33x multiplier if it's supereffective. Like Koraidon's Orichalcum Pulse, Miraidon's Hadron Engine summons an Electric Terrain upon switching into battle. Exclusive to Violet, Miraidon is also found in Area Zero.
NEXT: 10 Easiest Ways To Beat Tera Raids In Pokémon Scarlet & Violet