The tech world shows no sign of slowing down as we head rapidly towards the end of 2023. This week saw the arrival of our favorite foldable phone so far, an intriguing new Apple Pencil and a fresh face in the world of bone conduction headphones.
It hasn't all been good news, sadly, as Netflix announced another subscription price rise in the US, UK and France. If you're signed up to Netflix's Premium or Basic plans, look out for some unwelcome hikes to your bills – other streaming services are also surely taking note.
But that's enough about increasingly painful tech subscriptions. This week was, in the main, pretty fun, as we discovered during our time testing the new Ray Ban Meta Smart Glasses – read on for our verdict on those, plus the latest Netflix trailer that's helping us forget about those pesky price hikes…
7. Netflix's Bodies became our next sci-fi must-watch
Looking for a new sci-fi series that also has a generous helping of dystopian detective drama? Then you'll likely want to add Netflix's Bodies to your watch list – its first trailer landed this week, and you can already stream the whole lot.
Based on the graphic novel by Si Spencer, Bodies mixes various genres – from murder mystery to period drama – with a fine cast that includes Amaka Okafor, Emmy nominee Shira Haas, Olivier Award winner Kyle Soller and SAG Award winner Stephen Graham.
It's just the thing we need to forget about Netflix's new price rises (more on those later)…
6. Suunto flew into bone-conduction headphones with Wings
Garmin rival Suunto ventured into hitherto uncharted territory this week with the launch of its Wing bone conduction headphones. For the uninitiated, bone conduction headphones bypass the ear entirely by sending vibrations through your skull via a transducer, rather than soundwaves from a speaker. The end result leaves your ear free to listen out for traffic, cyclists, pedestrians and warning signals.
A trio of physical buttons ensure they can be operated using gloves, essential for cold-weather training, while the headset also plays nicely with Suunto's smartwatches, particularly Race, allowing the wearer to receive vocal training tips and workout updates directly from the watch. They're pricier than market leaders Shokz' best efforts, but they're also tough – able to withstand extreme temperatures and boasting a better water resistance than the Shokz OpenRun Pro.
5. Fitbit placated fans with an apologetic app update
The recent redesign of Fitbit's smartphone app caused a bit of an uproar, as fans blasted the update for being ugly, confusing and somehow less functional than before. Fortunately, this week Fitbit extended an olive branch to disgruntled users by promising that it's working on a series of features that address (some) of the criticisms.
For a start, it's reintroducing 'Steps streaks', a popular feature that triggered what Fitbit called "an outpour of love" when it strangely disappeared in the app's redesign. It'll return on iOS and also make its debut on Android. 
With another four app fixes also en route – plus the promise of a dark mode – Fitbit has at least stemmed a potential exodus of users to the likes of Garmin and Apple. But it also needs its promising Fitbit Labs features, including an AI chatbot that can analyze your workouts, to really hit the mark in 2024, too.
4. Apple gave us a cheaper, USB-C Pencil for iPads
Apple basically ignored this week's buzz about a potential new iPad (of any size) and instead delivered a new Apple Pencil. 
Okay, it isn't the most inspiring release, but there are a couple of key differences between it and the Apple Pencil (2nd Generation).  First is the hidden USB-C port. That's right, this is another step in Apple's efforts to wipe away all vestiges of the lightning plug. If you recall, the very first Apple Pencil hid such a plug. 
In this case, Apple smartly put the port and not the plug on the Pencil. Unfortunately, this Apple Pencil loses the wireless charging capabilities (and pressure sensitivity), but at least it's significantly cheaper…so there's that.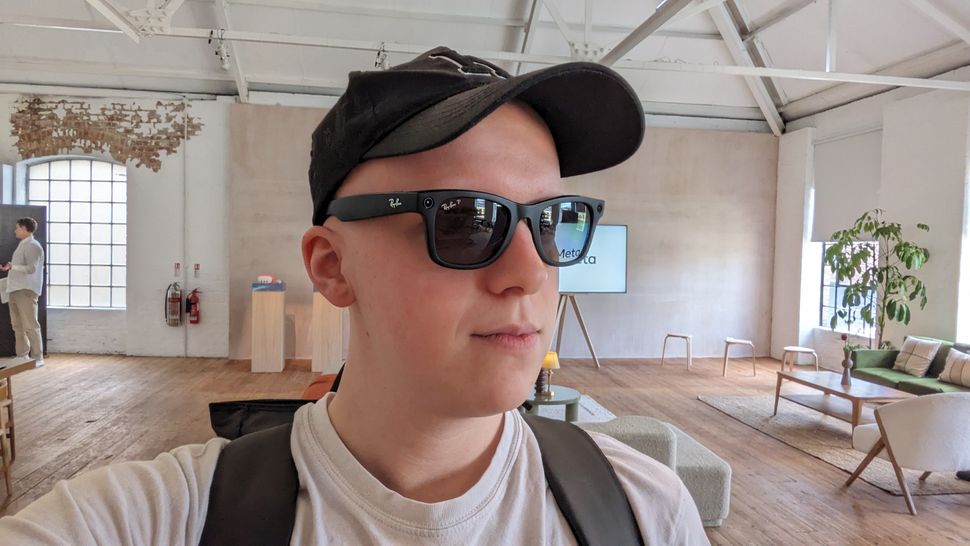 Ray-Ban sunglasses that can shoot photos and video for social media aren't a new idea – the Ray-Ban Stories arrived back in 2021 with plenty of promise, which they fell just short of delivering on. Well, now they're back with a new name, upgraded specs and a helpful dose of AI (well, if you live in the US).
During our time this week with the Ray-Ban Meta Smart Glasses (catchy name) we found them to be a fun, if niche, piece of face furniture. The images and videos they shoot are now much-improved thanks to the new 12MP camera, while audio quality is solid too (if not quite up to the level of dedicated air-conduction headphones).
On the down side, we couldn't test the promising conversational AI feature fully, as it's still in beta and only available in the US for now. But if you like stylish, wearable tech, it's well worth reading our full Ray-Ban Meta Smart Glasses review.
2. Netflix tested our patience with another price hike
The Netflix password sharing crackdown has done pretty well for the streaming giant, but that doesn't mean it isn't done with price hikes – this week, Netflix again raised the subscription prices for its Premium and Basic plans in the US, UK and France. 
In the US, for example, Premium has risen from $19.99 to $22.99, while in the UK the Basic plan has risen by £1 per month to £7.99. You can read the full breakdown of price rises in our roundup below – or you can just carry on in blissful ignorance by skipping it and reading about OnePlus' excellent new foldable instead.
1. The OnePlus Open became our favorite foldable
It's already been a busy year for foldable phones, especially with the arrival of the Google Pixel Fold. But this week OnePlus entered the fray with its first foldable: meet the OnePlus Open. 
With a trim design, the powerful Snapdragon 8 Gen 2 chip, 16GB of RAM and 512GB of storage, the OnePlus Open has an enviable specs list. Its cameras are also the best on any foldable phone we've tested. 
Add in some excellent software and features like super-fast charging and bright displays, and the OnePlus Open has basically become our favorite foldable phone to date. The Open is a shot across Samsung's bow to start innovating rather than iterating on its foldable phones, which could make 2024 rather interesting for foldables.