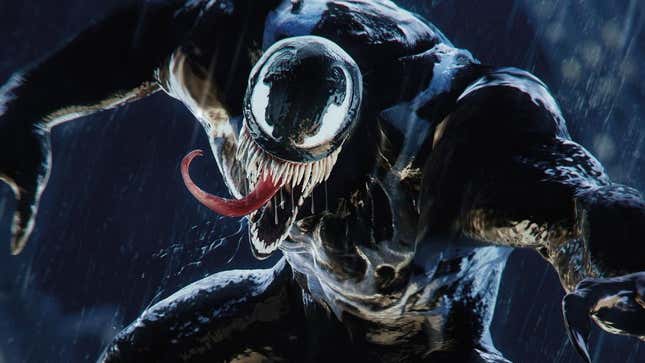 With the newly released Marvel's Spider-Man 2, Insomniac Games introduces Venom to its superhero gaming franchise. The classic Spider-Man nemesis is voiced by Tony Todd and a pretty big dude who's been featured heavily in the game's marketing. And given the nature of superhero media, plus the studio's previous experience with giving Miles Morales a standalone game of his own ahead of this game, you wouldn't be wrong in thinking that a Venom game could be on the horizon.
Unboxing Marvel's Spider-Man 2 Limited Edition Playstation 5 Bundle
Insomniac knows this, but the studio is apparently not ready to go all-in on the carnivorous antihero just quite yet. Talking to Insider, senior narrative director Jon Paquette expressed his hope that the game would provide "one of the best Venom stories you've ever experienced." And should audiences want more of the character, the studio will do so—but right now, it's just focused on its newest release. "We're gonna wait to see how the fans react," he continued. "We're gonna listen to the fans and we're gonna ask ourselves: 'Okay, what do they really want?' We'll kind of talk about stuff after we've all had time to sleep and take vacations."
Much like Spider-Man himself, Venom has a solid video game history starting with 1991's Spider-Man vs. The Kingpin in its Sega Mega-CD version. His first playable debut was in 1994's Spider-Man & Venom: Maximum Carnage for the SNES, and he's bounced between being a boss villain and playable in subsequent games. 2005's Ultimate Spider-Man made him both a playable character and its final boss, and has to frequently feed on people (including a child at one point) to sustain himself and regain health; more recently, Marvel's Midnight Suns had him as a recurring villain before adding him to the game's roster of playable heroes via DLC.
Knowing Insomniac, the studio likely already has plans for more Venom in their mind's eye, or even just on a sticky note somewhere in a larger map for their Marvel universe. The character's already a franchise unto himself, and the studio has shown they like featuring as many Spider-Man characters as they can to make the world feel as big and lived in as possible. Without spoiling the events of the new game, there's definitely more room for every inch of Venom as possible in this universe.
Marvel's Spider-Man 2 is out now for the PlayStation 5.
---
Want more io9 news? Check out when to expect the latest Marvel, Star Wars, and Star Trek releases, what's next for the DC Universe on film and TV, and everything you need to know about the future of Doctor Who.