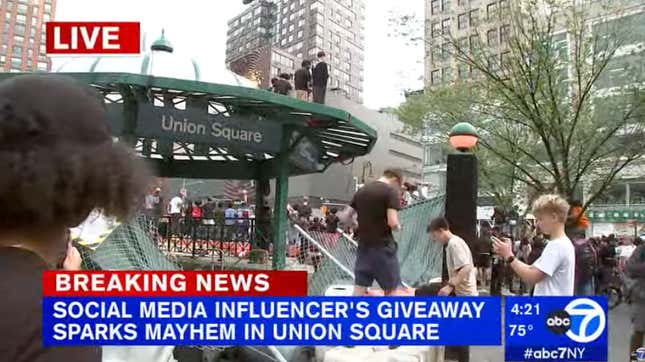 A social media influencer's event spun wildly out of control in downtown Manhattan on Friday. For some reason, thousands of people who had turned out to Union Square park to to see Youtube star and Twitch streamer Kai Cenat began rioting, obstructing traffic, and antagonizing police. The unruly crowd eventually spilled out into the surrounding neighborhood, with crowd members jumping onto moving vehicles and swarming the local streets. It's been reported that Cenat and a number of others have been arrested by New York city police but it's unclear exactly what charges have been filed, if any.
Creating Dracula for The Last Voyage of the Demeter
Cenat, who is said to be one of the most popular streamers on Twitch and has millions of followers on the platform, had previously announced that he would be giving away a number of game consoles at the event. It's unclear whether those giveaways ever actually happened. A local news anchor has reported that, at some point, it was heard in the crowd that there would be "no freebies," a revelation that seems to have precipitated the chaos.
LIVE | Twitch streamer's giveaway sparks mayhem in Union Square
When things fell apart, the result was pretty goddamn bonkers. Video captured by local news operators shows the situation disintegrating, as the crowd that had turned out to see the influencer turns rowdy. Crowd members can be seen initiating fights with one another, swarming moving vehicles, and climbing on top of park structures and the MTA entrance. Objects were also reportedly being thrown, including at Cenat, and at police. For some reason, a plume of smoke appeared over the crowd, according to Cefaan Kim, a news anchor with ABC7NY. "We saw smoke, I'm not sure if that was some sort of fire or smoke bomb," the anchor can be heard saying. The fallout from the event was so disruptive that the MTA reportedly began routing its trains away from the Union Square station on Friday.
By early Friday evening it appeared that police had dispersed most of the crowd from Union Square itself but were still busy pursuing disparate groups of people who had moved to other nearby areas.