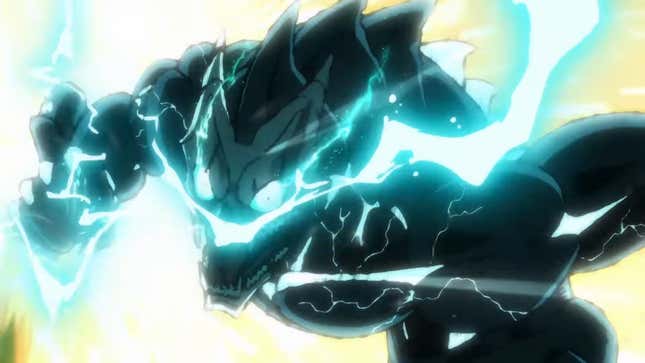 Kaiju stories often live and die not just on the monster itself, but whoever's fighting against (or with) it. Whether it's the military, other monsters, or giant robots, part of the fun can be seeing what's able to go blow-for-blow with a massive beast that shoots fire out of its eyes or some such.
Creating Dracula for The Last Voyage of the Demeter
The upcoming anime Kaiju No. 8 takes a slightly different approach to this age old punch up by having its titular kaiju be a shapeshifting superhero. Our hero is one Kafka Hibino (voiced by Masaya Fukunishi), a beefcake working as a kaiju janitor after they're inevitably destroyed in a big city-wrecking battle. One day after work, a smaller kaiju literally flies into his mouth, and while he's able to maintain his sentience, he ends up with some powers, including the ability to shift between human and kaiju forms at will. Thus, Kafka elects to join the Kaiju Defense Force, working alongside his childhood friend Mina (Asami Seto) while also trying to keep his dual life secret so he doesn't get executed.
アニメ『怪獣8号』ティザーPV第2弾/2024年4月放送開始
Kaiju No. 8 is based on a breakout 2020 manga of the same name from Naoya Matsumoto, and the new trailer establishes how much Kafka's life is (and will soon be) shaped by kaiju. His whole life revolves around cleaning up their messes, and watching the Defense Force on TV gives him an even bigger sense of longing, particularly since it seems hasn't seen Mina in years. Superhero stories are at their strongest when the professional and personal lives of the main character collide, and it looks like that collision will be a pretty big one.
Production I.G. (Ghost in the Shell) and Studio Khara (Neon Genesis Evangelion) are working together on Kaiju No. 8, which will release in April 2024.
---
Want more io9 news? Check out when to expect the latest Marvel, Star Wars, and Star Trek releases, what's next for the DC Universe on film and TV, and everything you need to know about the future of Doctor Who.