The Litecoin hashrate has been going up steadily over the last year. This was mainly driven by the anticipation leading up to the Litecoin halving that was slated to take place in August. Now that the halving event has come and gone, the hashrate has risen to a new all-time high, but the question is, whether the price of LTC will follow suit.
Litecoin Hashrate Taps New ATH Of 1.03 PH/s
The steady rise in the Litecoin hashrate is a testament to the growing interest in the network. The hashrate points to the fact that there are more miners on the blockchain trying to guess the correct answers to each block. And this translates to better security overall for the Litecoin network.
Interestingly, this increase in hashrate has seen the network hit not only a new all-time high but a significant milestone. According to data from CoinWarz, the Litecoin hashrate rose as high as 1.03 pentahashes per second (PH/s) on August 4.
This means that for the first time, LTC's hashrate has left the terahashes per second (TH/s) territory and crossed into the pentahashes per second (PH/s) territory. Although it is still a long way from Bitcoin's exahashes per second (EH/s), it is a testament to how much the Litecoin network has grown.
The Litecoin hashrate has since retraced back into the TH/s territory, now sitting at 739.88 TH/s as of Monday, August 7. But a look over the last year's hashrate chart shows that even this is a high level for the blockchain's hashrate.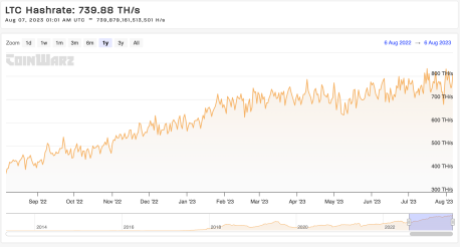 LTC hashrate remains high compared to 2022 | Source: CoinWarz
Will LTC's Price Follow The Hashrate?
Since the Litecoin hashrate hit its new all-time high, the price of LTC has been more volatile than normal. This is not out of the ordinary though as the altcoin has been following the general market trend and LTC's is a testament to that trend.
So far though, it doesn't seem like LTC has made any effort to break out of this trend. If anything, it has suffered more declines than recoveries, even dipping to as low as $$80.65 on August 4. This decline shows that the new hashrate ATH has not moved investors to invest more in the coin.
For now, something that could lead to an uptrend for Litecoin's price is if Bitcoin begins another rally and the crypto market starts to see improved sentiment. Otherwise, LTC will likely continue to toe the $82 line for the better part of the week.
At the time of writing, LTC price is trading at $82.80, down 0.47% in the last day and 11.67% in the last week.
LTC price trending at $82.42 | Source: LTCUSD on Tradingview.com
Follow Best Owie on Twitter
for market insights, updates, and the occasional funny tweet… Featured image from iStock, chart from TradingView.com