Manchester City humbled Manchester United with an emphatic 3-0 win at Old Trafford on Sunday – but how did Pep Guardiola's tactics help his side cruise to victory?
The result has ramped up pressure on Manchester United manager Erik ten Hag, with the club sat eighth in the Premier League table and 11 points adrift from league-leaders Tottenham after only 10 games.
Cast your mind back to January of last season and Old Trafford was buzzing with optimism. Marcus Rashford had just clinched a winner in a 2-1 victory against their 'noisy neighbours', as United claimed their fifth league victory in a row.

Wednesday 1st November 7:00pm

That winning streak was part of a run where they lost just once in 12 games from early October until towards the end of January. Ten Hag's goal for this season was to build on the success of last term – but United have regressed, rather than kicked on.
It is becoming a common theme in big games for teams to pull United's press around with minor adjustments to create space. Brighton, Tottenham and City seamlessly found ways around the way Ten Hag set his team up without the ball.
Have opponents done their homework on United's press from last season and are now finding ways around it? Tactics analyst Dharnish Iqbal analyses why it looked so easy for City in the derby…
FREE TO WATCH: Highlights from Manchester City's win against Manchester United in the Premier League

Silva exploiting the left wing
City pushed United's back three as wide as possible in their build-ups. This stretched United's block wide and lured them into making challenges.
Erik ten Hag felt Manchester United's game plan was good against Manchester City but his players made the wrong decisions as they were beaten 3-0 at Old Trafford

Central midfielders John Stones and Rodri were covered by Christian Eriksen and Scott McTominay – with Sofyan Amrabat needing to track the floating runs of Julian Alvarez. With United going man-for-man in the middle of the pitch to block central passing lanes, Bernardo Silva utilised the space wide and combined with Jack Grealish.
Gary Neville discusses the problems Manchester United currently face and joked the club need something magical to turn things around

In the example below, as Bruno Fernandes looks over his shoulder, wary of Bernardo's presence, he goes to make a tackle on Josko Gvardiol. When he is unable to win the ball, Grealish is played in wide, while Bernardo darts to make a run into the half-space – in the gap between Harry Maguire and Diogo Dalot.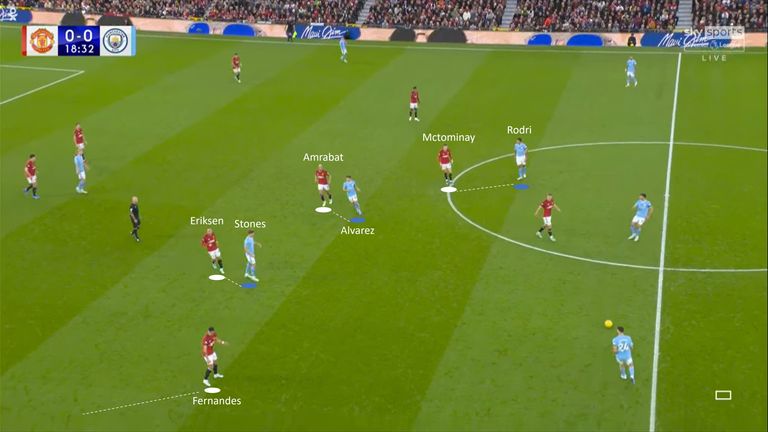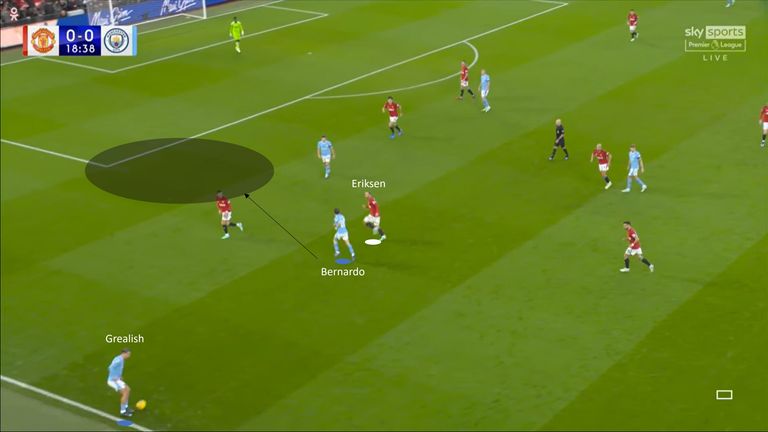 Eriksen now has to come over to track him, with Amrabat turning his attention to Stones – as Alvarez occupies Maguire on United's last line.
Even when Fernandes at right wing senses the pass is heading to Bernardo, the City midfielder pulls his Portuguese compatriot wider. It is the same situation again: United's central midfield matches up with City's.
As the ball is played out to Bernardo wide, he can link up 2vs2 with Grealish.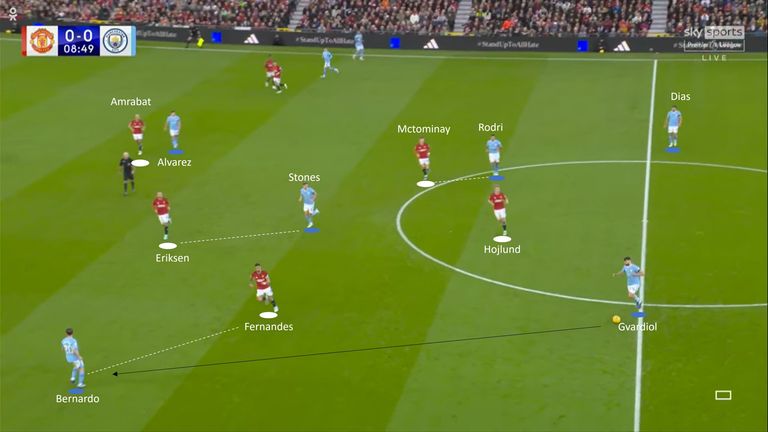 Whenever he does this, a United midfielder has to come over and City can overload the half-space – this time with Stones.
These situations allowed City to get into crossing positions close to the touchline with ease far too often.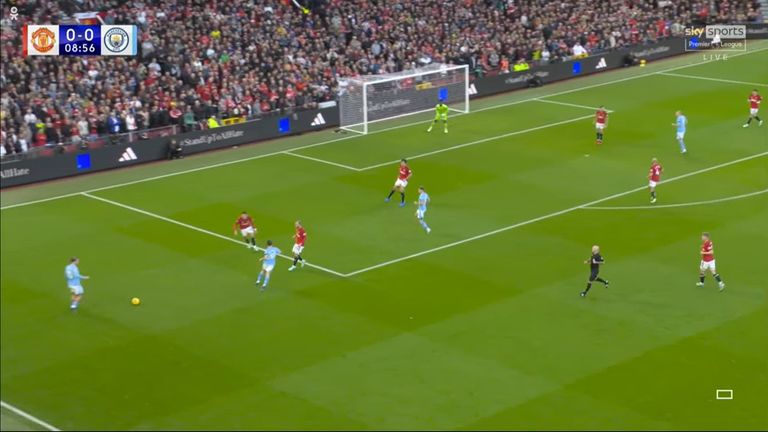 City waited for Grealish to get the ball wide as Bernardo would drift past United midfielders to receive down the line and cross. With United's midfield pivot occupied by other players, such as Eriksen on Stones, they could not come across to help out.
Fernandes should be tracking Bernardo, rather than pointing out his run.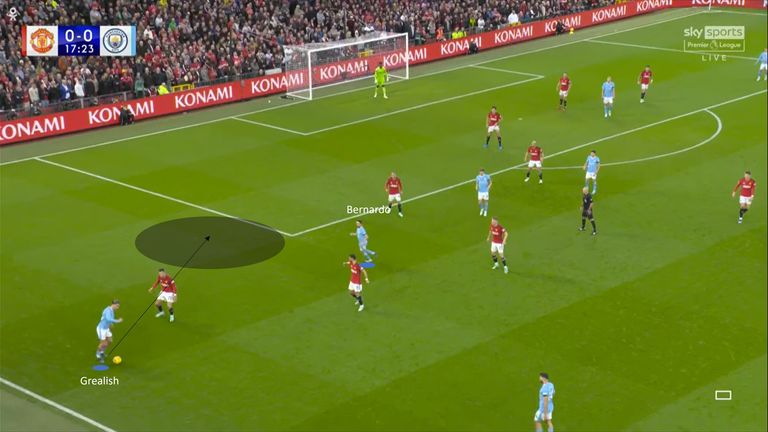 Roy Keane believes Bruno Fernandes should not be captain of Manchester United, despite his talents as a footballer

Bernardo knew where the space was during the entire game and exploited it throughout. It is why the second goal came from Bernardo overlapping Grealish in a 2vs1, crossing for Erling Haaland.
In the first half, the same situation occurred and needed an excellent save from Andre Onana to keep it out. Dalot was outnumbered time and again. In the example below, Dalot runs out to Grealish – only for Bernardo to make a run in behind United's defence in the half-space.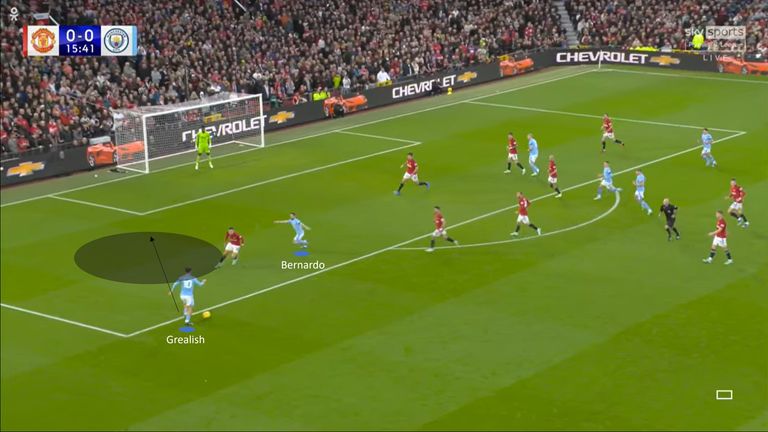 Rodri and Stones movement
The movement of City's central midfielders was the crucial link between defence and attack.
Sky Sports commentator Peter Drury asks Gary Neville on his podcast what he would change if he was rich enough to buy 100 per cent of Manchester United

Initially, with Amrabat tracking Alvarez and the pass cut off to Stones, United's block is not allowing the ball to be progressed centrally. However, when the ball is played to Gvardiol wide, Stones frees himself up in space to receive, with Eriksen attracted to Bernardo wide.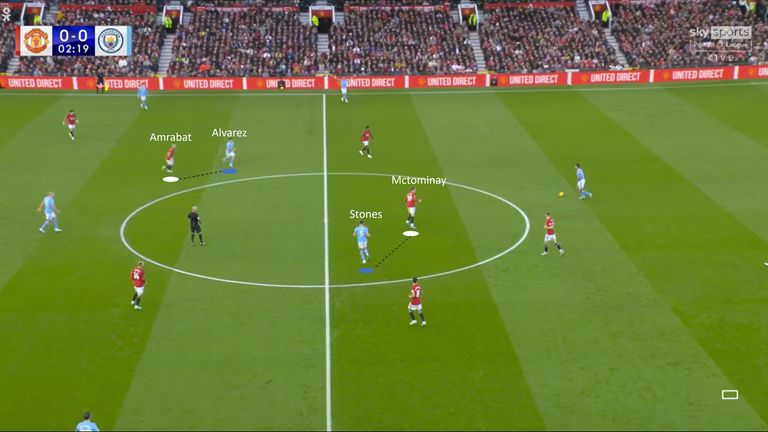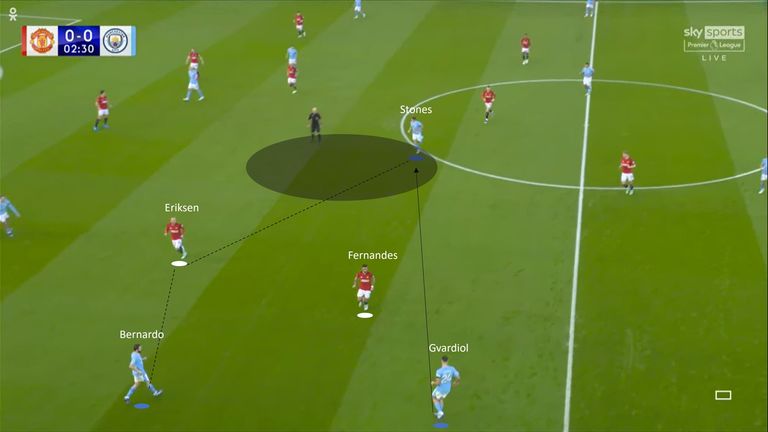 As Stones carries the ball forward, Eriksen and McTominay are now scampering back to close him down – but it is too late. Grealish has moved inside, becoming inverted to occupy Dalot, while Bernardo can be released wide. In one simple move, City moved United to one side and then found gaps in midfield.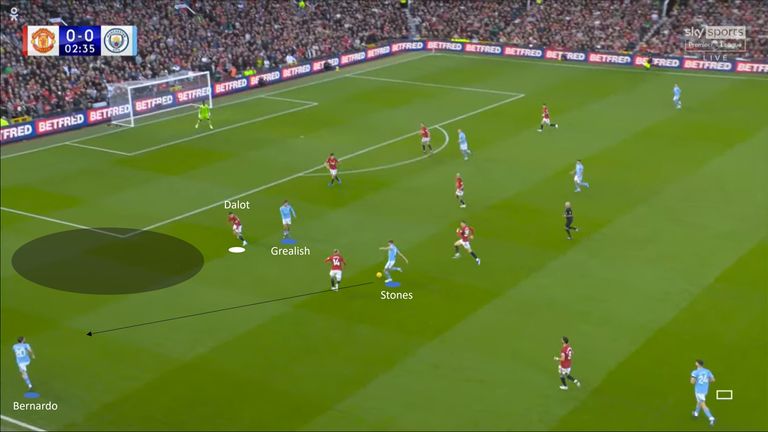 Gary Neville and Jamie Carragher clash on what the problems are at Manchester United following a comprehensive 3-0 defeat to local rivals Manchester City and where the blame lies after a lack of progress

In the second half, things became easier when Amrabat was subbed off for Mason Mount, as Rodri found more space. With Mount ball-watching on Kyle Walker, Rodri took advantage just behind him in acres of space to receive the ball.
McTominay is initially sticking to Bernardo, but then has to come across to block Rodri's run. As this happens, Fernandes should be sensing the pass coming to Bernardo, but is late in doing so.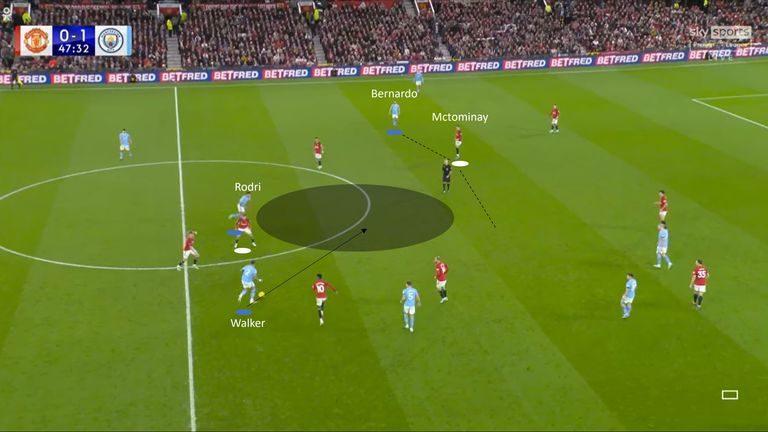 As Rodri passes wide to Bernardo, Dalot is once again outnumbered 2vs1, with Grealish overlapping.
Rodri and Stones pushed up to receive the ball, attracting markers towards them before passing to spare team-mates, as a result of the space they had created.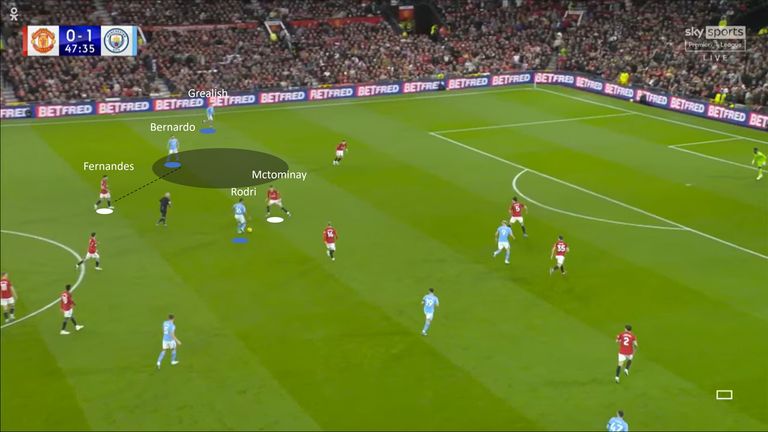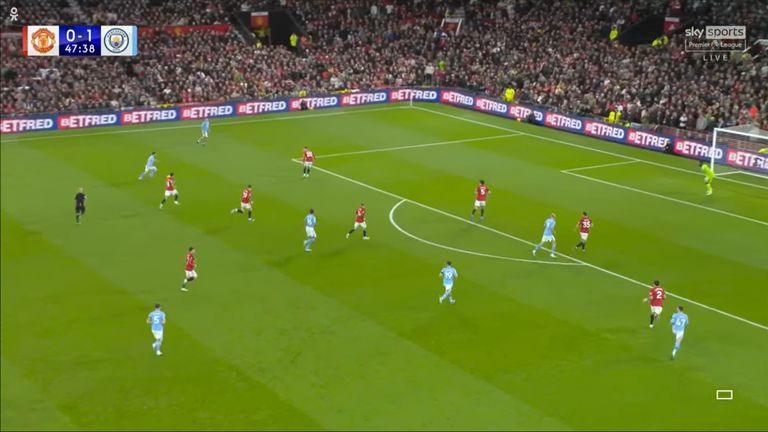 Despite United's injuries, it is eye-opening that in the same fixture last season City found it so much more difficult to open the Red Devils up.
As Manchester City's players celebrate a 3-0 win at Old Trafford Gary Neville, Micah Richards, and Roy Keane give an honest assessment of how far Manchester United are behind their local rivals

If Guardiola's changes do not work, City's players are smart enough to spontaneously sense a weakness in the opponent and execute a plan to expose it. Conversely, Ten Hag's tactics are not reaping rewards from the get-go and the players are failing to adjust on the fly when required.
The pressure is mounting on Ten Hag, who reportedly forced his players to listen in silence to City fans' celebrations after the humbling result on Sunday. Things do not get any easier, either: the Dutchman must now rally his side to face in-form Newcastle in the Carabao Cup on Wednesday, live on Sky.