Arsenal boss Mikel Arteta is confident Thomas Partey will stay at the Emirates despite the arrival of England star Declan Rice.
The Ghanaian midfielder has been linked with a move to Al-Ahli in Saudi Arabia, but Arteta said he remains a key part of his plans.
Speaking ahead of Saturday's pre-season game with Manchester United in New Jersey, Arteta said: "Without a doubt, Thomas Partey is a super important player for us and for me. I want him in the team.
"Every time I've talked to him and every time I've had a conversation with him, his will is to stay with us. To me, there's nothing there at all."
He said Rice's arrival does not mean any diminution of Partey's role.
"They can play together and that was in my plans," he said. "You want to improve the team and have more quality.
"We need players who can play together, but we need players in the same position who can fight for their places.
"It's something we haven't had over the last few years and we wanted to improve on that and that's why we bought Declan."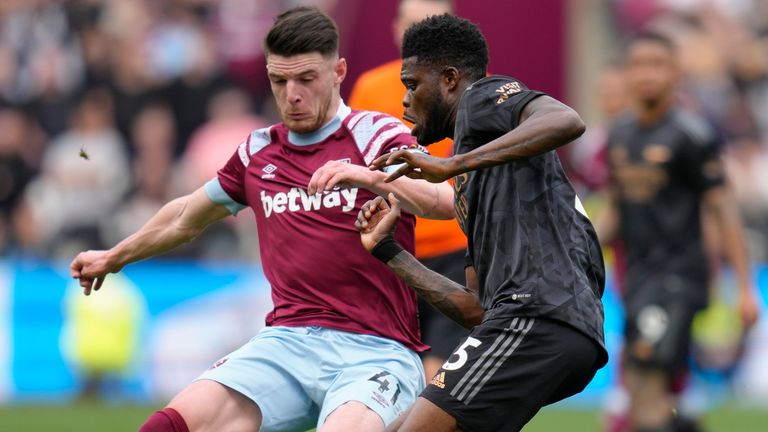 Arsenal finished second to Manchester City in the Premier League last season, topping the table for most of the season – an experience Arteta believes will help his players as they look to take the next step.
"I think what happened last year was probably necessary to learn the lessons you have to learn to improve and be more successful and achieve what we want to achieve," he said. "It is part of that road and that journey.
"The level is going to rise. The teams are getting better and the league is getting stronger, it's going to get tougher.
"We've got to be better. We've got to play better and we've got to do things better than last year. That's what we're working on right now."
Arteta was asked if Arsenal would go for Kylian Mbappe amid his dispute with Paris St-Germain, but declined to be drawn into the discussion. "I never talk about players who don't play for our club," he said.
Zinchenko: Arsenal's time is coming
Oleksandr Zinchenko, who impressed in his first season following his move from Manchester City, is confident they can make that step.
He said: "I have said many times in the past, I have the feeling and the smell I would say, that Arsenal's time is coming.
"Unfortunately last season we didn't get what we wanted, but it was a lot of good lessons for us during the season and, of course, it will help us during the next season. I'm full of confidence, so let's see what happens."
Arsenal's remaining pre-season games
July 22: Man Utd vs Arsenal, kick-off 10pm (MetLife Stadium, USA)
July 26: Barcelona vs Arsenal, kick-off 22:00 (Sofi Stadium, USA)
2 August: Arsenal vs Monaco – kick-off 18:00 (Emirates Stadium)
6 August: Arsenal vs Man City – 4pm kick-off (Wembley) FA Community Shield
The Ukraine international has had to face many off the pitch following the Russian invasion of his country and called on people to continue to support their fight.
He said: "I know some people are tired of this fight, but we cannot give up.
"All of us must fight for our freedom, our independence.
"Today it's Ukraine, tomorrow it could be your country. That's why we have to stand together and fight to the end.