Supernatural has over 300 episodes spread across 15 seasons and after such a long runtime, many viewers grew tired of the show's reputation of jumping the shark. There's no arguing that Supernatural began plummeting towards the end, but the show had many shining aspects that lifted it up to such a successful series.
One of Supernatural's strongest aspects is bringing monsters from many mythologies and urban legends to life. The series became known for its many types of demons, but in reality, Supernatural features dozens of horrifying creatures designed to spook fans.
RELATED: 10 Plot Lines That Saved Supernatural
10
Shapeshifters
Shapeshifters (or Shifters for short), as the name suggests, refers to a humanoid creature that has the ability to take the shape of other people. This monster first appeared in Season 1, Episode 6 "Skin." Sam and Dean investigate a string of murders allegedly done by different men who have no memory of the crime.
During this episode, the Shifter takes Dean's appearance and frames him for all the murders. Shifters aren't exceptionally difficult to deal with if a hunter knows how to spot one, but its ability to look like anyone is what makes it so dangerous. Not only is it hard to track, it can ruin someone's life just by taking their face. This episode started the arc of Sam and Dean being wanted by the police.
9
Tulpas
The Tulpa hasn't appeared often on Supernatural. Unlike many monsters who are semi-constant reoccurring creatures, the Tulpa was a rare occurrence that appeared in Season 1, Episode 17 "Hell House." The Tulpa isn't like other monsters in the show either, because in a sense, it isn't real.
RELATED: 10 Popular TV Characters Ruined By A Bad Season
Instead, the Tulpa is created by a Tibetan Spirit Sigil and fueled by belief. In "Hell House," the Tulpa is a "spirit" haunting an old farmhouse, but it keeps changing due to the urban legend being updated online. Public belief in the story quite literally manifests the Tulpa, meaning that if enough people believe in something, they can will it into existence.
8
Changelings
Changelings are one of the more disturbing creatures to make an appearance on Supernatural because they mimic children. There's an old horror trope that if a child makes an appearance in the story, it's either a bad omen or the monster itself. Changelings play on that trope in an incredibly disturbing way.
Changelings are capable of perfectly replicating a child, which they will then replace. After taking the child's place, the real child is left with the Changeling's mother to feed on. At the same time, the Changeling child will feed on the real child's mother. The Changeling will kill anyone close to the mother that it sees as a threat to its position and, eventually, it will drain the mother dry.
7
Wendigo
The Wendigo was one of the first monsters that Sam and Dean ever fought. First appearing in Season 1, Episode 2 "Wendigo," this creature nearly succeeded in killing the brothers off before the show even got going. Wendigo are man eating monsters from First Nations folklore.
More specifically, Wendigo are humans who partook in cannibalism. This unholy act triggered a transformation in them that turned them into a deadly predator that sustains itself by feeding on human flesh. Wendigo are fast, strong, and capable of mimicking human voices, which often leads to someone following the voice further into the woods. If a person is caught by a Wendigo, there's no escaping. Unfortunately, they also won't be killed straight away either. The Wendigo will keep them alive to slowly feed on them while they hibernate.
6
Vengeful Spirits
Vengeful Spirits appear regularly on Supernatural. Outside of demons, these spirits are one of the entities that the Winchesters have to deal with. Simply put, a Vengeful Spirit is a ghost that hasn't moved on because it has unfinished business. Sometimes these spirits latch onto a cause, like Bloody Mary punishing murderers after being murdered in Season 1, Episode 5 "Bloody Mary."
RELATED: 10 Plot Lines That Ruined Supernatural
Other spirits are corrupted over time. They didn't start out angry and violent, but the longer they were dead without moving on, the more malevolent they became. This even happened to Bobby Singer after his death. He lingered to help Sam and Dean, but the longer he existed as a spirit, the more vengeful he became. These spirits are responsible for countless deaths throughout the series, and they are usually the fate for any spirit that lingers in the living world past their time.
5
Leviathans
Leviathans were the main focus of Season 7. In truth, Supernatural Season 7 was controversial among fans. Many fans didn't enjoy the Leviathan story arc, but that doesn't stop the Leviathans from being horrifying. Leviathans are monsters from Purgatory that are capable of looking like anyone they choose and even mimicking human behavior, but they tend to devour the person they've taken the visage of.
According to Supernatural lore, the Leviathan were the first beasts created by God. They are even older than Angels, and they are a primordial force that are nearly impossible to kill. God created Purgatory to house the Leviathans because they were too destructive and insatiable. Killing one is almost impossible. The Winchesters ultimately chose to melt them down because it was the only way to stop them.
4
Arachne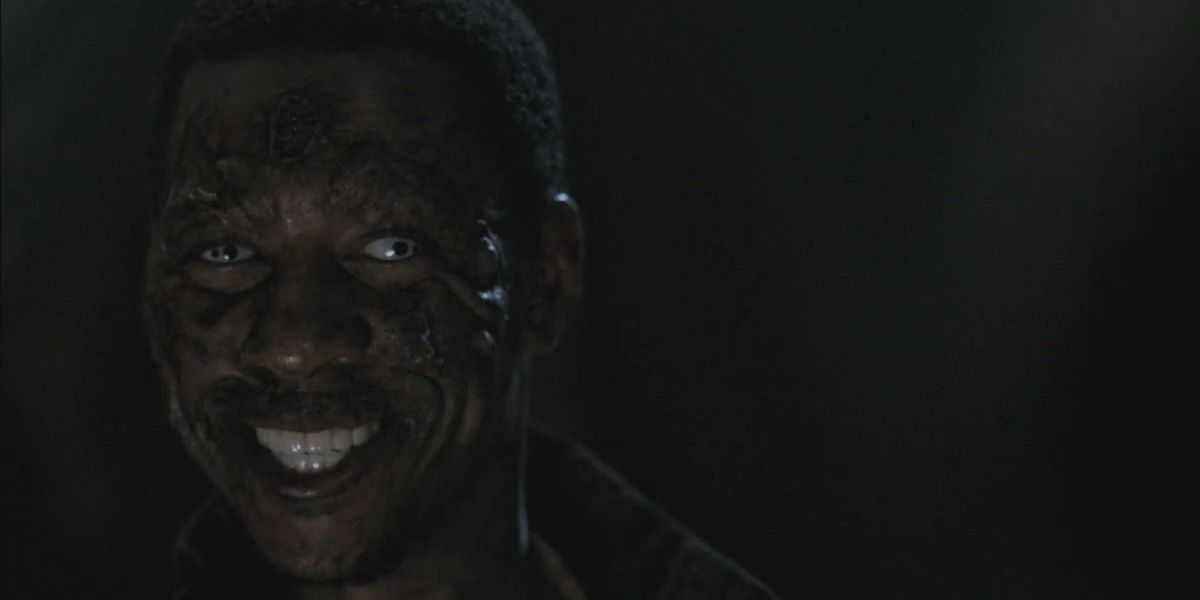 For anyone with arachnephobia, the Arachne might be one of the worst monsters that Supernatural ever featured. Fortunately, the Arachne didn't show up often. In Season 6, Episode 13 "Unforgiven," a mistake Sam made when he didn't have a soul came back to bite him in the most unnerving way possible.
Sam killed an Arachne that was kidnapping men and turning them into Arachne for reproduction purposes. He used Roy, a sheriff he confided in, as bait for the Arachne. Sam believed Roy was killed during the hunt, but a year later, after getting his soul back, realized that Roy didn't die. Instead, he was turned into an Arachne himself.
3
The Four Horsemen Of The Apocalypse
The Four Horsemen of the Apocalypse refer to a Biblical group of horsemen who herald the Apocalypse. These four figures are commonly represented as Famine, War, Conquest, and Death. In Supernatural, these figures are War, Famine, Pestilence, and Death instead, likely due to War and Conquest being very similar in nature.
RELATED: 10 TV Shows Where A Main Character Dies At The End
These Horsemen wear matching rings that allow them to take physical forms. Supernatural swaps out their horses for color coded cars instead, to symbolize that these entities have "modernized." As far as Supernatural's lore goes, there aren't many creatures more powerful than the Horsemen. They are capable of spreading their plagues through the world to prepare it for the end of everything.
2
Demons
There was a time when the yellow-eyed demon, Azazel, was the worst thing the Winchester could imagine, but Demons became one of the most common enemies in Supernatural. Demons are capable of possessing humans against their will and wearing their body like a suit. The body doesn't even need to be alive, but when it is, the Demon actively pushes the human's will aside, but the human is conscious of everything the body does.
Supernatural explored many types of demons, including generic Demons, Crossroads Demons, Demons that specialize in torturing souls and creating more Demons, Knights of Hell, and even Lilith. The Demon's eye color usually hinted at what type they were, with black being the most common. Even a stereotypical Demon was incredibly dangerous, though.
1
Angels
Angels are God's perfect warrior. Designed to protect Heaven and carry out the will of God, Angels are created and groomed to be obedient soldiers that never question the word of God. This becomes problematic because most Angels have never even met their creator. Questioning God is a cardinal sin to them, and many Angels fell when their faith faltered.
An average Angel is powerful enough to wipe out just about every other monster in the series. Archangels like Lucifer, Michael, and Gabriel are even more powerful than the common holy foot soldier. They are only held back by the limitation that in order to obtain a vessel, they must get permission from the vessel before possessing them, something that demons don't have to do.