The NFT market has arguably never been in more dire straits. A new industry report out this week confirmed the industry is on a long-term decline. But what can those involved and behind NFTs do about it? BeInCrypto asked experts for their thoughts.
No matter how you slice it, the NFT market is struggling right now. Yesterday, August 3, DappRadar released its monthly industry report and confirmed that NFT sales had dropped for a fifth consecutive month.
Five Consecutive Months of Decline for the NFT Market
In July, NFT trading volume dropped by 29% to $632 million compared to June. The total number of NFT sales also fell by 23% to $3.7 million. A previous report from DappRadar analyzing the second quarter of 2023 showed that NFT trading volume declined 38%. 
To underscore the point, Nifty's, a web3 creators portal that had brand deals with the likes of Looney Tunes and The Matrix, and was backed by the likes of Mark Cuban, suddenly closed down on August 3.
Many criticisms have been aired about NFTs as a class of crypto assets. For one, the most popular, and expensive, tokens have been based on little more than exclusivity. But, the exclusivity and the price are one and the same. Once one collapses, the entire edifice begins to crumble.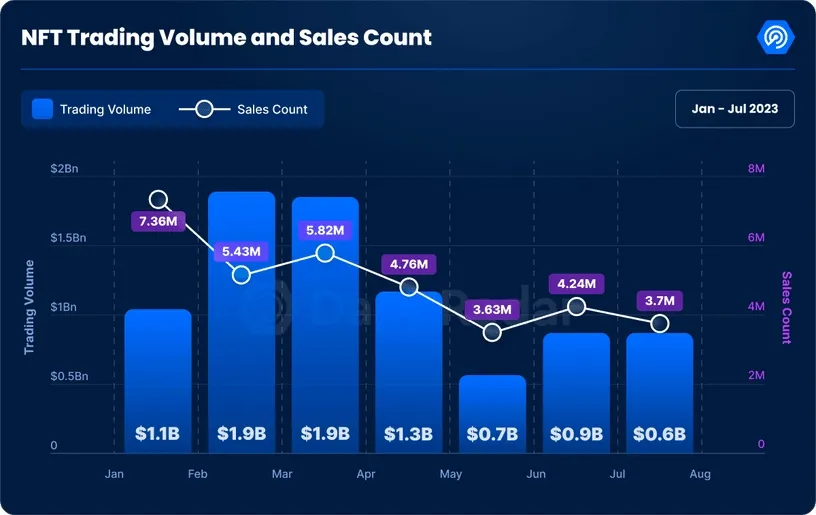 Most "NFT communities" based around profile picture tokens (PFP) are full of anxiety about the market performance of their NFTs. Many holders (those who own the tokens) understandably worry about the resale value of something they have often paid many thousands of dollars to own. 
With the market slowly draining, the question remains: were they sold a pipe dream? An idea of a digital community with the perk of a lucrative digital asset. 
NFT Holders Need More Utility, Say Experts
Ashton Addison, the founder and CEO of Crypto Coin Show, a popular crypto media channel, believes non-fungible tokens need to add real value for their holders. Access to their community, perks, and a cool profile picture isn't enough, he told BeInCrypto.
"NFT projects need to drive real value for the NFT holders beyond access to their community, perks, and a cool profile picture. The speculative side of NFT trading also decreases when Bitcoin and crypto trading moves sideways. With Bitcoin moving sideways in a tight range for the past month, NFT speculators are likely afraid to trade NFTs in fear of a BTC and ETH price drop, which would in turn drop the floor prices of the top collections," Addison stated.
According to Markus Levin, co-founder and CEO of XYO, unique tokens with no real-world utility were always doomed to fail. Levin told BeInCrypto that in order for these kinds of digital assets to succeed, they must become more than collectibles. He continued: 
"Instead, they need to demonstrate meaningful applications, such as enabling verifiable ownership of real-world assets, streamlining ticketing systems, enhancing supply chain management, and granting access to exclusive content and experiences. By showcasing their practicality and utility in everyday life, NFTs can withstand market fluctuations and solidify their position as valuable tools with widespread adoption potential."
NFTs Are More Than Investments
But perhaps observers need to take a more nuanced look at NFTs in general. While sales and trading volume is one metric, those involved often care about much more. 
Thorne Melcher, chief technology officer at a studio called smol farm, and a creator herself, believes we're in a "trough of disillusionment."
Although there is hope for the technology, Melcher told BeInCrypto. However, the change will require a shift from the perception of them as investments.
"This would bring NFTs in line with the physical art and collectibles worlds. Yes, 'sometimes' you may be able to flip them for a profit, but most people buy physical art and collectibles because they like them, with no banking on future gains. The reinvigoration of the NFT market will require making that sort of collector the main focus, she continued."
Although, speculative NFT cash grabs are probably finished and hopefully never returning, said Jeremy Levitan, founder and CEO of Dew Drops. "Establishing a non-tech native audience will be invaluable in long-term scalability," Levitan said.
A sentiment with which many of BeInCrypto's sources agreed.
Disclaimer
In adherence to the Trust Project guidelines, BeInCrypto is committed to unbiased, transparent reporting. This news article aims to provide accurate, timely information. However, readers are advised to verify facts independently and consult with a professional before making any decisions based on this content.