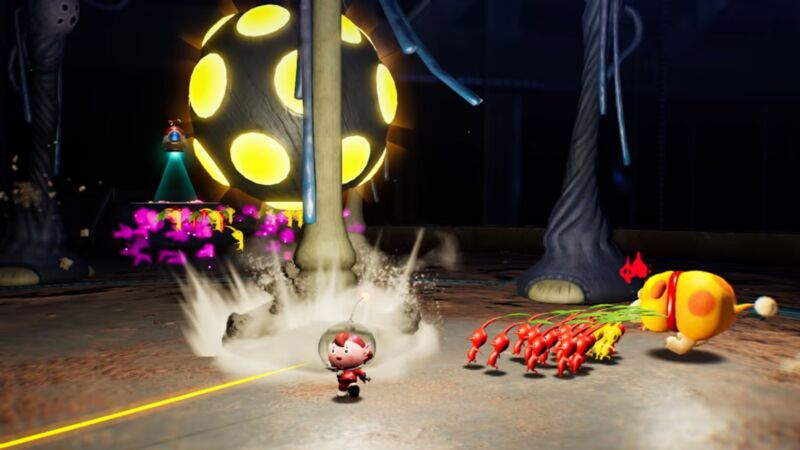 When it comes down to it, most video games are elaborate exercises in time management. Every time you fail a hard challenge in a game, you don't just lose in-game resources (lives, items, stats, physical progress on the map, etc.); you also lose the real-world time you put into that effort.
The hours you put into a game are the only truly irreplaceable resource you're risking. And you don't have to be a professional sprinter to want to spend that time wisely. This usually means getting through the game's challenges and objectives as quickly as possible (while still enjoying the game's characters, story, and environments, of course).
Pikmin 4 it's clearer than most games to make sure the player is getting the most out of every second in the game. The game is constantly pushing you to max out your "dandori", basically a fancy word for multitasking. Unless you're constantly splitting your dozens of flower-like Pikmin into three or four separate groups—each with its own distinct subtask—the game goes out of its way to make you feel like a lazy time-waster. , who, ironically, spends a lot of time stopping to smell the flowers.
All of this must be stressful. But there is something strangely appealing about it Pikmin 4The cool version of multitasking that kept me coming back for gentler lessons in efficiency.
Hurry up and wait
If you've played previous Pikmin games, you know the basic structure here. Your tiny, space-suited character (who now comes with a fully customizable skin) must plant and harvest an army of flower-tipped Pikmin, which follow you in groups of up to 100 at a time.
As in the past, dropping a Pikmin recruits them into context-dependent tasks such as collecting resources, collecting treasures, breaking down walls, building bridges, or attacking enemies. A lone Pikmin can't do much on its own, but assigning dozens of the right types of Pikmin to the right task can make short work of even tough obstacles.
Usually, there's technically nothing stopping you from assigning a small cadre of Pikmin to a task and then patiently standing around and waiting for them to finish it before moving on. That said, the game also goes out of its way to encourage you to make better use of your time, punishing through character dialogue and on-screen messages to keep that "dandori" growing.
Why are you standing around watching Pikmin work? Go do something else!

The whistle means it's time to get back to work!

Slackers.
The map design (which feels like something from Honey, I shrunk the kids) gently encourage this, too, by presenting a series of fascinating tasks to complete while a few dozen Pikmin are on a time-consuming quest, like dragging a treasure back to base. Moving your bases to more convenient locations on that map and placing ramps that act as shortcuts to newly accessed areas are also key parts of maximizing your Pikmin's efficiency.
Unfortunately, the game isn't very optimized for managing multiple different groups of Pikmin from afar. The most obvious release is a mini-map; without it, I found myself repeatedly jumping into the pause menu to figure out how to find and manage separate groups of Pikmin spread across complex, layered environments.
The other major issue is the Pikmin's general lack of autonomy. When a group of Pikmin completes a task, they simply stand around waiting for new orders. This can be a problem if you've crossed halfway through the map to start another group of Pikmin on a special mission (or if a previously unseen enemy starts eating Pikmin that can't be bothered to defend themselves).