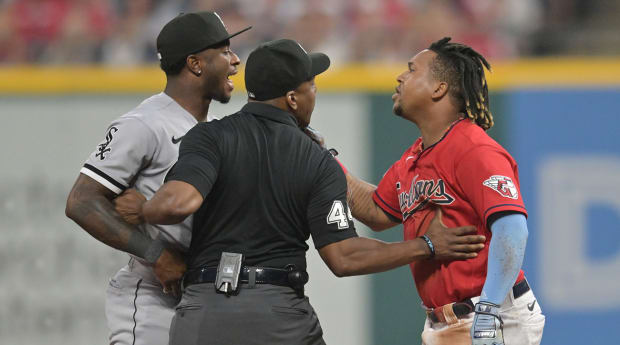 White Sox shortstop Tim Anderson has been suspended six games for his role in a fight against Guardians third baseman José Ramírez, according to ESPN's Jesse Rodgers. Ramírez will be suspended three games, and one of his Cleveland teammates, Emmanuel Clase, will serve a one-game suspension. 
The incident occurred Saturday night when the two exchanged words at second base before Anderson threw down his glove and put up his fists. He ultimately would regret the decision, as Ramírez proceeded to land a devastating right hook that knocked Anderson to the ground. He had to be helped off the field after both benches cleared.
José Ramírez and Tim Anderson got in a fight in Guardians-White Sox 😯

(via @NBCSWhiteSox) pic.twitter.com/Hg83LD3RJH

— Sports Illustrated (@SInow) August 6, 2023
Just before the suspension report, Ramírez said he tried to reach out to Anderson but hasn't been able to reach him.
"I have tried to apologize to Tim Anderson, but he has not answered me," Ramírez said, per MLB insider Héctor Gómez. "He's a good player. What happened is something that does not go with my way of being. Everyone who knows me knows that I'm not a troubled man. I like to play hard and try to help my team."