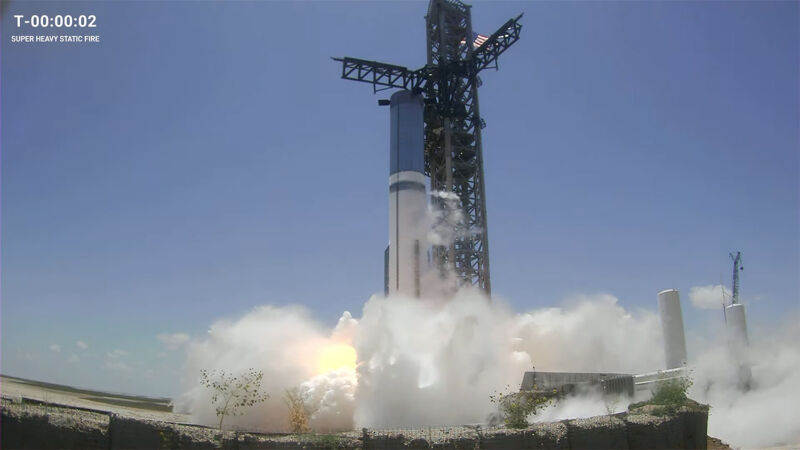 SpaceX on Sunday performed a static fire of a new Super Heavy booster at its launch site in South Texas. The ignition of 33 engines proved to be a spectacle, and there were positives and negatives to be taken away from the short-duration test firing.
On the plus side, the rocket—dubbed Booster 9, as it is the ninth to be built as part of SpaceX's iterative design methodology—survived the test and appeared to be in good shape afterward. Also on the positive side of ledger, the company's radically rebuilt ground systems, with an enhanced water suppression system, appeared to function well in protecting the rocket and the launch pad.
However, the test did not run a full duration. It ended after 2.74 seconds, according to SpaceX's webcast, short of the planned five seconds. Moreover, four of the rocket's 33 main Raptor engines shut down prematurely. This indicates that SpaceX is still struggling with the reliability of its Raptor engines despite intense work to improve their performance. This rocket is powered by "Raptor 2" engines, and SpaceX is working on an upgraded "Raptor 3" version to address reliability.
A step forward
Even so, Sunday's testing marked a step forward for SpaceX, bringing the company closer to a second launch of its Starship vehicle. A full stack of the rocket includes the Super Heavy booster and Starship upper stage. It is not known whether SpaceX plans to perform additional tests of this booster, or gleaned enough data on Sunday to press ahead with a launch attempt this fall.
Accordingly, it is also not clear how far SpaceX is from a second Starship launch attempt. For the sake of comparison, a period of 70 days elapsed between the static fire test of Booster 7, which powered the first Starship launch, and its liftoff. This debut launch attempt, on April 20, failed after engine issues and other problems doomed the flight of the booster stage.
However, the fact that this latest test took place on a Sunday—SpaceX can only close the road leading to its launch site and Boca Chica Beach on a few weekend days per year—indicates there is some sense of urgency with this launch campaign.
SpaceX has made considerable progress since the April 20 launch attempt, which caused serious damage to the company's Orbital Launch Mount and associated ground hardware in South Texas. Most notably, engineers and technicians have installed large water deluge system, and performed what appeared to be a successful test of it on July 28.
This system includes a thick, perforated steel plate beneath the rocket through which jets of water are fired to offset the heat and acoustic energy of 33 Raptor engines firing simultaneously. On Sunday, the result of this new water deluge system was the production of an immense amount of steam, as intended.
During the April launch attempt, the lack of a sound suppression system led to significant damage, including the rupture of concrete chunks from the launch pad that rained down debris for miles around the Starbase location. That is one area of concern being looked at by the Federal Aviation Administration, as SpaceX seeks a new launch license; and it is also the subject of a lawsuit filed by environmental groups against the Federal Aviation Administration to stop the issuance of a new license.
Data needed for regulators
It is likely that SpaceX collected copious amounts of data about the performance of the revamped launch site and water deluge system on Sunday in order to provide information needed by the Federal Aviation Administration as part of the launch licensing process.
Another issue yet to be resolved is the rocket's flight termination system, which would be used to destroy the rocket in case it veers off course during flight. Just less than 90 seconds into its debut flight, the Super Heavy booster's flight termination system was initiated. However, there was about a 40-second delay between the initiation of the system and the rocket breaking apart.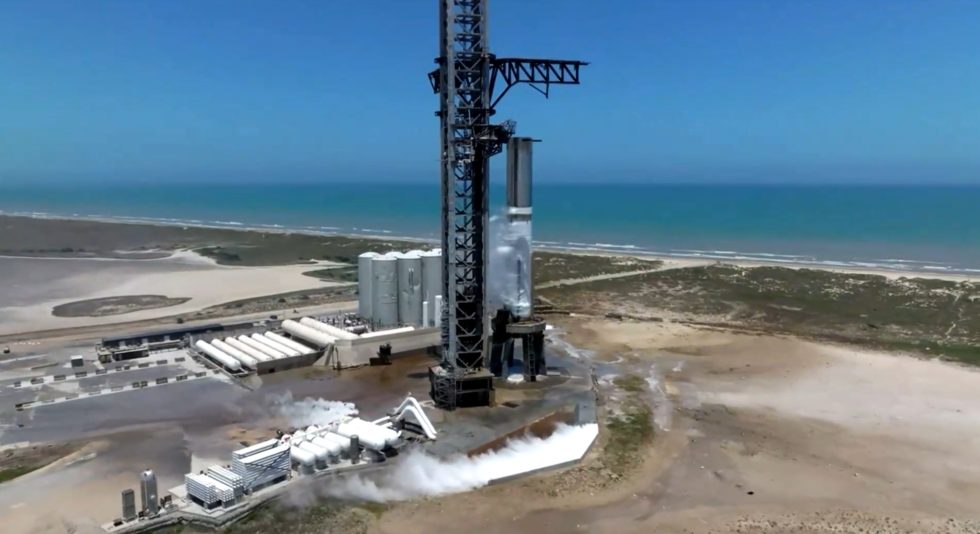 This time lag posed no safety issues with the rocket safely offshore, but it is an unacceptable lag for a system that is supposed to terminate flight almost immediately. Several days after this launch attempt, SpaceX founder Elon Musk said the problem could be solved with a "longer detonation cord" to make sure the propellant tanks are fully unzipped rapidly. However, he acknowledged that working through this issue with the Federal Aviation Administration may take some time.
"The longest lead item is probably requalification of the flight termination system," Musk said. Neither he nor the Federal Aviation Administration has provided any updates since.