If you're a fan of Susan Graver's QVC products, you're in for a treat! We want to help you pick some of the best items from the collection. Susan Graver is a renowned fashion designer known for her stylish and versatile clothing line, and there are a wide range of products you can shop today.
Whether you're looking for chic dresses, QVC Susan Graver tops, or fashionable accessories, we've compiled a list of the best Susan Graver QVC products you can shop for today.
The multi-media cardigan is perfect for laid-back weekends when you want to be cozy and stylish at the same time. Among the most adaptable QVC Susan Graver tops, its design features a combination of different fabrics and textures that create an eye-catching look, including a soft-knit body and flattering silhouette. It has enough room to layer over your favorite shirts, and enough versatility to be paired with jeans, leggings, skirts, and more. This piece is a steal with the QVC Susan Graver clearance, so make sure to grab it before it's gone.
$16.83 at QVC
2. Susan Graver Weekend Regular Printed Premium Stretch Pedal Pushers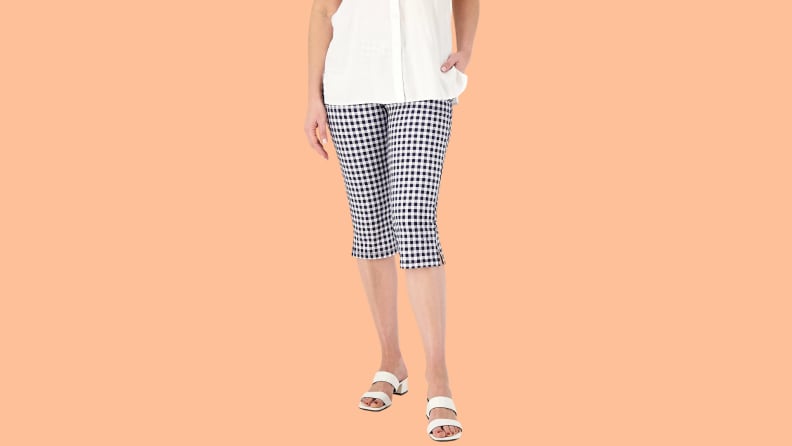 These pedal pushers have an almost vintage touch, and with premium stretch fabric, they'll feel soft against your skin while providing flexibility and movement. They come in three checkered colors: black, taupe, and sapphire blue. These pants are versatile and will go well with a simple t-shirt or tank top when you want to wear a casual daytime look, or you can dress it up with a blouse and sandals.
$43.98 at QVC
3. Susan Graver Textured and Polished Circle Link Necklace
Statement necklaces have been the pinnacle of fashion for the working woman, and this Polished Circle Link Necklace from Susan Graver is no exception. It comes in silvertone and rose goldtone, and the combination of textured and polished circle links creates a captivating contrast that adds a touch of visual interest to any outfit. The design is modern and chic, perfect for casual and dressier occasions. You can also layer it with other pieces. Whether you pair it with a little black dress or want to add a touch of sophistication to a simple tee and jeans, this Susan Graver piece will do just the trick.
$44.80 at QVC
4. Susan Graver Regular Faux Wool Plaid Coat w/ Pockets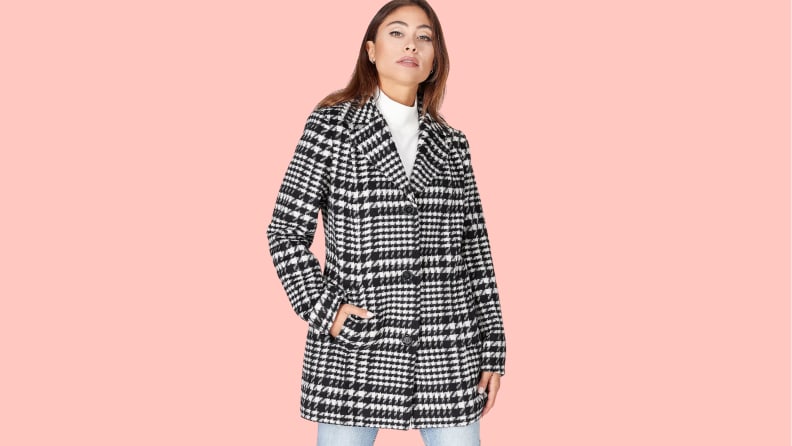 You get the best winter clothes deals when it's warm, and this wool plaid coat is no exception. This coat is a classic piece that will fit in any wardrobe. The coat stands out with a houndstooth print that comes in black and white or brown and black. Not only is it timeless in style, it has great practicality with generous pockets for keys, phones, or gloves. The coat features a two-button front closure, and it'll keep you warm on your way to a brunch date or the office.
$113.60 at QVC
5. Susan Graver Liquid Knit Pull-on Culotte Pants
The Pull-on Culotte Pants are a fantastic choice for style and comfort in the Susan Graver QVC collection. The culotte silhouette combines the elegance of a skirt and the practicality of pants for a chic and contemporary look. Since these pants are cropped, they'll be breezy and cool in the warmer weather. These pants have an elastic waistband, so no worrying over a zipper or buttons.
$57 at QVC
6. Susan Graver Modern Essentials Liquid Knit Tunic
Looking for the essentials? The Liquid Knit Tunic from Susane Graver's QVC collection is a versatile and stylish piece that deserves a special place in your wardrobe. It's made of luxurious liquid knit fabric, which will drape beautifully across your silhouette and feel incredibly soft while doing it. Since it's wrinkle resistant, it will travel easy on the go. Available in eight colors and a wide range of sizes, you can find the perfect fit and style.
$42.30 at QVC
7. Susan Graver Liquid Knit V-Neck 3/4 Sleeve Top with Lace Trim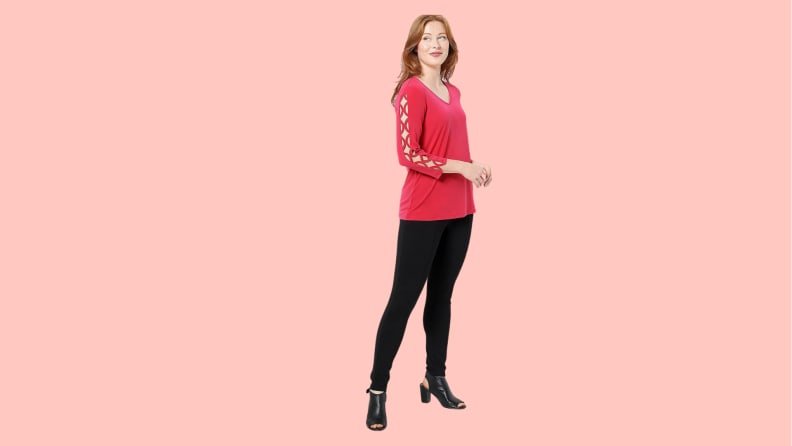 For an essential top from the QVC Susan Graver clearance, look no further than the Liquid Knit V-Neck with Lace Trim. When you pair it with heels or a blazer, it's a beautiful piece for a night on the town. The sleeves are ¾ for a light feel on warm nights, and the v-neck is a flattering style for a touch of femininity. The lace trim on the sleeves adds a beautiful, delicate detail that will stand out with any outfit.
$39.98 at QVC
8. Susan Graver Reversible Cushion Cut Y Necklace with Tassel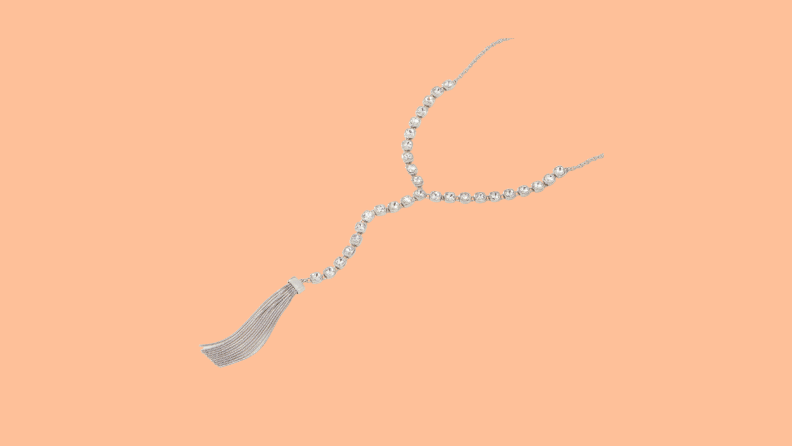 The Y-necklace is an accessory that will add a touch of sophistication to any outfit with its cushion cut pendant and eye-catching sparkle. Best of all, it's reversible, so you'll get two gorgeous looks in one necklace. The tassel is a fun and playful detail that adds a touch of movement and personality to the necklace. The quality is top-notch with a lobster claw and flexible extenders, so you can either wear it as a choker or a longer show-stopper.
$30.40 at QVC
9. Susan Graver Liquid Knit Short Sleeve Crop Jumpsuit with Belt
Jumpsuits are all the rage, and they're so popular due to their style and easiness to put on and go. You don't need to fuss with tops and pants with just a stylish jumpsuit. The Liquid Knit Short Sleeve Crop Jumpsuit with Belt will feel like wearing your favorite pair of pajamas with the incredible soft and comfortable liquid knit fabric. With its crop length, you can put on a stylish pair of shoes that can be the second highlight of the outfit. It'll make you feel confident and stylish without putting in much effort at all.
$77 at QVC
10. Susan Graver Modern Essentials Liquid Knit Square Neck Top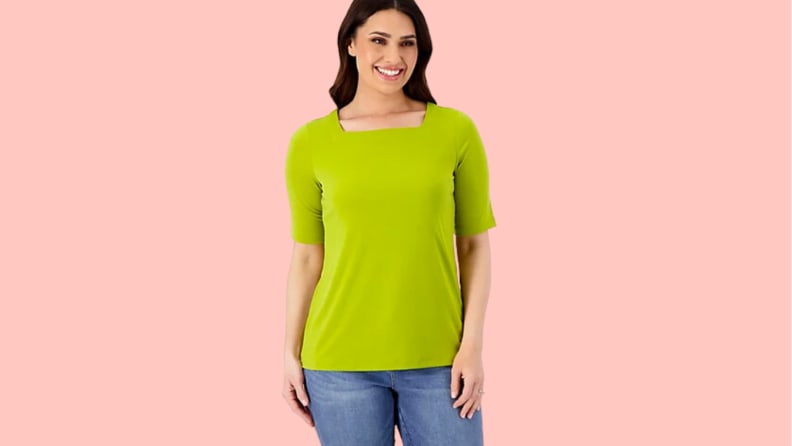 For a staple from the QVC Susan Graver tops, the Liquid Knit Square Neck Top is a closet essential. The fabric will feel luxurious against your skin, and the style of the top is suitable for any occasion while being effortlessly chic. The square neckline adds a modern twist and is incredibly flattering. With clean lines and a minimalistic silhouette, it's figure-flattering with a perfect length at the hip.
$44 at QVC
The product experts at Reviewed have all your shopping needs covered. Follow Reviewed on Facebook, Twitter, Instagram, TikTok, or Flipboard for the latest deals, product reviews, and more.
Prices were accurate at the time this article was published but may change over time.