In 2004, writer Tim Seeley and artist Stefano Caselli introduced fans of horror comics to a new type of "last girl", who, after surviving her initial encounter with a "Slasher", decided to dedicate her life to ridding the world of every monstrous, undead serial killer. Her name was Cassie Hack, and she and her great partner Vlad have been killing Slashers for nearly 20 years. Cassie's adventures are documented by Seeley, a host of artists, and several writers at Hack/Slash, which was first published by Devil's Due Publishing before switching to Image Comics.
This October, a new era begins for the series as multi-Eisner nominated writer/artist Zoe Thorogood (It's lonely in the center of the earth) start the four issue Hack/Slash: Back to School series for Image. CBR spoke with Seeley, who serves as editor for the series, about Thorogood's plans for his creations, the time period this story is set in, the classic horror tropes Cassie and Vlad face, and a very important giant pink rabbit.
CBR: Hack/Slash is back with a brand new story coming in October. How long has this story been in development? What made this fall the right time to say it?
Tim Seeley: It has been in development for about a year and a half. Now is the right time to say it because Zoe has finished her first issue. I knew she would be busy with a lot of things because it was running out It is lonely in the center of the earth and her other projects. I was also very aware that she would win many awards for that book.
So we were definitely free with it. We wanted Zoe to finish the book. Is she Hack/Slash history, and Halloween has definitely been a great time for us in the past. She has done a lot and our season is coming. So we're launching in October.
What's it like to have a multiple Eisner-nominated creator like Zoe working on one Hack/Slash history?
It's great because she's closer to our main character's age than I am, of course. I've been working on Cassie's adventures since Zoe's age, but it's been 20 years since then. [Laughs] So it's nice to have someone who's in a similar space to our character, and she's able to go back and do a lot of what you saw in her autobiographical work, which is this very aggressive but self-aware depression style story. This is perfect for Cassie. Now we can imagine those things about which she told such wonderful stories and bring them Hack/Slash.
This was also her idea. She wanted to do Hack/Slash. I said, "Are you going to go from winning a bunch of Eisners to doing my slasher book?" And she said, "Hell yes!"
I think that speaks to what the current flow is. We spend so much time in comics thinking that the mainstream is mostly superhero books. Most of my generation read superheroes, but Zoe's generation read Indy comics. They read Saga, The Walking Dead, AND Hack/Slash. So the older it makes me feel, the more incredibly proud it makes me that this is a book she read growing up and had a story about it. She lifted me into it and I said, "Yes! Do whatever you want! Make it fresh!" And she writes it, draws it, colors it, letters it and covers it. She's doing it all. It's a project close to her heart and it's fantastic to watch it happen.
She looks like Hack/Slash: Back to School is a tale that goes back to the early days of Cassie and Vlad's partnership.
Yeah, it's almost a "First Year" style story. It's an untold tale that's in a perfect spot for what Zoe wanted to do. She wanted to tell a story with an inexperienced and obstinate Cassie.
It takes place right after Hack/Slash: My first maniac and it fits perfectly where we didn't show some of Cassie's earliest instances with Vlad in tow. Zoe can do this and bring in some characters that she designed specifically for this story. It's the perfect combination for people who like Zoe's work and people who like it Hack/Slash. Because there are bad girl friendships, but also really twisted shit. It is also related to Hack/Slash continuity and an important story about what we are achieving, which will be our 20th anniversary in 2024.
Throwbacks and period pieces can be ways to deal with technological advances that could potentially short-circuit horror stories like cell phones. Is there a little of this in Go back to school?
A kind. It's funny because retro for Zoe is different than retro for me. She set this in the early 2010s — an era when the Internet was still somewhat free and wild. This is what she remembers from that experience. This story takes us through some early internet things that I'm not familiar with, but Zoe is aware of — things like message boards and group chats. This allows us a theme for some of the slashers and a theme for some of the story stuff.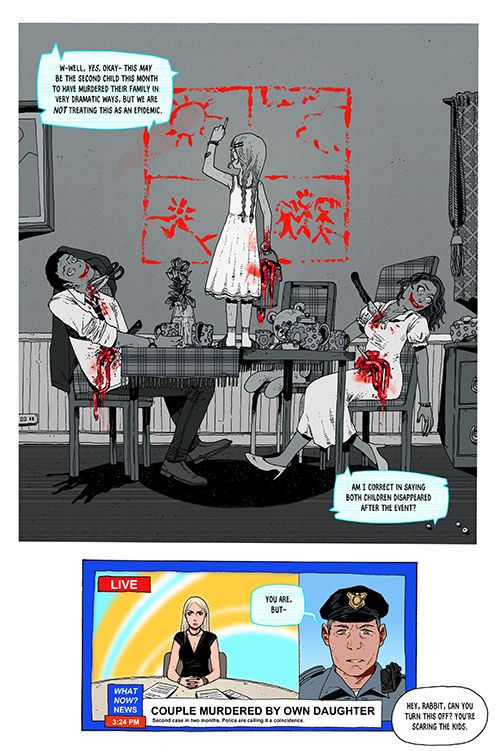 The preview art I've seen suggests Go back to school takes on a classic horror trope, but one that I don't think we've seen much of Hack/Slash; bad children
[Laughs] Absolutely! And that was Zoe's field for him.
We made a story, Little children, which had children being experimented with the Slasher serum. I think that's something that Zoe is confessing to here. It's not directly related to this, but I know it was something she was interested in doing.
There is a type Village of the damnedslasher kid vibe.
What else can you tell us about the titular placement of Back to school?
Zoe grew up in Harry Potter. So she's doing a riff on that kind of school story with it being a pale thing.
There's a fun riff developing on these tropes. When we first brought out the book, Harry Potter was coming out. Now we can go back and rave about it because it's nostalgia for our new author.
I won't give too much away from the first issue, but Cassie and Vlad end up at this school where there are a bunch of other students who are also slasher hunters. They are templates for different types of monster hunters. Cassie is forced to join these girls, and of course, everyone who ends up in this place is completely dirty in another way. You get good school drama, character bonding, and lots of monsters.
Related: SDCC: Ram V Discusses Comic Detectives and Vigilantes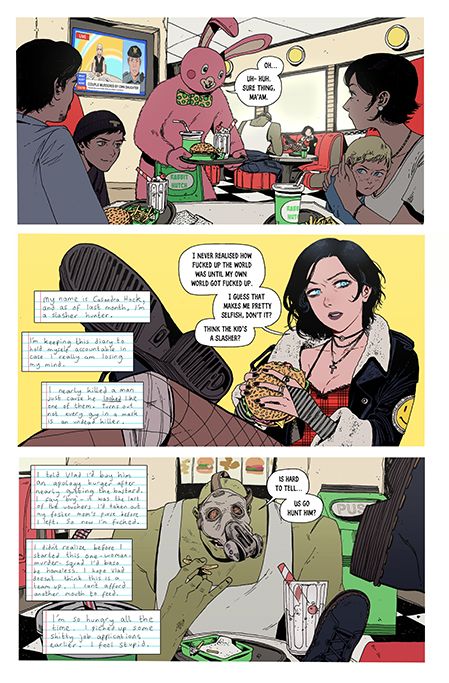 What does this mean for Vlad?
Poor Vlad! [Laughs] In this story, Cassie says, "Oh, people like me!" Vlad, however, is still not sure that he should do this. Now he doesn't just have one aggressive, mean, possibly crazy young daughter, he has four of them.
So we have a lot of fun things about Vlad and I really like how Zoe writes to him. Her take on it is a little more sarcastic and self-aware than I write it, and I think it works really well.
What else can you tell us about the antagonists of Go back to school?
I can't say much, except that the story shows that there are these kids who go crazy and kill their parents, and of course, there's a twisted reason why that's happening. This is part of the initial investigation into Cassie.
There is also a killer, giant, pink rabbit that is very important. Long time Hack/Slash fans may recall that Cassie had a stuffed rabbit named Mr. Pink. Plus, you get to see our cutters, who tend to be big, knife-crazy guys, and Zoe's cutters, who are twisted kids.
It all comes together in a fierce climax. [Laughs] I think her stuff is worse than mine. It all ties together in a wonderful arc through the filter of someone much more like Cassie now than I am; a 46-year-old father [Laughs]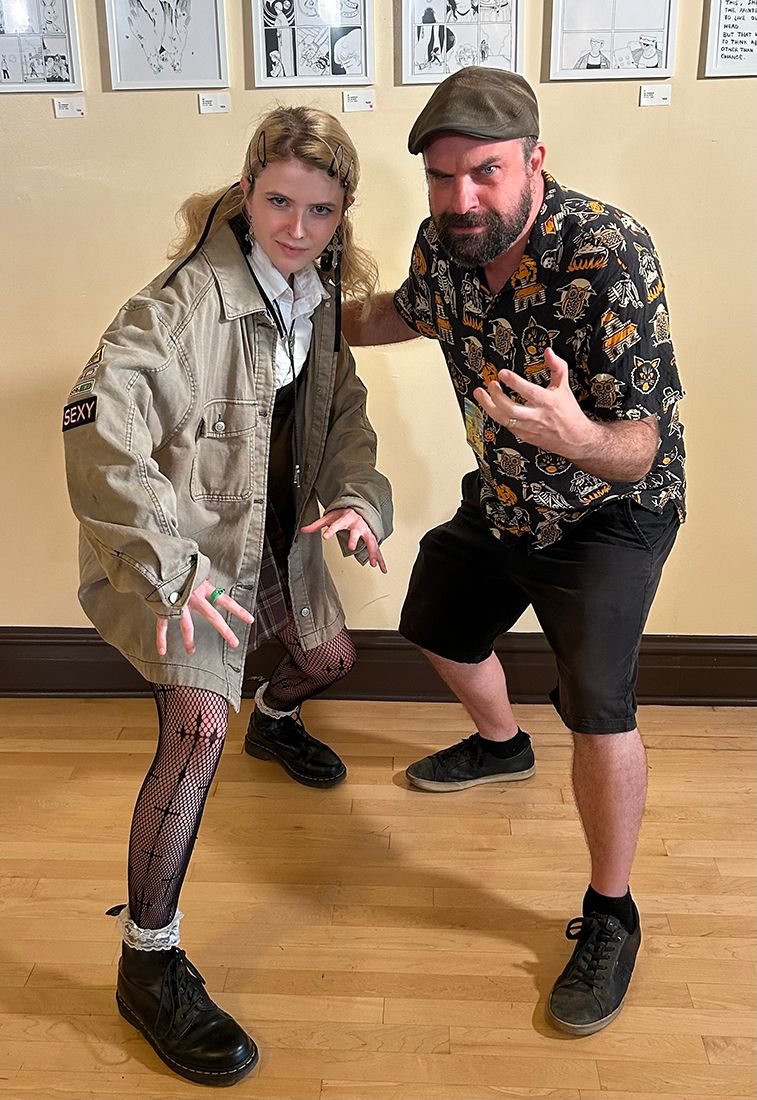 So you're serving as a sort of book editor?
Yeah, and some kind of figure, I guess? Stefano and I are providing blankets and anything Zoe needs, and then we get her out of the way. It's an ideal system because we have our own stuff going on and now we have someone we can trust to do something with it. Hack/Slash and remind everyone that this book is 20 years old and still has new stories to tell. It's a big system for us.
If people show up for this book and Zoe wants to do more, can we see more Hack/Slash story from it?
She will leave San Diego with a package of Eisners. So the world will be offered to her. She was already being offered all these things and she chose Hack/Slash, which I think is great. We are happy to have her for now, and if she wants to do more, the doors are always open Hack/Slash Incorporated.