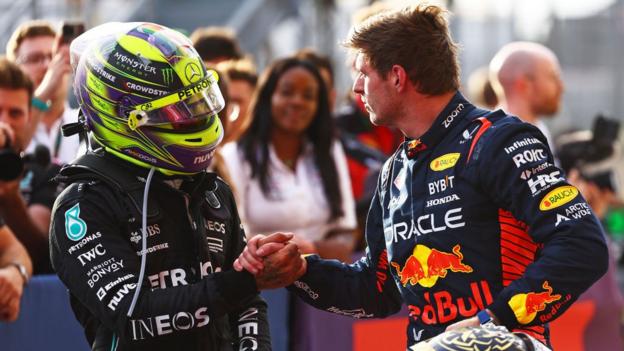 Lewis Hamilton says the leading cars will "have a job on their hands" to prevent Max Verstappen winning Sunday's United States Grand Prix.
Hamilton said: "He has at least half a second on all the cars ahead of him, so that should be enough to get by.
"There is tyre degradation and strategy," he added.
"But it is a track you can overtake [on], so it is likely he will be finishing high up."
Verstappen's relatively low qualifying position came as a result of him having a lap that was fast enough for pole position deleted for exceeding track limits in Friday's qualifying session.
But the Red Bull driver qualified on pole for the sprint on Saturday and, after a brief threat from Hamilton in the first two laps, cruised to a comfortable victory.
Verstappen said: "The pace of the car seems quite strong and hopefully on high fuel we can do something similar.
"But it is one thing to be faster, and we have to try and get past a few cars this time, with the [tyre] deg around here it is not going to be straightforward following in the high speed [corners] and we have a race on our hands."
The grid will line up on Sunday with Ferrari's Charles Leclerc on pole ahead of McLaren's Lando Norris and Hamilton. Ferrari's Carlos Sainz and Mercedes' George Russell also start ahead of Verstappen.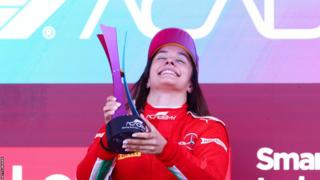 Saturday began with Marta Garcia winning the title in the inaugural F1 Academy – for young women trying to break into the sport
Hamilton added: "It will be helpful for us at the front [having Verstappen in sixth]. Ultimately, he will be breathing down our necks before too long, but it will open up for a good fight with Charles and Lando.
"We are all quite similar in pace. Hopefully we can have a good battle. If we can all keep Max behind that would be awesome, but if not, no worries."
Hamilton, who passed Leclerc out of Turn Two at the start to move into second, was encouraged by the pace of the Mercedes, which has its last major upgrade of the season in Austin in a new floor design.
The Briton said he had learned a lot about the strengths of the Red Bull by following Verstappen for a few laps and emphasised that his team were still a long way from challenging.
"We have a lot of work to do," Hamilton said. "It is no small feat for us to truly catch them for next year. They will be progressing at a steep rate as they have an amazing development team, and for us to go steeper [will be difficult]. But I have 100% faith in my team that we can do it."