The cryptocurrency market has seen many ups and downs, but nothing is as eagerly anticipated as Bitcoin's halving. This is an event that has historically influenced the price of BTC.
As the next Bitcoin halving in 2024 approaches, speculations are rife, with various industry experts sharing their forecasts. One prevalent sentiment echoes the prediction that Bitcoin will reach the $100,000 mark before this milestone event.
Bitcoin Mining Operations Expand
Riot Platforms, one of the key players in the Bitcoin mining industry, provided expansion guidance beyond 2023.
With North America's largest Bitcoin mining and hosting facility, the firm aims to elevate its mining capacity to 20.1 EH/s by mid-2024. It also projects a further expansion to 35.4 EH/s by the end of the same year.
"The agreement provides delivery of the new miners starting in December 2023, with miner deployment planned to begin in Q1 2024. Upon full deployment of the 33,280 miners ordered, which is anticipated to be completed by mid-2024, Riot's self-mining hash rate capacity is expected to increase to 20.1 EH/s," reads the announcement.
Should Riot Platforms succeed, it will emerge as the top Bitcoin mining enterprise, outpacing rivals Marathon Digital Holdings and CleanSpark.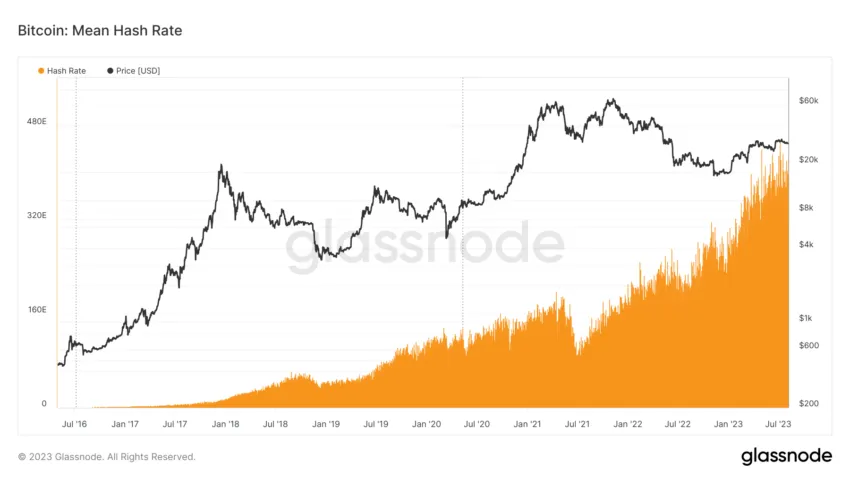 The overall Bitcoin network hash rate can significantly increase as larger players expand their capacities. The increased competition for block rewards due to a higher hash rate can, in turn, impact miner profitability. Especially post-halving, when block rewards are cut in half.
Read more: What Is Bitcoin (BTC) Halving?
A recent report by Seeking Alpha suggests that the 2024 Bitcoin halving will push the average operational cost for mining each BTC to between $30,000 and $60,000 and reduce the mining earnings by 50%.
With the highest recorded Bitcoin value being around $69,000, a significant reduction in revenue could jeopardize many Bitcoin miners.
"We don't see any way where the Bitcoin sector can come out unscathed. Even with RIOT's ambitious 35 EH/s, our model suggests that Bitcoin needs to trade above $98,000 to justify RIOT's current valuation (post-halving)," reads the report.
BTC Price Prediction: $100,000
Many industry experts also share the belief that Bitcoin will reach $100,000 around the time of the 2024 halving. For instance, Adam Back, Blockstream CEO, stands firmly behind the belief that Bitcoin will shatter its previous records.
He forecasts BTC reaching a price of over $100,000 before the next Bitcoin halving. Indeed, Back, one of the few people cited by Satoshi Nakamoto in the Bitcoin white paper, is so confident in his prediction that he is willing to wager money on this outcome.
"The bet is on: I bet Bitcoin reaches or exceeds $100k between now and halving with [Vikingo] 1 million sats to the winner," said Back.
And he is not alone in this bullish outlook. Samson Mow, Jan3 CEO, shares the sentiment, expecting a record price for Bitcoin before the halving, not after.
Read more: Bitcoin (BTC) Price Prediction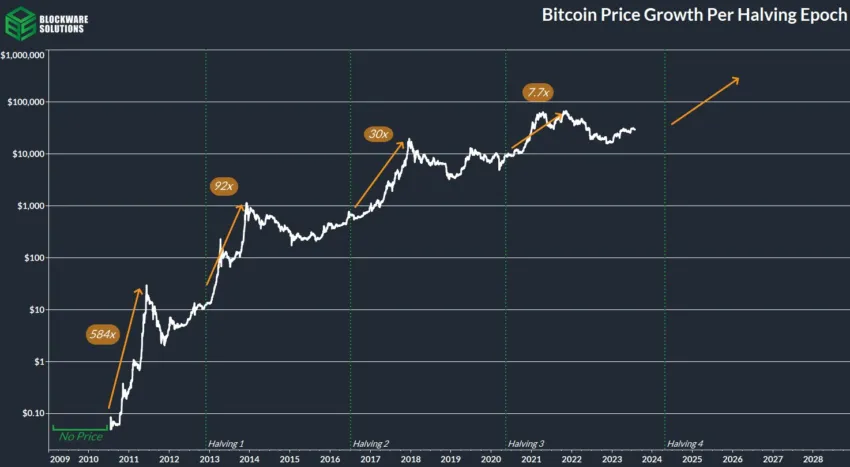 Adding to this chorus is Standard Chartered, which has revised its Bitcoin prediction to $120,000 by the end of 2024. The international banking firm's rationale hinges on the increased miner profitability per BTC mined, resulting in reduced BTC sales and a subsequent surge in BTC prices.
This perspective underscores the notion that miners can meet costs by selling fewer BTC as Bitcoin prices soar. Consequently, retaining more BTC in anticipation of future price hikes.
Likewise, Matrixport maintains that Bitcoin making a one-year high on June 22, 2023, could have signaled the end of the bear market and the start of a new bull run as it did in previous cycles. This indicator has been triggered four times, and in each instance, a bull market developed over a span of 12 to 18 months.
"If history is any guide, then, there is now a 100% probability that by the end of 2024, Bitcoin will experience another massive bull market with a price target of $125,000," reads the report.
Altcoins Boom After the Next Bitcoin Halving
While several factors hint at Bitcoin reaching $100,000 before the halving, predicting the future of crypto remains challenging.
The intertwined complexities of operational and financial factors and the volatile nature of the crypto market mean predictions should be taken with a grain of salt.
Read more: 9 Best Bitcoin Exchanges and Platforms in 2023
However, as the next Bitcoin halving approaches, crypto enthusiasts are watching with bated breath, eager to see if the prophecies spill over the altcoin market. Under the pseudonym Rekt Capital, the technical analyst foresees the possibility of "altseason" after the Bitcoin halving.
"These next months leading up to the BTC Halving will be crucial if you want to make it big in the next 1.5-2 years in crypto. These months will offer you the necessary retraces for altcoins that you need to take advantage of to make a terrific ROI Post-Halving," said Rekt Capital.
Disclaimer
Following the Trust Project guidelines, this feature article presents opinions and perspectives from industry experts or individuals. BeInCrypto is dedicated to transparent reporting, but the views expressed in this article do not necessarily reflect those of BeInCrypto or its staff. Readers should verify information independently and consult with a professional before making decisions based on this content.