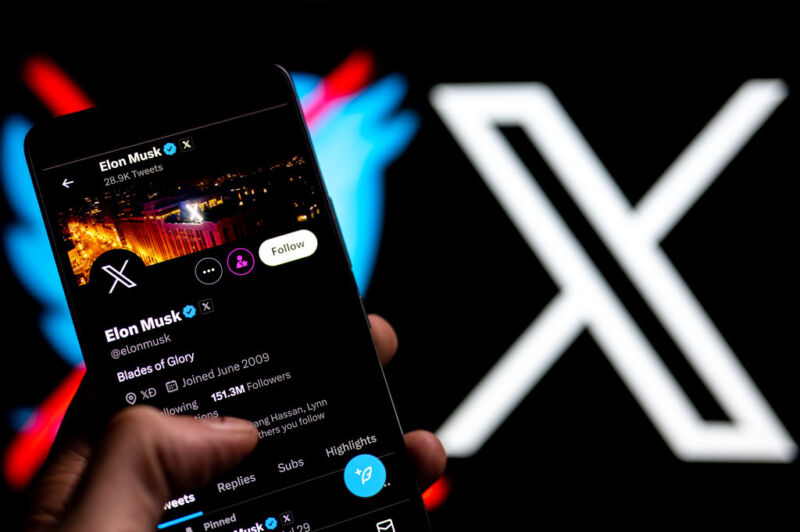 About a week after X commandeered the popular @X account from longtime Twitter user Gene X Hwang, another user has reported that X has taken over his popular account, @music.
"16 years ago, I created @music and have been running it ever since," Jeremy Vaught, director of engineering at the nonprofit Life Happens, posted on X. "Just now, Twitter/X just ripped it away. Super pissed."
Vaught told Ars that he created the @music Twitter account in 2007 as a way to promote independent music being performed live in Second Life.
Over the next 16 years, Vaught connected with a vibrant community of software developers on Twitter as he continued developing major promotions in Second Life. Then, once his online interests grew past Second Life, he continued using the @music account to simply post about music, as Twitter became his preferred social media platform. With that basic account premise, the @music audience exploded, and he organically gained followers, eventually building up to approximately 450,000 followers.
During that time, Vaught experimented with the @music account, seeking the best way to utilize the large following there.
"I'm a software developer," Vaught told Ars. "And I was trying to come up with the right way to use that audience and do something with it."
But Vaught never had the time to focus on leveraging the @music audience, only ever benefiting from the account when companies occasionally sent him free perks like headphones in trade for promotions. Occasionally, buyers would approach Vaught, trying to tempt him to sell the @music handle, but the biggest offer was only around $5,000. Vaught said he was never interested because he knew that selling his handle violated Twitter's terms of service, and he figured there was more value in keeping the account.
Now X has taken the account away. In the email Vaught posted on X, the platform told Vaught that "the user handle associated with the account @music will be affiliated with X Corp."
"Accordingly, your handle will be changed to a new user handle," the email said.
If you visit @music now, it has 11 million followers, which—judging from an Internet Archive snapshot—appears to be generated from merging the now-defunct @TwitterMusic account into Vaught's @music account.
"Twitter's not dead to me"
X offered Vaught a few alternative usernames to consider—@musicfan, @musicmusic, @music123, or @musiclover—none of which appealed to Vaught. He said that it was likely X had commandeered these handles from other users and that the account wouldn't be the same under any other username, even if he did choose a new one.
To "minimize any inconvenience" from having his account handle taken away, X defaulted to changing Vaught's username to @musicfan, which he described as "probably the least worst" alternative the platform suggested.
Right now, Vaught isn't sure if he's going to continue using the account under a different name.
"Honestly, if it's not @music, it's really not that interesting." Vaught told Ars. "One of my initial reactions was just to close the whole thing down, right? Like I'm just so irritated and so mad."
But while his reaction the day after learning that X was commandeering his handle was extreme frustration, Vaught told Ars that the platform will remain his primary form of social media.
"it's highly annoying, but Twitter is still my preferred social media," Vaught said. "That's how I communicate and learn my news about what's going on. Nothing else compares."
His only "minor protest" to X's action, he said, was to cancel his Twitter Blue subscription.
"I did turn off the Twitter Blue," Vaught said. "I don't feel like I have the need to keep paying [Elon Musk] 11 bucks a month."
X does not respond to requests for comment, so it's impossible to know how many more accounts may be commandeered during the Twitter rebrand and beyond.
Vaught said that he acknowledges that he owns nothing when it comes to managing accounts on social media platforms and will always be at the whim of what the platform wants regarding accounts. But he had taken some comfort when @TwitterMusic launched and nobody came for his account then. So he wasn't necessarily expecting to lose the @music account this week.
"I thought, if I can survive that, who's gonna come after it now?" Vaught said.
Vaught is mostly a Musk fan, as he's interested in Musk's electric cars and space developments. He said that this experience with X hasn't tainted his opinion of Musk or his relationship too much with X as a platform. He's holding out hope that Musk has a long-term plan for where Musk is taking X, but like many users, he's struggling to adjust to the rebranding. Vaught still refers to the platform by its original name.
"Twitter's not dead to me at this point," Vaught told Ars, even if "it's a super huge bummer" to lose the @music account. "Sixteen years is a long time to invest in something and then just have it ripped out from underneath you," Vaught said.